Tricky. I'm itching to get back out to faraway suburbs but with no time to do so. Hence my choice for
suburb No 32 - Woolloomooloo, 1.5 km east of the city centre.

Prior to this week, the 'Loo' had only ever been somewhere to drive through in an attempt to avoid
a clogged Eastern Distributor.
Turns out - of course - that it's far more than just an 'alternative route'. Even I, in my pre-52 Suburbs
blinkered state, had noticed that it had an amazing old wharf, a pie cart that had been there for
eons and more often than not, one or two gunmetal-grey naval ships parked by the bay.
But that was about it, I thought. And that is kind of it. But what I wasn't expecting was all the emotion
tied into those three things - wharf, pie cart and navy. So what began as a suburb I could 'knock over'
fairly quickly turned into one that had me wanting to keep snapping, intrigued by the suburb's
past and the extremes of its present.
A super-brief history of the Loo... Aboriginal forever, First Fleet in, farm land sub-divided in 1840s,
grand homes built, then smaller workers homes. Mid to late 1900s, both the wharf and the suburb
were left to run down, earmarked for redevelopment. Both saved from near death towards the end
of the century. The wharf was turned into chic hotel, marina, restaurants and apartments, contrasting
sharply with its less fortunate 'hinterland'.
Part 1: The tourist trio
a 400 metre long finger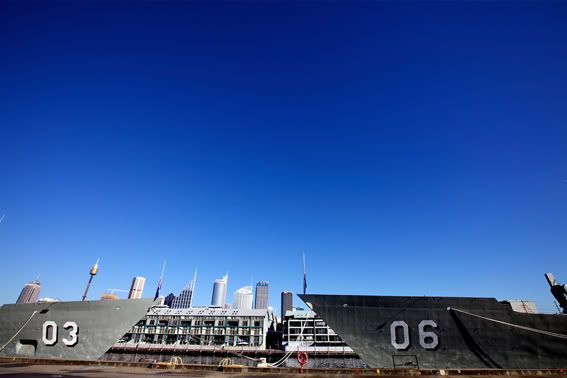 a couple of frigates - HMAS Sydney and HMAS Newcastle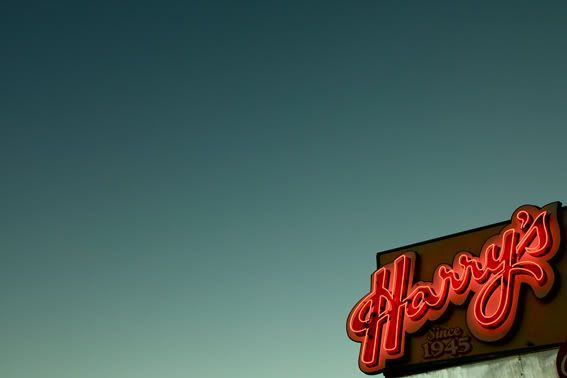 the heritage listed hot dog stand
Part 2: The wharf

The Finger Wharf. Built 1911 - 1915. The largest wooden structure in the world. A place of arrivals and
departures - of cargo, armed forces and new migrants - for almost 70 years. Unbelievably, it almost
ended up on the scrap heap after some years of sitting idle. Saved from the wrecking ball by
conservationists and the Building Workers' Industrial Union in the early 1990s. Today, it's swish-land:
hotel, marina, restaurants and apartments. But I like that anyone can sit with a fishing rod at the end
of the wharf, right next door to R. Crowe's penthouse pad.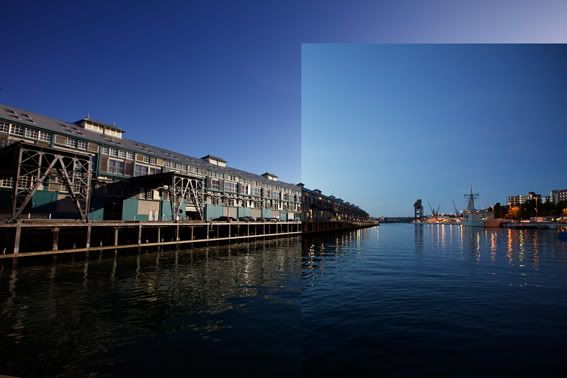 picturesque, day and night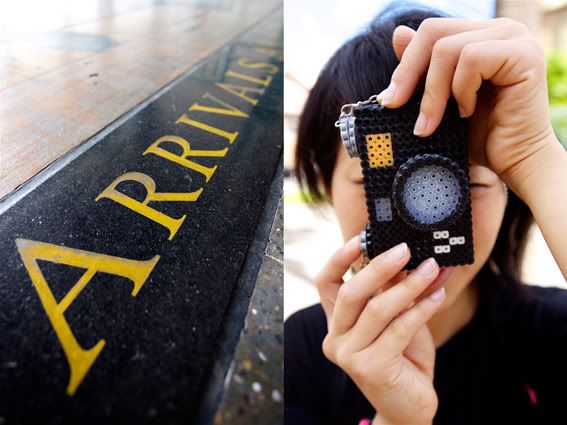 of cargo, migrants, the brave - and now tourists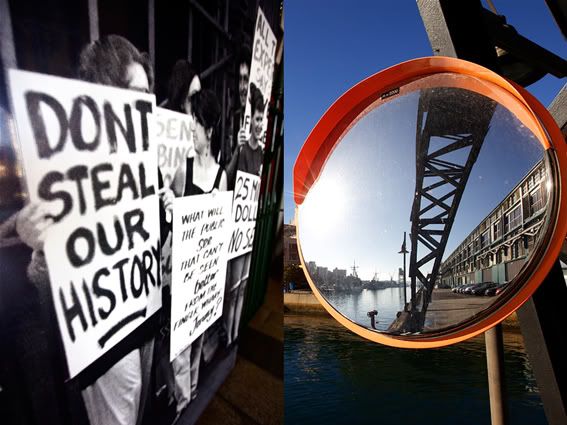 looking back - the wharf that almost wasn't
Hills Hoist not included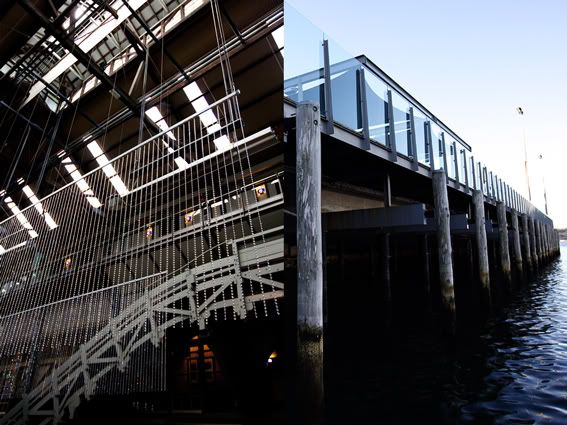 sparkling, above and below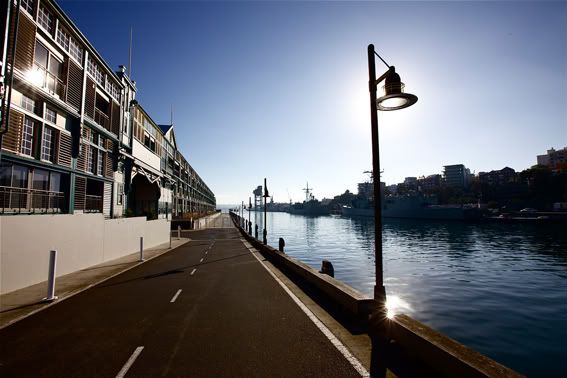 sun in the lamp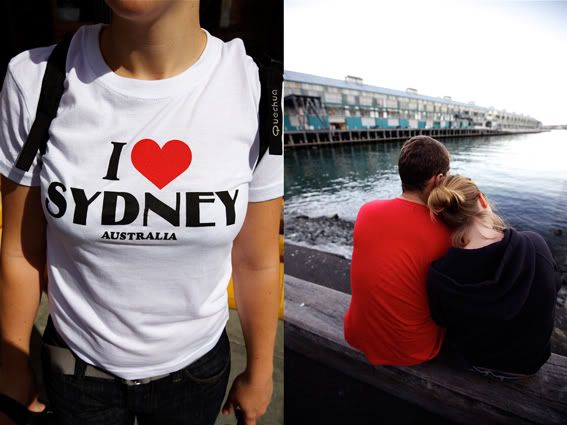 what's not to love
Part 3: The navy

A bright sunny Monday morning down at the Loo. But shore side at Fleet Base East, the Australian
Navy's main naval base on the east coast, hearts are creaking under the weight of imminent separation.
They have less than an hour together before HMAS Newcastle departs for Guam, Japan, Canada and
Hawaii. It will be four months before fathers, mothers, wives, husbands, daughters, sons and lovers
are united once more.
she's gone for four months - then he's gone for six - "bad timing"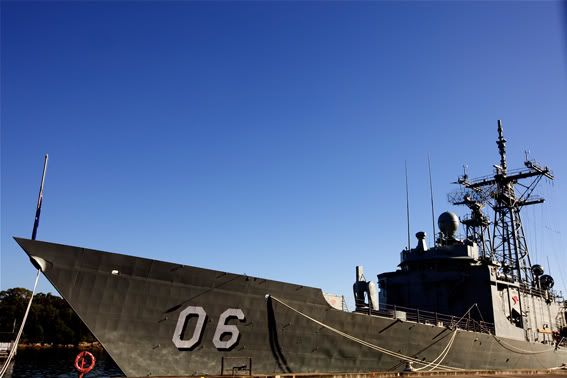 06 departing at 0900
sweet sorrow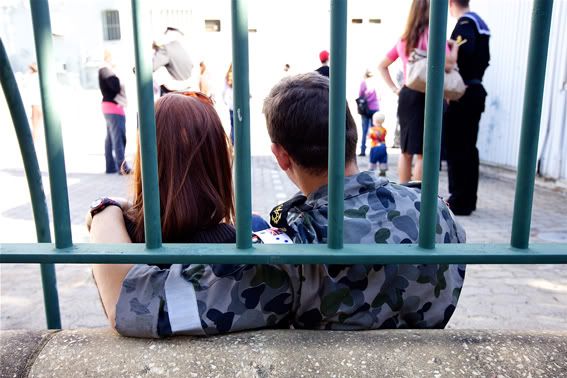 how many loves survive?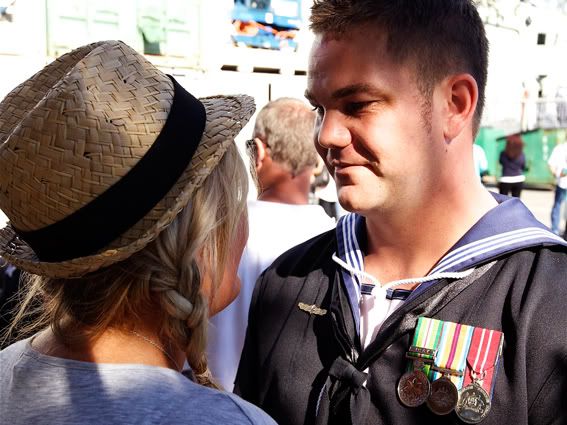 his medals can't protect his heart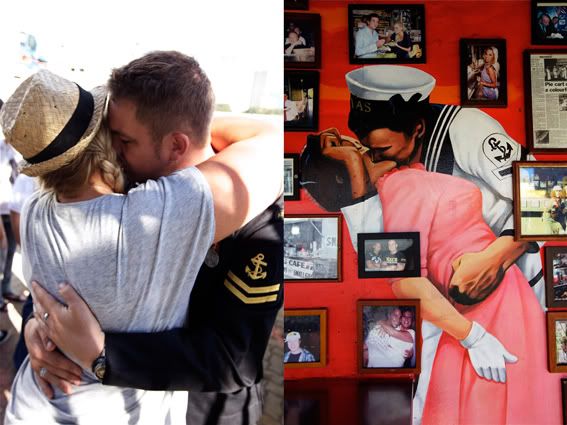 the kiss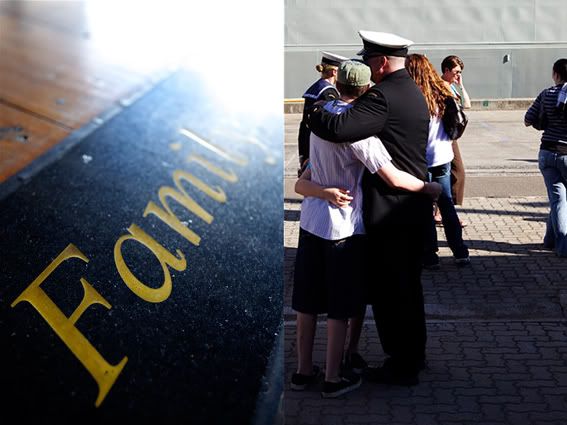 last embrace
it may only be four months but to loved ones it feels like...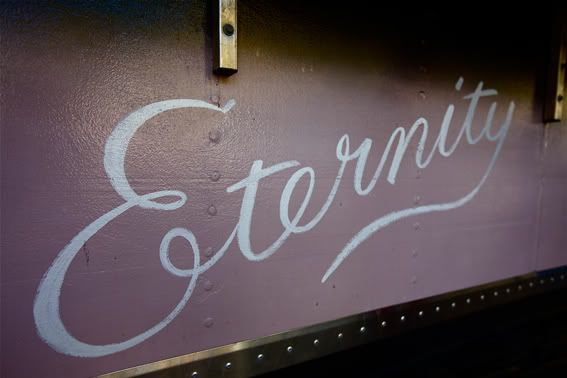 forever
Part 4: The pie cart - and the lovers

1938. Fella named Harry decides to set up a cafe in a caravan, selling pie 'n peas. More than 70
years later, Harry's Cafe de Wheels is still going strong. Just like the motto of the HMAS Melbourne
sailors who frequent Harry's: 'She gathers strength as she goes'.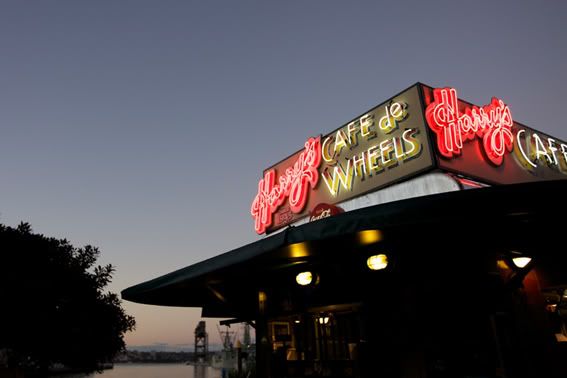 a permanent fixture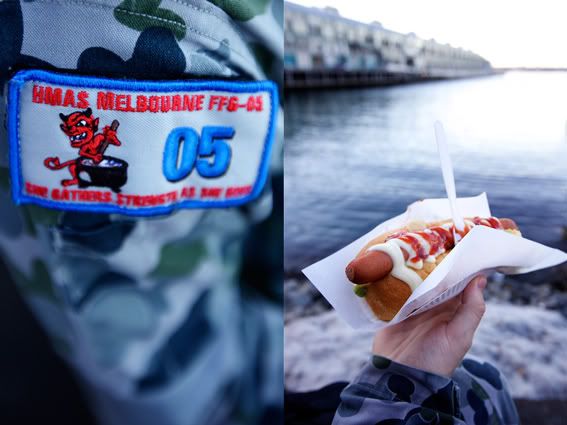 she gathers strength as she goes
Even more impressive than being classified by the National Trust of Australia as a 'quintessential
Sydney icon'? Being the place that Australian-born Dubai-living newlyweds, Cat and Adrian, popped
into on their big day for a quick post-ceremony, pre-dinner hot dog. Harry's was where they had
enjoyed one of their first dates - as had Cat's grandparents decades before.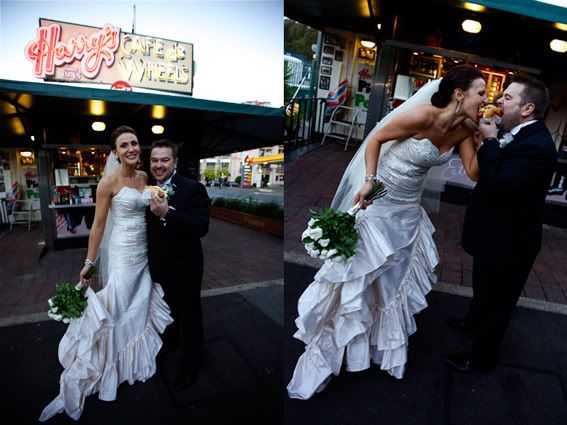 true romance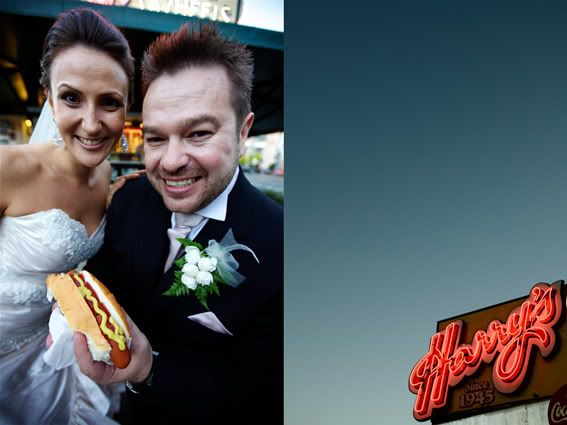 looks vaguely Vegas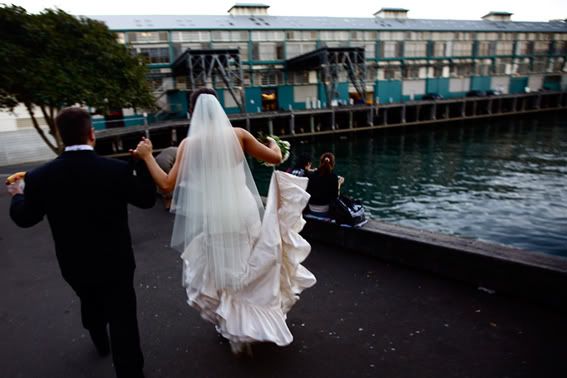 let's sit awhile and eat our hot dog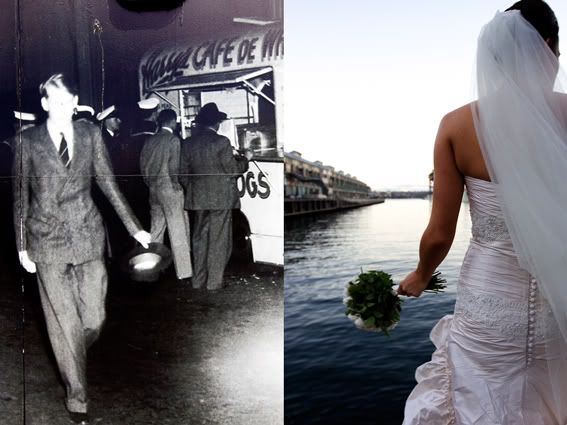 hats off to the lady in white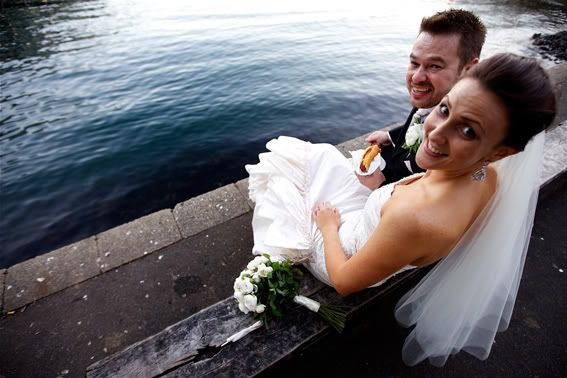 a bouquet and a hot dog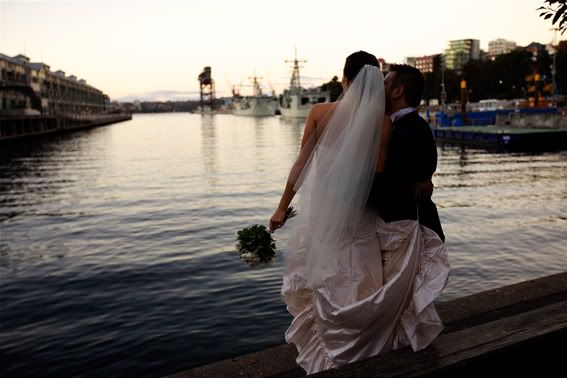 'should I buy another one?'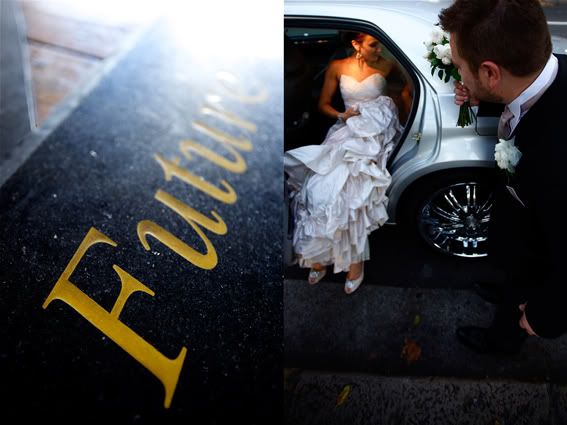 setting up a Harry's in Dubai?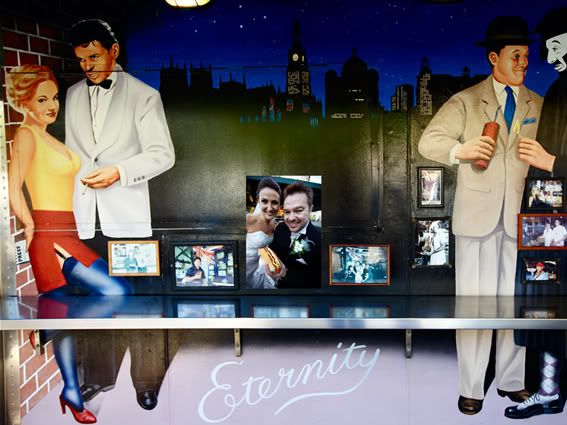 surely they've earned a spot on Harry's photo wall
Part 5: Hungry? You have options

Starting with Harry's signature dish, the pie with mashed peas, potatoes and gravy.
the house special, still special after all those years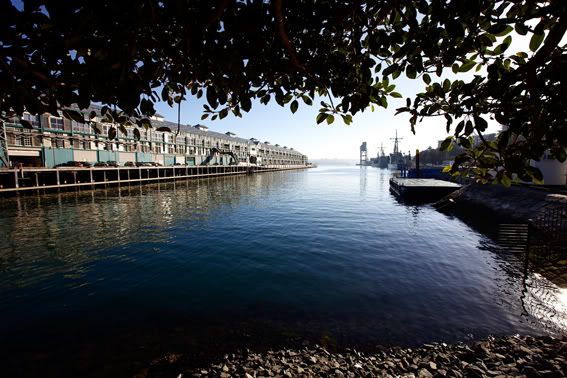 a million dollar view free with every $5 pie
makes you proud to be Australian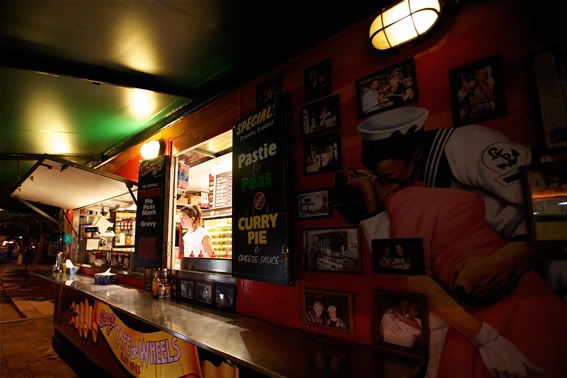 a rare sight - no customer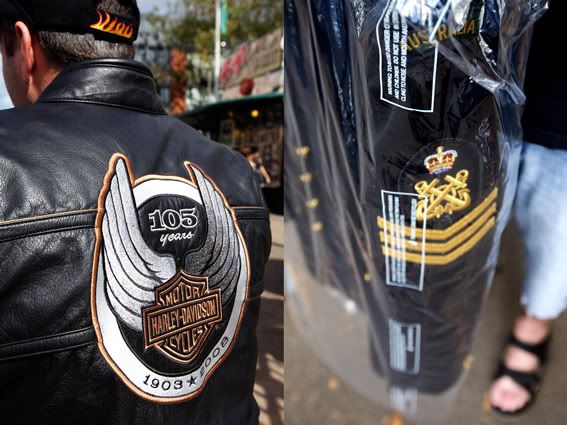 different crowds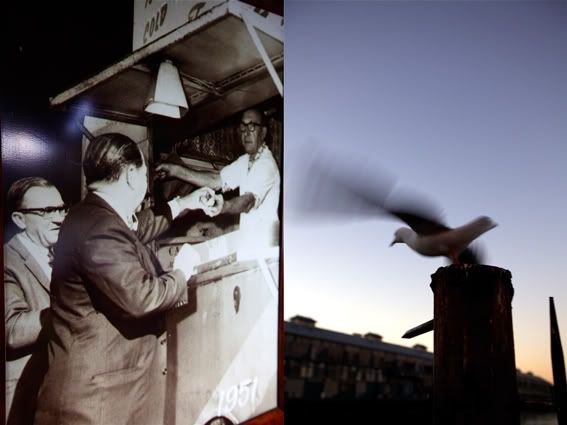 i wonder if the seagulls were as bad in 1951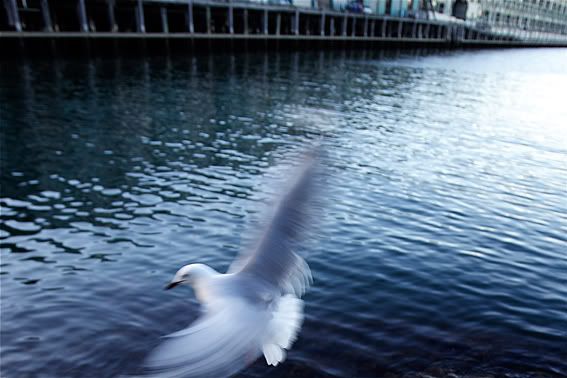 elegant scavenger
Then there's the upmarket pub meal at another institution, the Tilbury Hotel.
the Tilbury, pub one day, film set the next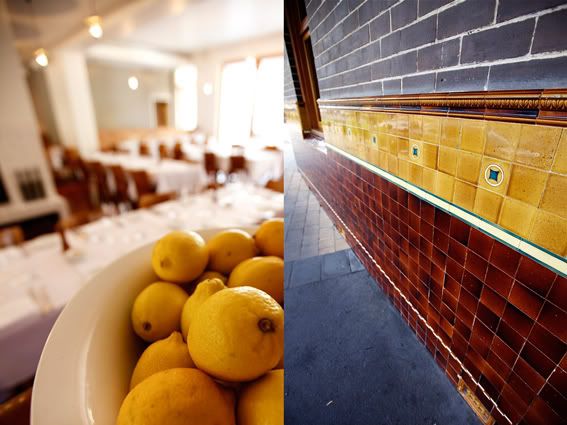 old style, with a fresh feel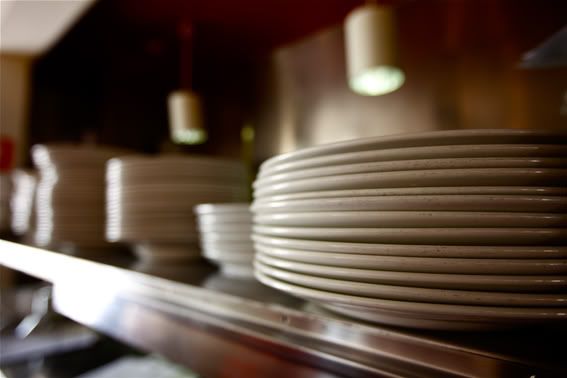 plate up
Another notch up (the price and people-watching scale): the restaurants that line the Finger Wharf.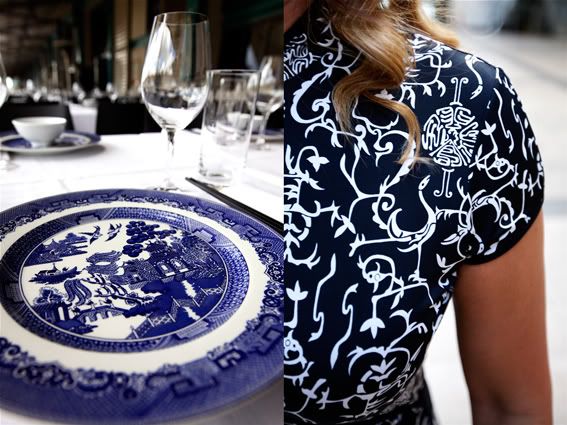 China Doll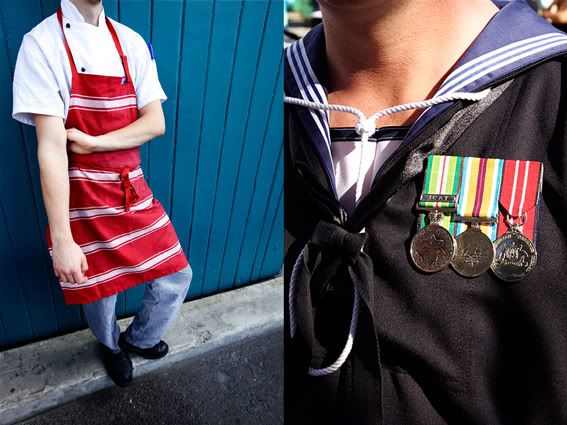 they've both earnt their stripes
Or you can take a walk around to the
northern side of Woolloomooloo Bay
to the Andrew Boy Charlton pool
cafe. On the way, you'll pass an artwork that references the site of the first ladies 'baths' in the area,
created by one Mrs Biggs in 1833.
'Mrs Biggs even had a bathing machine to attract the ladies'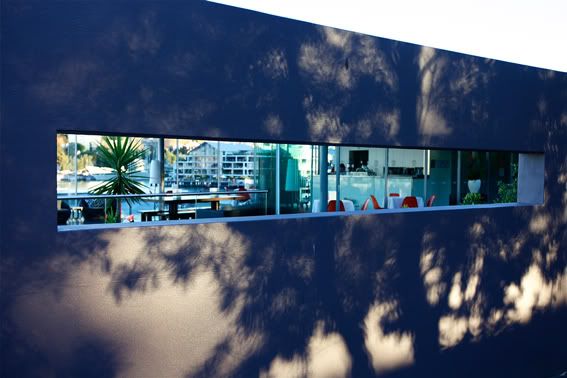 at the Boy Charlton cafe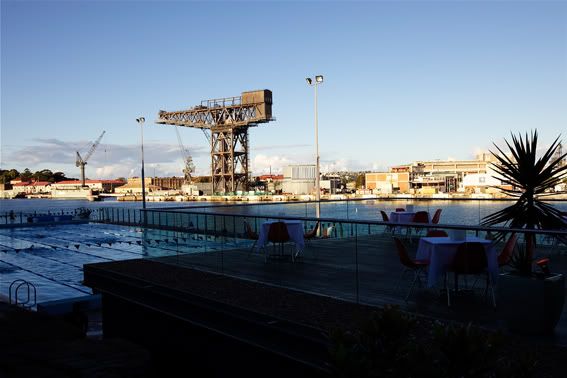 water on water
If all else fails, you can always park yourself at the end of the Finger Wharf and try to catch your
own dinner...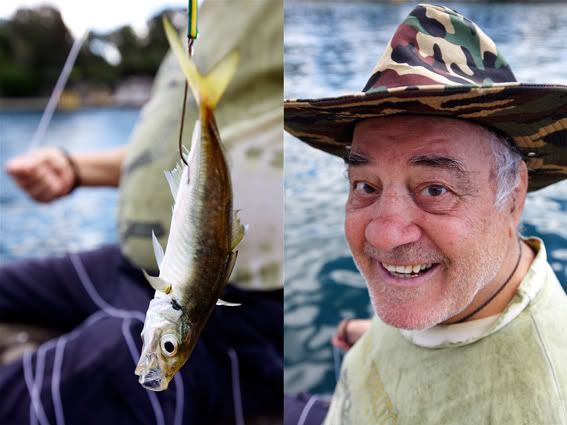 Jimmy
Mullets and bait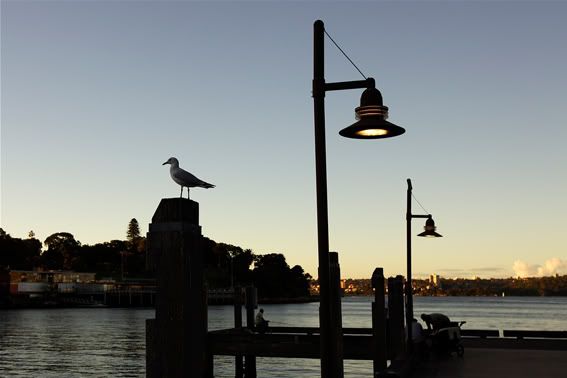 what shall I have for dinner?
Part 6: The bits you won't find in the travel brochure

Behind the main road, beyond the dazzling blue, lies the rest of the Loo. From one extreme of
wealth to another, with plenty of public housing and homeless men sleeping rough. It's no fairytale
existence but it could be a lot worse - once upon a time, in the 1970s, the Loo was close to being
redeveloped with everyone kicked out. While that didn't happen the government did succeed
in ripping through the suburb's centre with massive pylons of the Eastern Suburbs railway viaduct.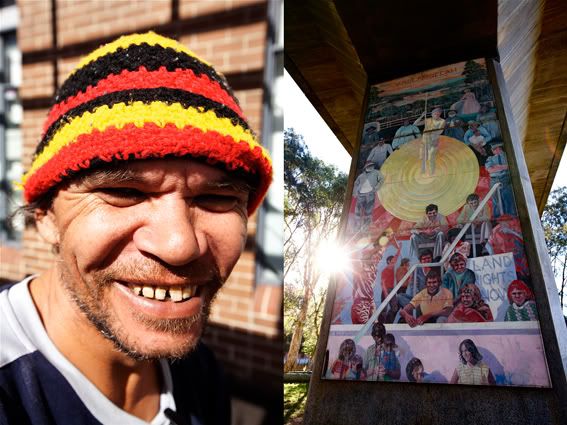 land rights when?
an old terrace and the Old Fitzroy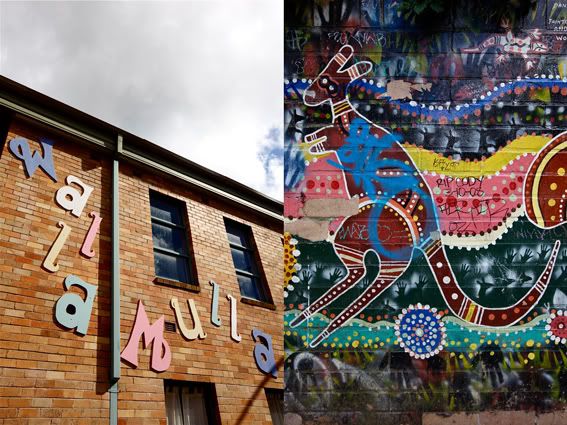 'place of plenty'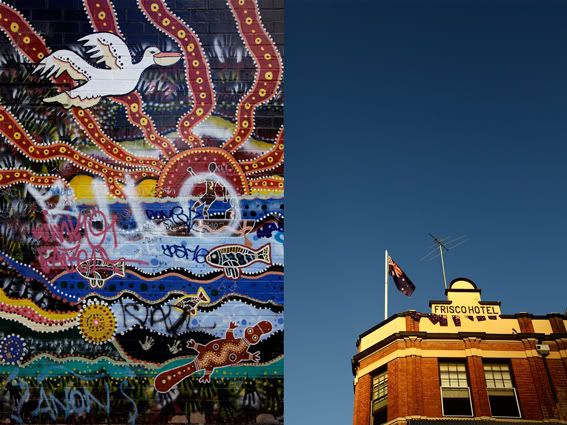 10,000 km
as the pelican flies
from another Frisco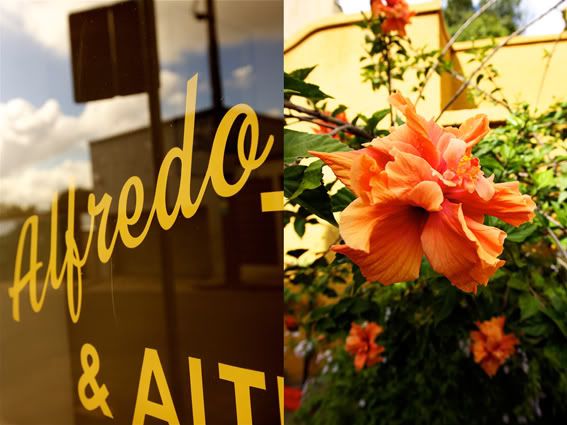 in need of a little tailoring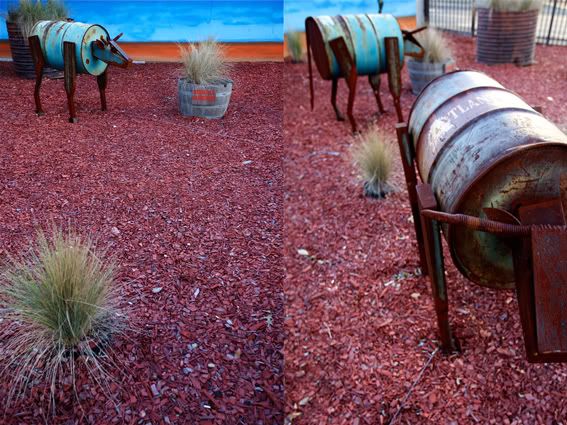 turning concrete into outback: Guerrilla Gardeners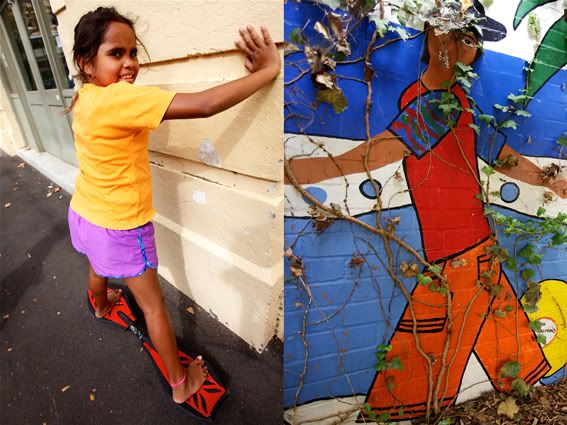 kids don't see different colours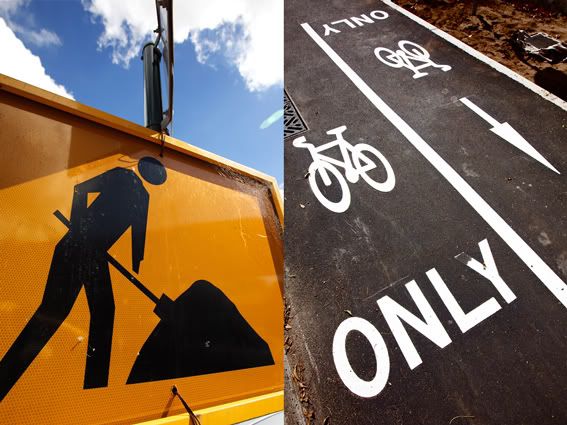 soon you'll be able to ride your bike down to the Loo
Beauty in the Loo? The harbourside side of Woolloomooloo is undeniably sparkly. But I left dazzled
mostly by the emotions that run deep within the whole suburb, deeper even than those ridiculous
pylons. Love, anger, sadness. Jealousy and joy. And the bravery of those willing to fight for what they
believe in, from an old wooden building to the freedom of their country.
Onto matters mundane, have you noticed that my 'Monday' post has become 'Wednesday'? Hmm.
I'm not going to stress too much but I'll either try and get it back to Monday or maybe revert to
post day being Friday. Wednesday is just too mid-week for my liking.
See you next week.