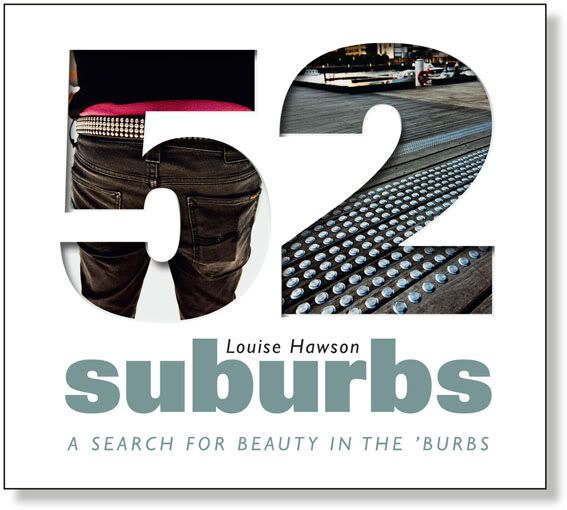 I was thinking it would be nice for you to spy the 52 Suburbs book for the first time by yourself
in the inky aisles of your favourite bookshop. But who was I kidding? I can't wait until May 1 when
the book is out.

So here it is! What you can't see is that the numbers are actually cut out and the front cover
flaps open to reveal the full image behind it. A little like you're looking through a camera lens.
By the way, there's no thin black line around the edge, that's just because it would fade into
the white background otherwise.

Aside from the book cover there was a lot of discussion about book size. Large, small, thin, fat.
Where we ended up really works I reckon. It's a smallish (19cm wide by 16.5cm deep) but chunky
book - 528 pages!

I'm also really happy with the print quality. The colours pop off the page and it just feels really
lush and rich.

All in all very exciting. (By the way, if you feel so inclined you can pre-order from the UNSW Press
website now at
www.unswpress.com.au/code13/p2393
. Not only will you be assured
a copy on May 1, your early-birdness will also be rewarded with a 20% discount.)

Meanwhile, I'm head down working on the exhibition preparations for the May 14 launch at the Museum
of Sydney. An exhibition space is an entirely different beast to a book so it's spinning my head a
little. But I'm loving it all the same. In fact, I still kind of have to pinch myself when I think back to
when I began the project. It was just something I had to do but I certainly never expected it to
blossom to the degree it has.
Last piece of exciting news - before Christmas I was asked by the State Library of NSW for permission
to archive the blog 'in perpetuity'. Which means they'll keep updating the technology as necessary
to ensure the blog is accessible to people forever. It is quite amazing to think of those living in
the year 3010 or 5010 being able to check out 52 Sydney suburbs as they were in 2009/2010!

I may just have to go and fix myself a little tipple to celebrate. Cheers!