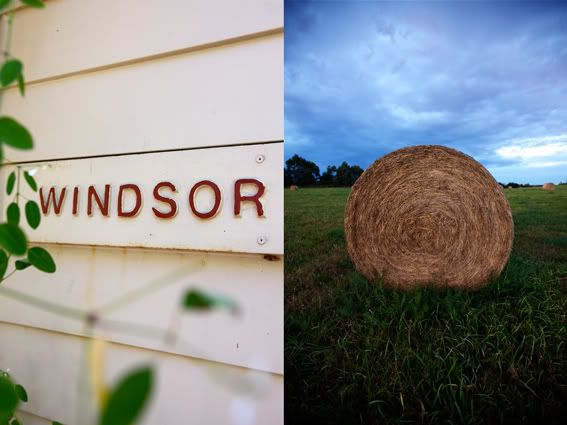 I know, I know, I'm late. Apologies but before I explain why, can I tell you something I've been
bursting to tell you ever since last Monday - I have a book deal! Sometime next year 52 Suburbs
will metamorphose from ether into a beautiful, inky, three dimensional object. One that you can
touch and feel and smell, or at the very least use as a doorstop.
Around the same time the book is published, there will also be an exhibition - to which you are of
course invited.
As if both book and exhibition weren't enough to spin my head. On the same day I hand-delivered
the signed contract to my publisher, I received an email asking me to submit a proposal for an amazing
photographic project that celebrates this amazing city we live in, in a way that's very similar
to what I do here. Whether I get it or not, it was just so wonderful to be asked.
To celebrate all this amazingness, I decided to take you the furthest we've ever been on 52 Suburbs
- to Windsor, a whopping 60km from the city centre.
So why so late? Travelling so far swallowed up a lot of time just in the driving. Then there was the
doozy of a head cold that swept in mid-week. And then all weekend I've been at a photography
seminar.
Anyway, to Windsor. I remember driving through neighbouring suburb, Richmond, about 15 years ago,
on the way back from the country somewhere. I have a vague recollection of driving past Richmond's
RAAF base but that's about it.
So I did some of my 'research':
• Settled in 1791, Windsor is the third oldest place of British settlement in Australia
• The Hawkesbury River runs through this incredibly flat area, its floods responsible for past tragedies
as well as wonderfully fertile soil
• Governor Lachlan Macquarie changed its name from Green Fields to Windsor, after Windsor-on-the-Thames
in England
• Famous for a cracker of a church - St Matthew's Church, a Francis Greenway beauty - as well as a
handful of lovely old buildings.
My biggest discovery was that there are two Windsors - the one during the week and the one on
Sunday. The former is quiet, especially so out on the river flats that stretch as far as the eye can
see. And then Sunday arrives and it all changes. The place is crowded with locals, day trippers,
markets and music. The river buzzes with speedboat races and kayaks. And the main street dazzles
with chrome and throbs with the sounds of deluxe, touring motorbikes. Then 12 hours later, back to quiet.
Part 1: Bikers
Visit Windsor on a Sunday and you can't miss them. They hang outside Windsor's Macquarie Arms Hotel,
the "oldest pub in Australia" (1815), enjoying a few refreshments before they continue their ride. Unlike
bikees, bikers are "motorbike enthusiasts", of the
Harley Davidson, Royal Enfield or Triumph persuasion.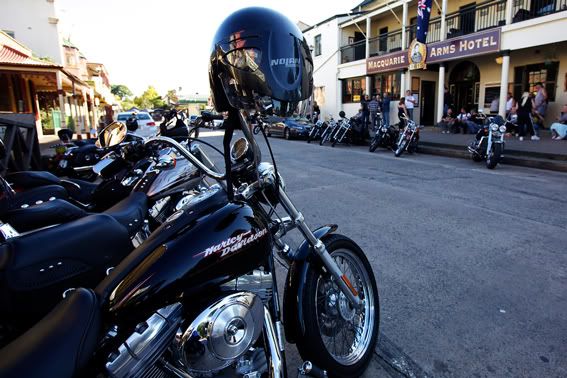 waiting patiently for their masters to return
it's thirsty work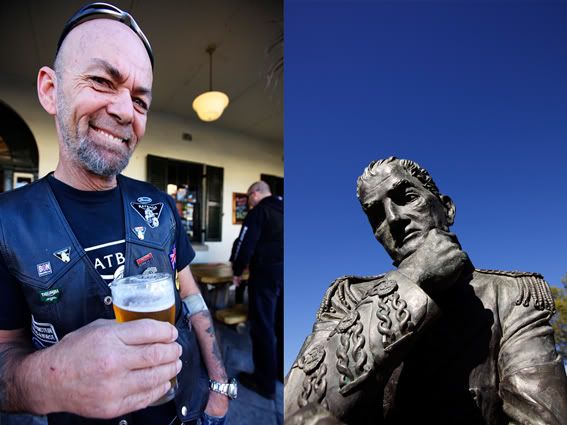 that beer looks so good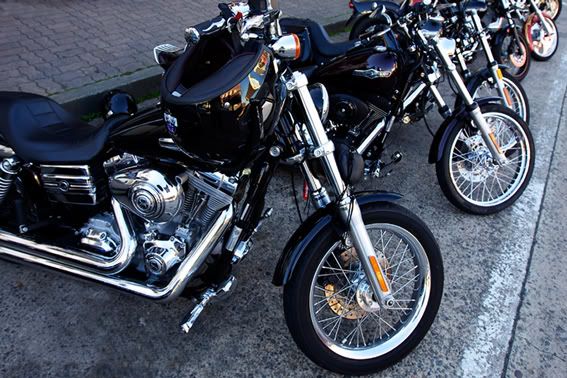 the main game
wild vs tamed
men in uniform :: 1
symbols of the divine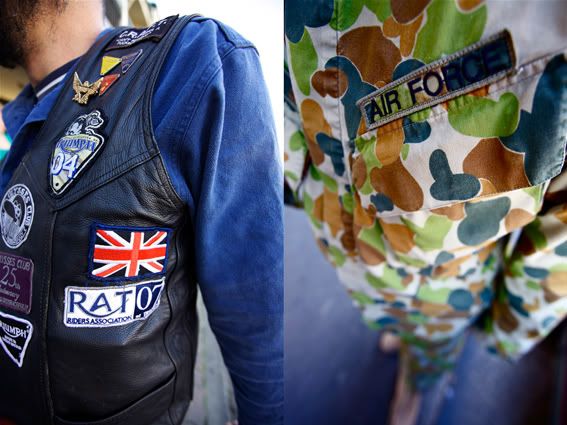 men in uniform :: 2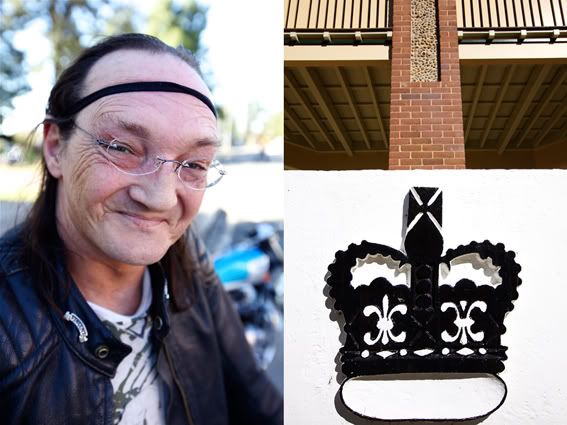 King of the road on his Royal Enfield
he's a Triumph man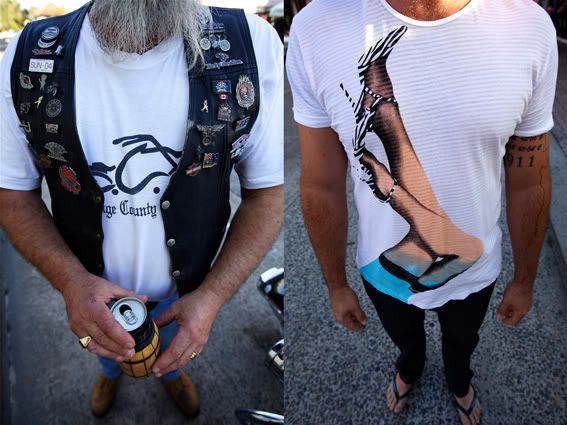 it's a free world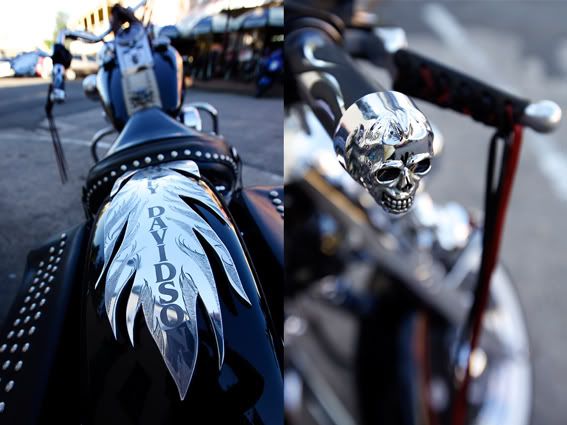 pimp my ride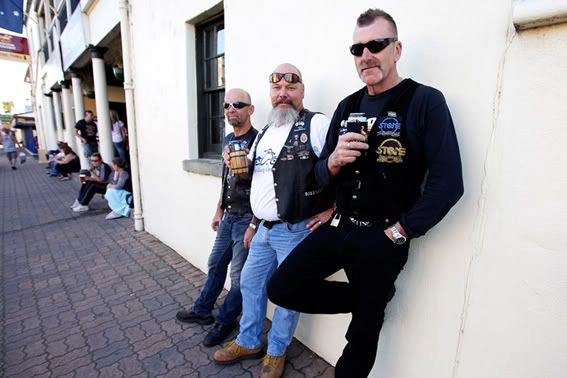 one for the road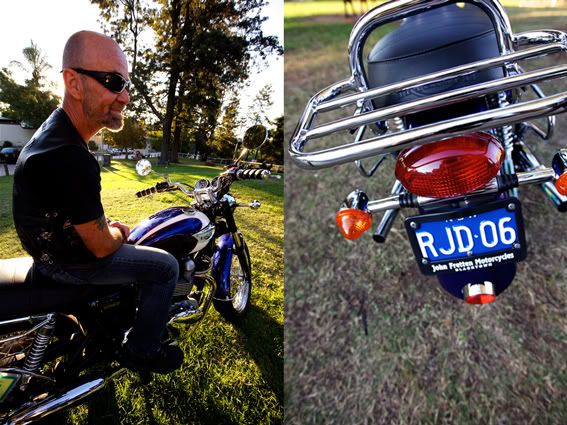 J.D.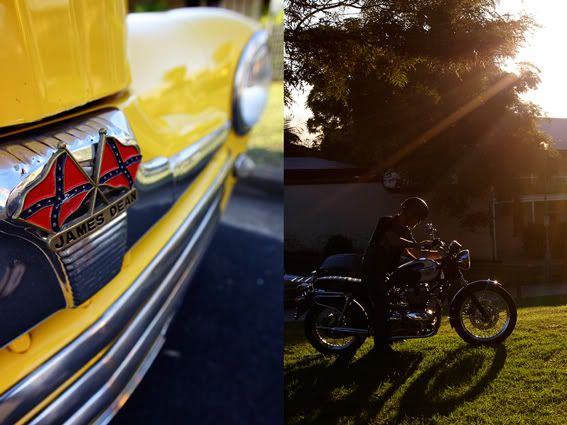 James Dean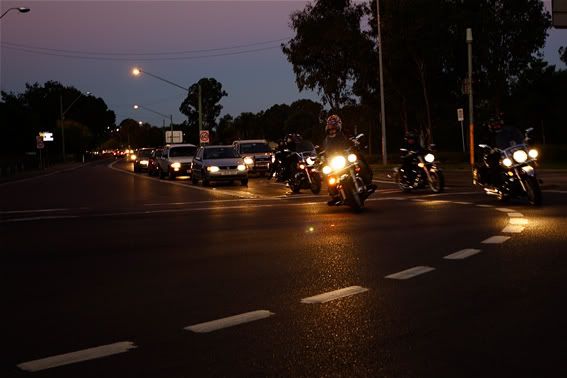 heading home
Part 2: Other wheels of Windsor

After checking out the bikers, I moved on - to a blood-red Fiat 500 ("PUP"), a bright yellow Ford
Hot Rod ("James Dean"), a cyclist (wearing red and yellow) and Gerry on his cobalt blue 'Walkabout',
an electric mobility scooter.
James Dean meet Pup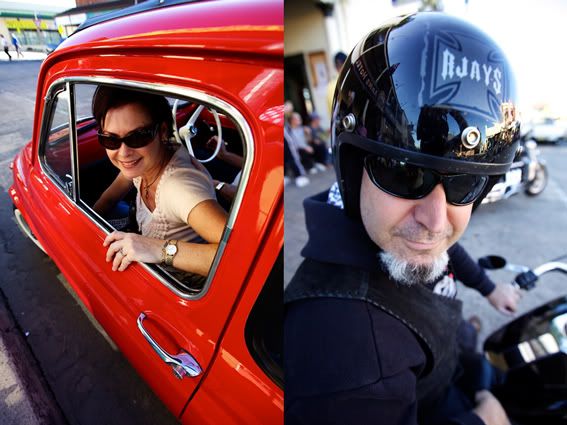 helmets
cosy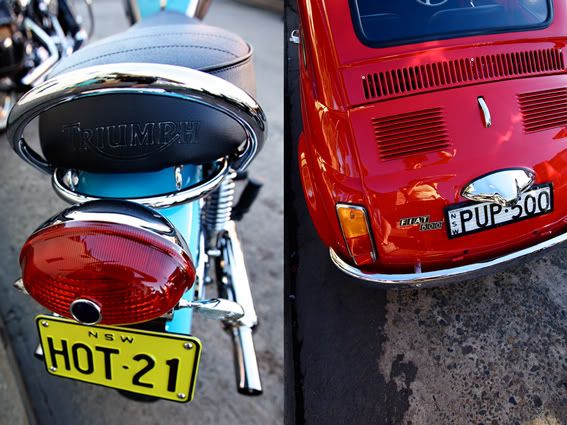 hot dog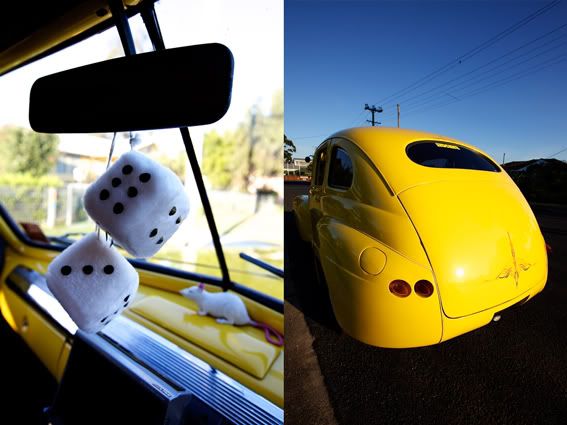 no 1950s Hot Rod is complete without fluffy dice
he goes like one
leg power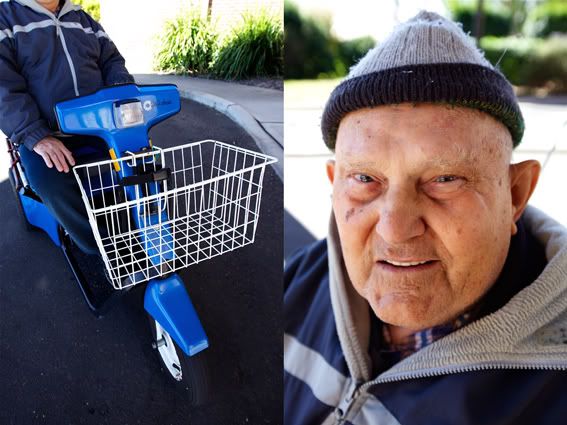 no helmet required: Gerry, 88, on his Walkabout
And my final set of wheels for the day
while filling up the car at the servo...
a Roller rolled in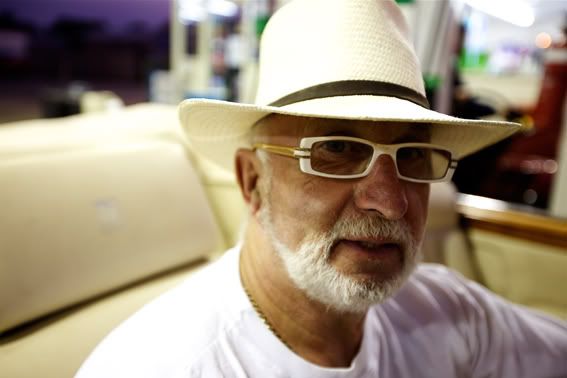 white is the new black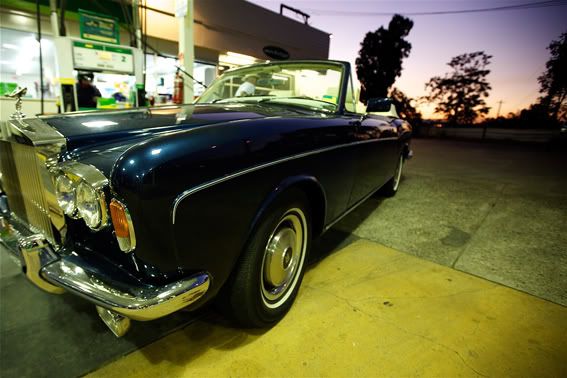 even Rollers have to get gas
Part 3: The church

Aside from bikes and cars, Windsor is also known for some of the oldest buildings in Sydney, including
St Matthew's Church, considered one of
'convict architect' Francis Greenway's finest creations.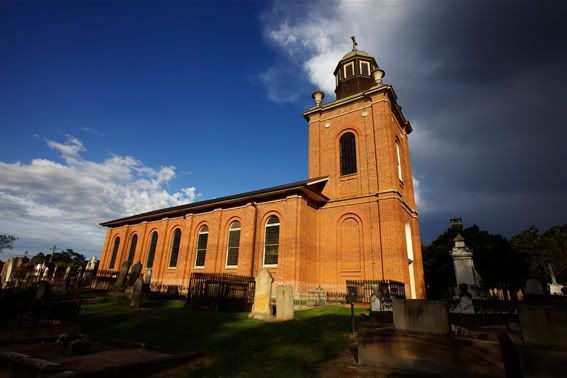 1817 and still going strong
it's not a straight road to heaven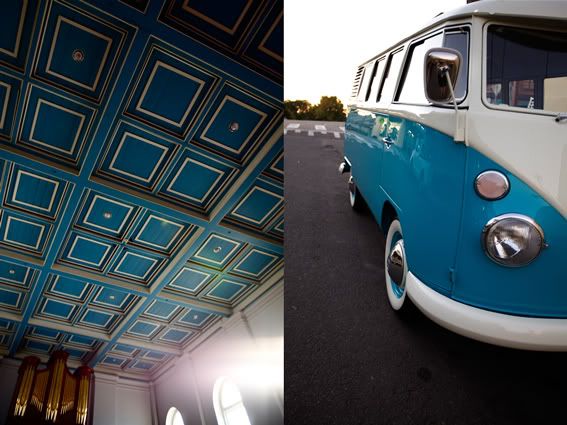 heavenly colours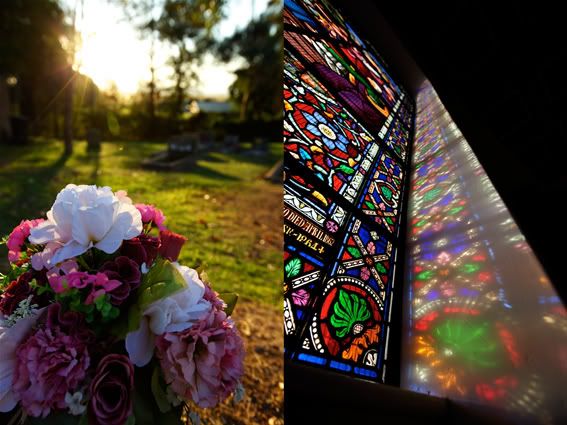 almost real
above and below ground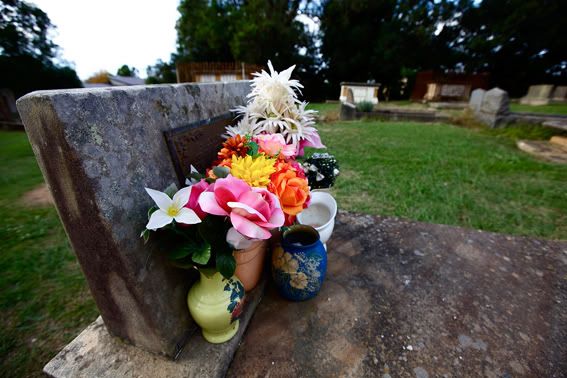 they brighten up the place
must be a nice view up there
Part 4: The river

Blessing and curse, life-giver and life-taker, the Hawkesbury has flooded its banks many times,
drowning life at the same time as enriching the land. As a result, the area is a major turf producer,
making it appear like one big giant lawn.
river of life and death
Easy Rider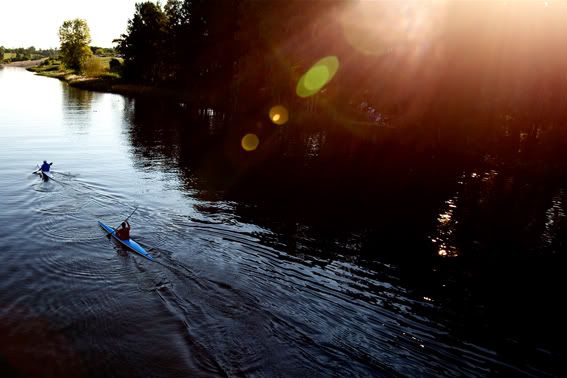 dream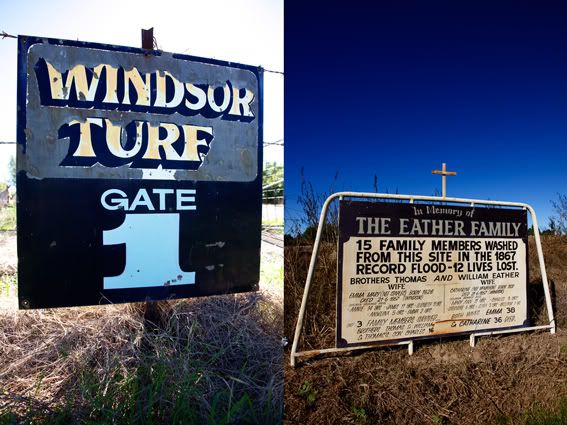 blessing and curse
For anyone who may not have noticed, I like skies. A lot. And the stormier the better. So I was excited
to hear thunderstorms were expected on my second visit to Windsor. Sadly they didn't eventuate
- but the skies were moody enough.
rays
"For Sale. Needs a little work"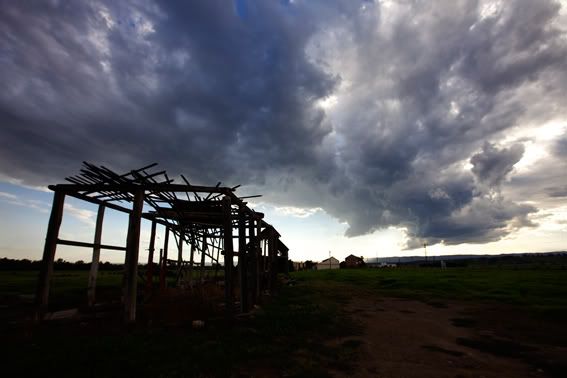 "bring your builder"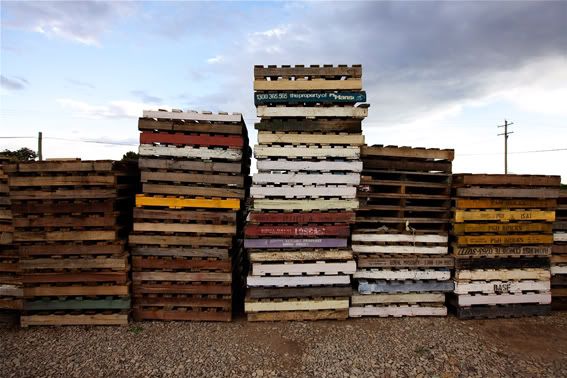 form and function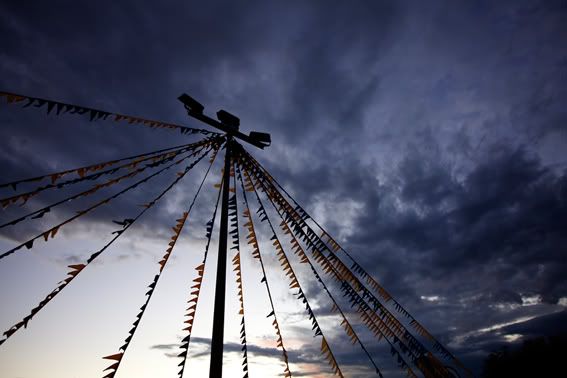 like Tibetan prayer flags but not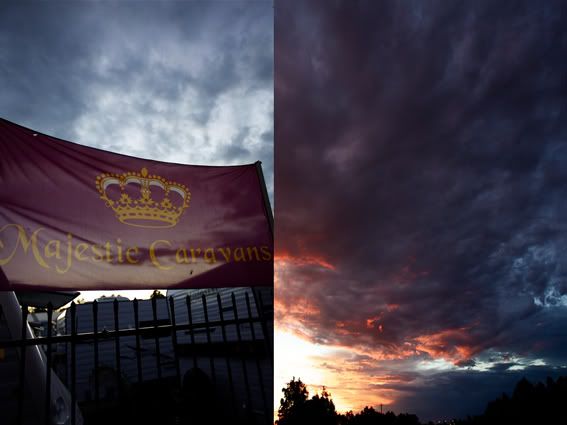 and skies
the real true blue colours of Australia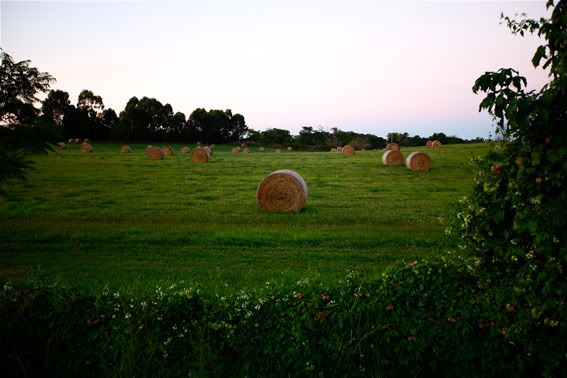 fields of gold :: 1
fields of gold :: 2
Part 5: The couple from Cronulla

When I was chatting to the bikers, I noticed a man sitting behind them wearing a cap, tattoos
and a fine set of rings. He and Rosemary, his partner, had driven up from Cronulla for the day,
to buy, amongst other things, a wiccan broomstick. I like it.
through the window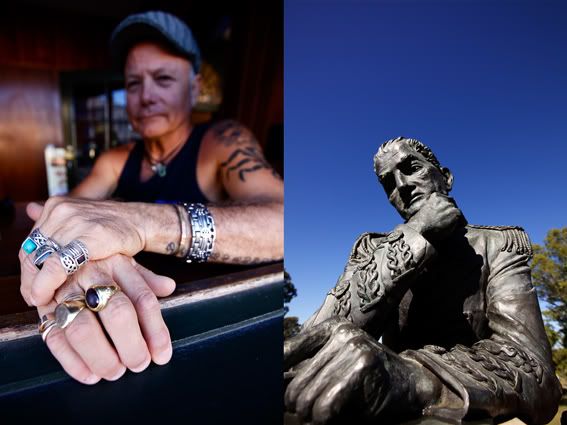 adornment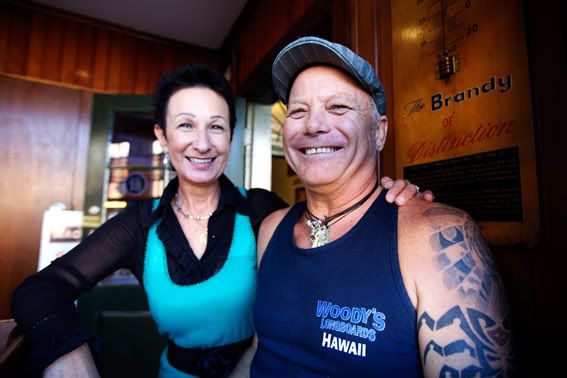 day trippers
Part 6: And other randomness around Windsor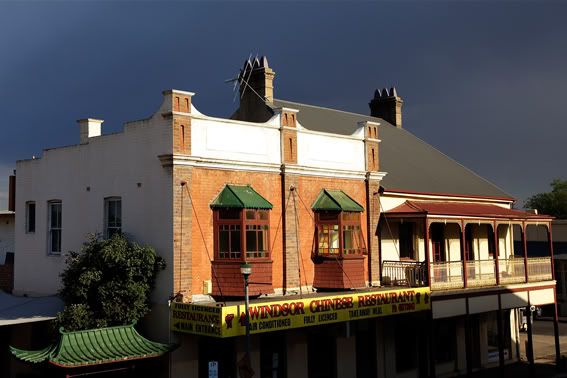 history plus a Chinese
a young boy walking past told me it's haunted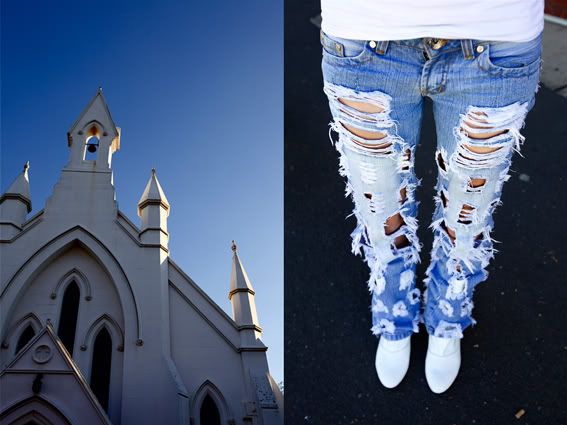 worst pun of 52 Suburbs so far... holy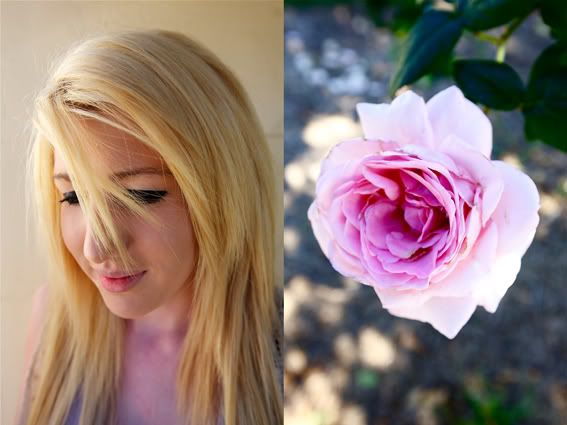 pink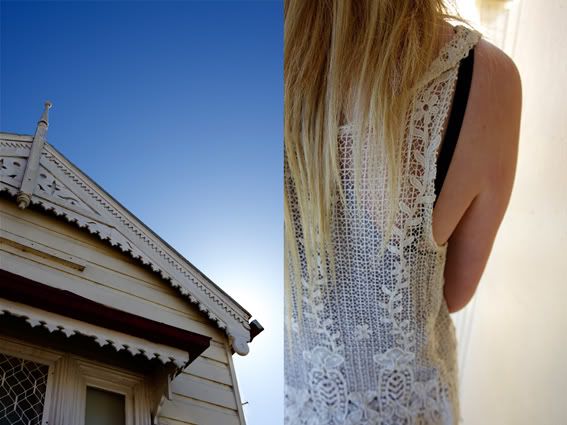 lacework
The beauty in Windsor? I loved the wide open spaces as much as the historical old buildings.
In particular, the endless lawn under an enormous sky and that field of round hay stacks. Plus those
two, three and four wheelers that roam Windsor's streets. They've got a certain something.
See you next Friday (ever hopeful).