It's been two weeks since I last posted - which is at least one week too long.
Where have I been? Well, after swirling around the suburbs for 52 weeks, I've
spent the last two weeks rooted to the spot. Stuck in one place. Chained to a
computer. Bit of a shock to my restless being but all in the name of a good
cause: THE BOOK.
Part 1: The journey of an image from the ether into printed form
Now, who has any idea how much pre-press work is required to produce a
photographic book? Not me that was for sure. I now marvel at the mountain
of stuff that I have to do to give birth to The Book.
Not that I am complaining. This is a dream come true. Huge. Thrilling. But sheez,
you should see what's involved. It makes the last 52 weeks seem like a gentle stroll.
This is a MARATHON.
You may be entirely uninterested in what I'm about to describe but I just thought
I'd bore you with my current schedule:
Up at seven. Stumble immediately to the computer to start work, only stopping
to holler various commands at my daughter and deliver her to school. And here
is where I stay until midnight, only moving to pick up my daughter from school
and attend to vital bodily functions.

For the most part, I am processing images all day long. But occassionally I take a
'break' to do a little bit of writing work to pay the bills (bills which seem to forming
a small mountain of their own lately).
Sometimes I press on until 1am in the morning. I'd stay longer if I thought a
marathon effort would make a significant dent in the side of the mountain of
work. But no, I've been at this for ages and still the mountain towers.
So what's involved that makes it such a behemoth? Well, for one thing, I took too
many photos. Now I have to sort through them all, attempting to narrow thousands
down to around a thousand. Then there's this thing called colour profiles. Who knew
four little letters could mean so much - CMYK. Converting RGB to CMYK to be more specific.

Translation - you can end up working on one image alone for ages, just to
ensure it'll look good in printed form rather than online, computer form.
And the thing is, I'm a newbie at all this. Not only am I learning about preparing
images for pre-press, I've also just switched photo editing programs in the last fortnight.

End result is that I'm on a learning curve so steep I keep feeling that at any moment
I may just fall off.
The good news is, I am learning. A lot. And at the end of my learning curve will
hopefully be a beautiful book.
So I'm not complaining, really. I just wanted to let you know why I haven't posted -
and why I may not post much again until the book is out the door.
Part 2: A major omission
In my last post I couldn't thank everyone who's followed 52 Suburbs enough.
Yet where, I asked myself a little later, once those damn tears had stopped
spouting, were my thanks to all the people I'd photographed. The ones who
stopped mid-march to give some lady with a camera five minutes of their time.
People hurrying to work or to get milk or to meet a lover. They all - bar maybe
three - were gracious enough to let me take their photograph.
So can I jut say a HUGE, ENORMOUS, HEARTFELT thank you to those kind souls.
This project would be much less rich without you. And an especially big thanks
to those who let me document their tattoos; it's not everyday someone stops
you in the street, stares pointedly at some part of your body and then says,
could you just pull up/down/around your shirt a little more so I can snap that tat.
Part 3: Er, me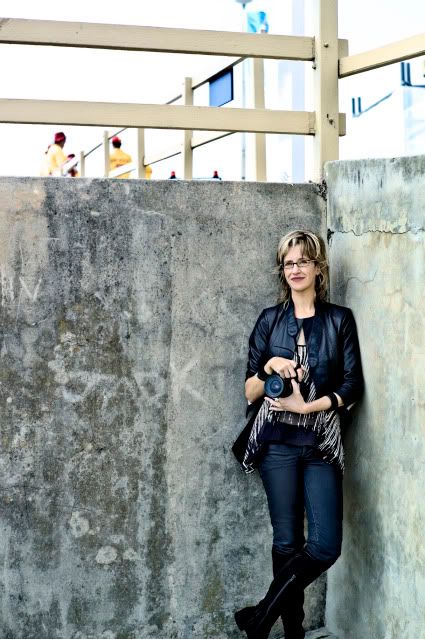 This is for all those people who have asked me to 'come out of the shadows' and
show myself. I kept meaning to take a shot in some reflected surface but never
got around to it. And to be honest, I adore photographing other people but not
so keen on being photographed (oh, the irony).
However, I do like this photograph. Sure, I'm doing a bit of a serious trying-to-look-
relaxed pose but I love that the textures in the wall happen (true) to match my
top and bizarrely enough, my hair. Freaky. And I love the tiny dabs of yellow and
red above (lifesavers). The lovely Andrew Goldie shot it as part of the story Sydney

Magazine did on 52 Suburbs last week (page 64-67 if you have it lying around).
So while I'm at it, thanks Andrew and Sydney Magazine!
How weird huh, a 52 Suburbs post without suburban images. Makes me want to
fly out the door and find a suburb to annoy. All in good time.
Okay, I feel much better having taken the time out to say hello. Now back to my
scary but wonderful monster.
See you next week? Maybe. But definitely soon.