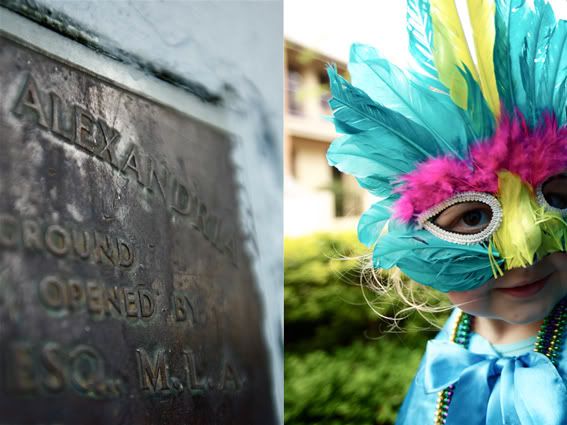 The penultimate suburb is... Alexandria, four km south of the CBD. In contrast to last week when
I took the dartboard approach, this week was a very conscious choice. After a reader suggested
Alexandria I did five seconds of research and came across a compelling reason to include the suburb
- it was here that many of the bricks were made that built the suburbs that I've just spent 50 weeks
exploring (in the former brickworks, now part of Alexandria's Sydney Park). How could I not?

While I have visited Sydney Park before, it's always been at marching pace, delivering a child to
a party or on a mission to find people for the Art & About Banner Gallery. I'd never wandered
aimlessly, just for the hell of it. Never made the trek over to the wetlands area. And I've certainly
never nosed around the former brick kilns or chimneys that played such a starring role in building
Sydney. Here was my chance.
Aside from that, I didn't have high expectations. There was the Mitchell Road Antique and Design
Gallery and I'd probably find some nice old industrial bits in the suburb too. That would be about
it I thought. To my great delight, I was wrong (see Part 2 and 3 for example).
Okay, some history. No doubt the Cadigal people enjoyed the forest of turpentine and ironbark
trees in the area until 1788 rolled around. Their home was then renamed Alexandria after Princess A,
wife of King Edward VII. By 1943, the suburb was the largest industrial district in Australia, churning
out everything from bricks to aeroplanes in the 550 factories. Industrial with a healthy dose of Chinese
market gardens to keep people in greens.
Today Alexandria is still largely industrial with pockets of surprisingly quiet residential. Having said
that, you can almost see the place changing before your eyes. Warehouses morphing into trendy business
complexes. Chic apartments springing up all over the joint. And at least three excellent cafes who
wouldn't be caught dead offering a sticky bun or lamington. The price of progress I guess.
Let's stroll.
Part 1: Sydney Park, birthplace of bricks that built the burbs

After being planted with fruit trees and grain crops by a First Fleeter, the area now known as Sydney Park
became a mix of brickworks, manufacturing, warehousing and gas storage. Over a period of 100 years,
from the 1870s until 1970, the brickworks gouged out huge pits in the ground, using the clay to
make bricks - bricks that ended up being mortared into the buildings around Sydney's suburbs.
When the brickworks closed down, the enormous clay pits were filled in with rubbish. Then around
20 years ago the enormous rubbish tip was covered over with rubble and soil - and voila, Sydney
Park, 44 hectares of rolling hillocks, kiddy areas and wetlands to lose yourself in. Even the loos are
an unexpected and inspiring space. Don't you love it when a city gets it so right?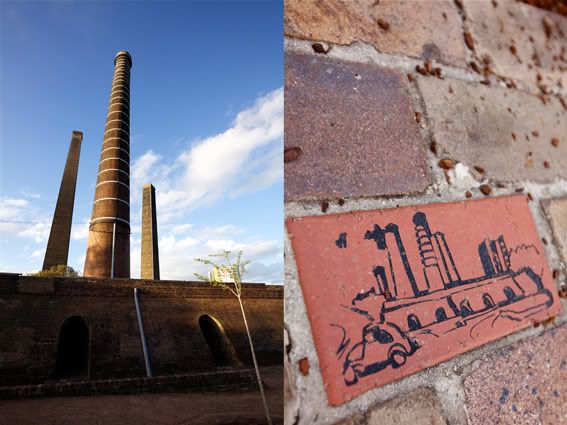 bricks r us
the bricks that made the bricks that made the burbs :: 1
the bricks that made the bricks that made the burbs :: 2
After inspecting the chimneys and kilns (and cursing the fact I missed out on seeing/hearing
Stephen Vitiello's 'The Sound of Red Earth' fill three of the former kilns with life in August this year)
I went exploring.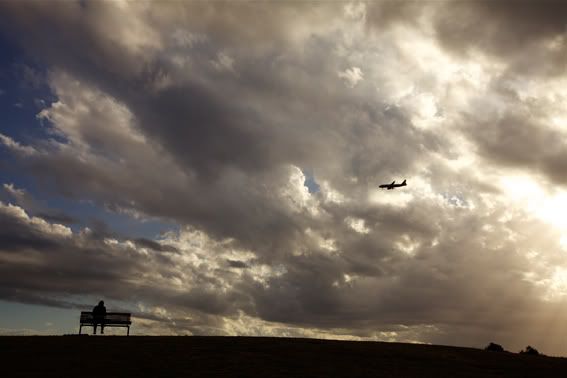 cruising at altitude :: 1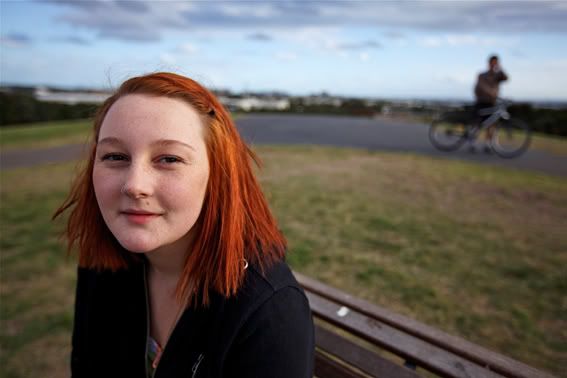 cruising at altitude :: 2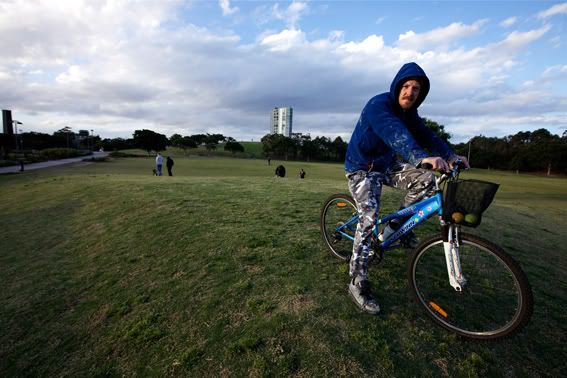 taking the dogs for a cycle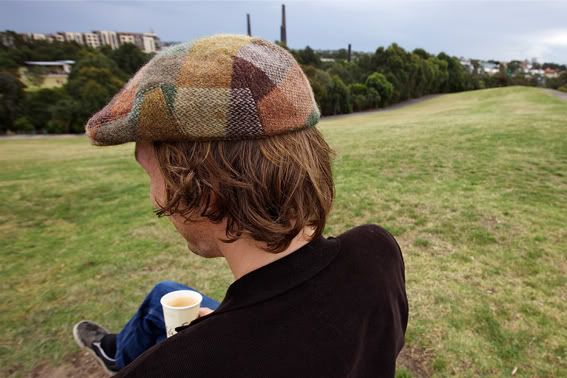 hat on a hill
Tony and weary Hamish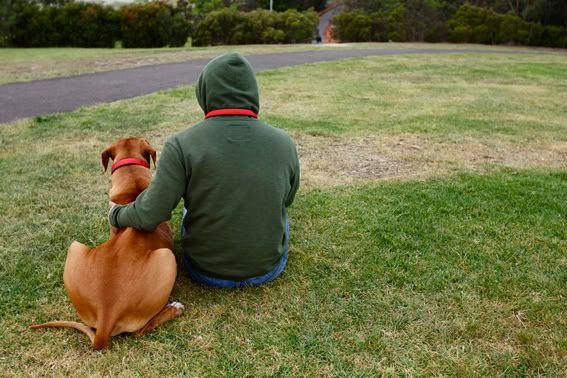 best mates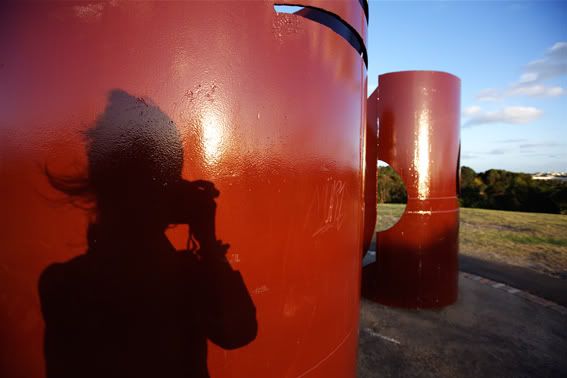 gets windy on the hillock
(Michael Snape's 'The Trail')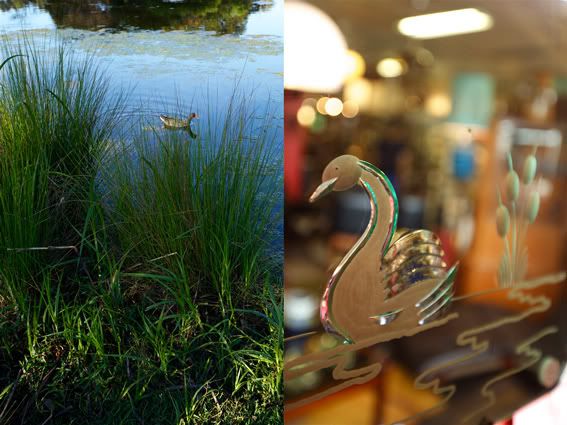 another world - wetlands :: 1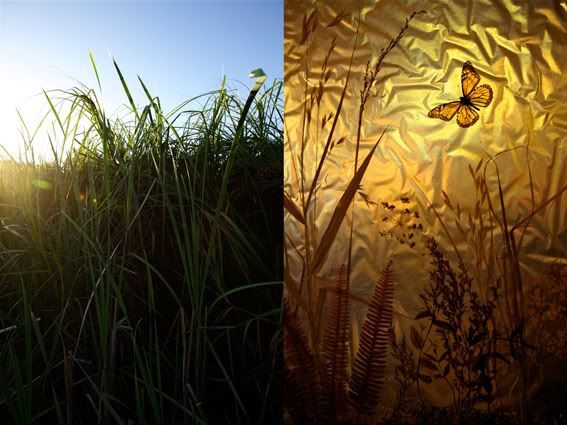 another world - wetlands :: 2

Not everyone I met was just lounging around. There was a whole world of pain unfolding on one of
the hillocks with women doing boot camp. And then there was Charles, taking advantage of the wooden
walkways over the wetlands - to tap. Hard. Without annoying the neighbours.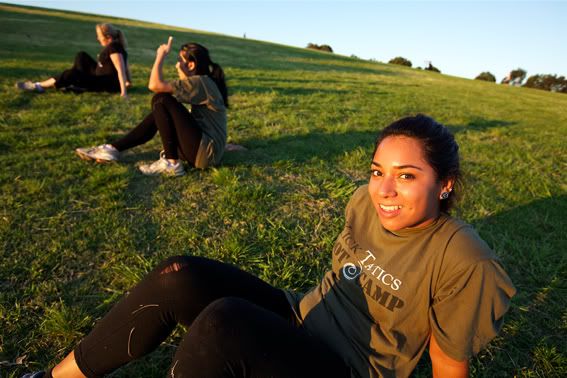 world of pain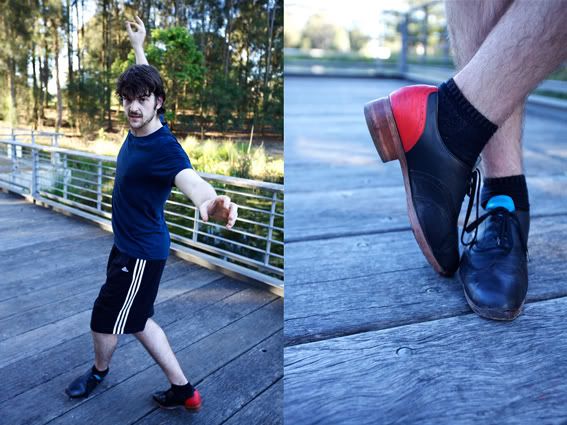 tap tap

After that I wandered back to the kiosk and loo area on my way to the playground. All three spaces are
filled with inspiration and ideas. Most wonderful.
k is for vandal proof kiosk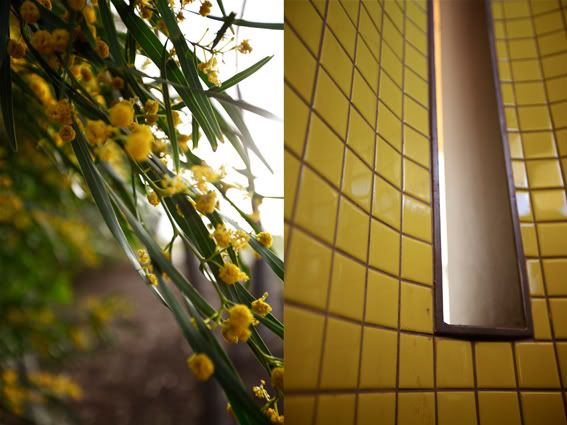 bathroom with a view

baby Mable, three weeks new

hands up who loves walking in Sydney Park?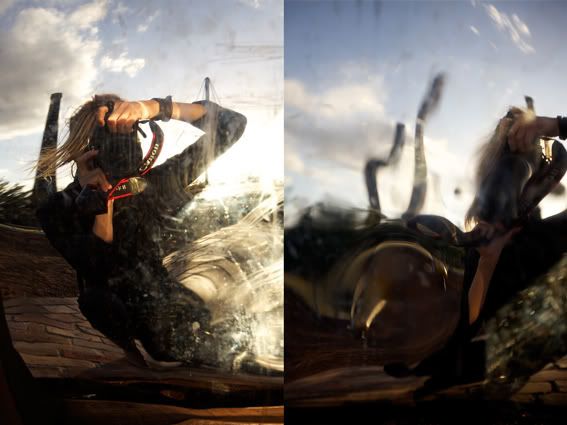 after one beer ... after ten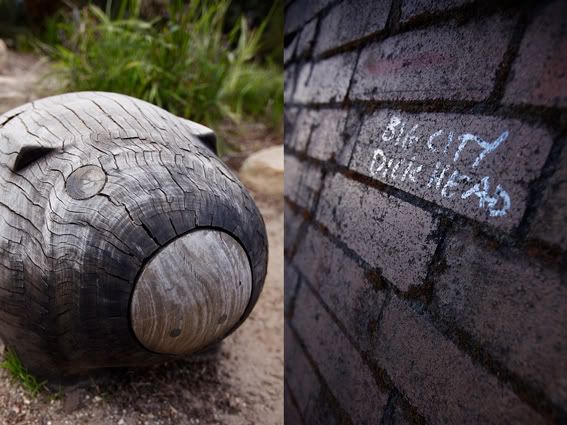 child friendly with an edge

Part 2: 19th century China in 21st century Alexandria

What the? was my first reaction. On a busy street somewhere in Alexandria I looked up to see just
the very top of a temple-ish looking building behind a brick wall. Scooted around the corner
to investigate. Whoa. As I walked through the red gate on aptly named Retreat Street I crossed
from 2010 Sydney into a small 19th century village complex somewhere in China. A clump of plain
white buildings with Chinese kids playing on a road maybe 50 metres long, while old Chinese
sat chatting outside their homes. And that temple-ish looking building? The Yiu Ming Temple,
the only one dedicated to Hung Shing in Australia, tucked away in a corner down the end
of the street.

What makes it such a surreal, time-travel trip is that this isn't just a temple for occasional worshippers
to pop into. This is a temple in a 'village' where Chinese people live as they once did 130 years ago,
give or take a few modern conveniences
. In fact, I read somewhere that "as many village temples
in China no longer exist, this intact example is considered to be of both local and international
significance".

Built in the 1870s by Sydney's Chinese community, and restored in 1998 after fire, the temple is
also unusual in itself, combining Cantonese design with Federation era Australian details.

Now here's the thing. If I had engaged in serious research - beyond Wikipedia, for example - I may have
'discovered' the Yiu Ming Temple and village in a guide book. How much more exciting to discover
it in the way I did, to come across it completely by surprise and to see it for the first time 'in the flesh'.
It doesn't matter that millions of people may have already explored it - just stumbling on it, I felt
like the first person to discover it.

So maybe a spoiler alert is appropriate at this point - avert your gaze for the next section if you'd rather
see this fascinating little pocket of Sydney for the first time under your own steam.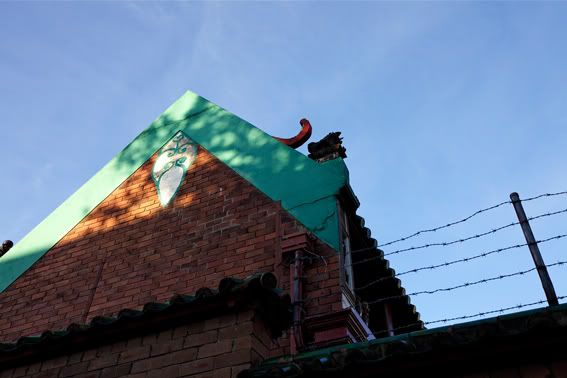 19th century life in 21st century Alexandria :: 1

19th century life in 21st century Alexandria :: 2
Eric, Maisy, Emily and Baby X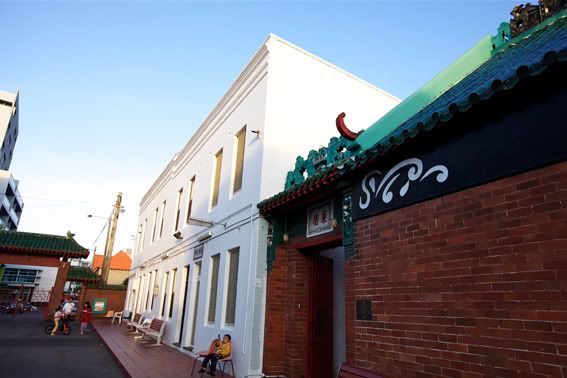 19th century life in 21st century Alexandria :: 3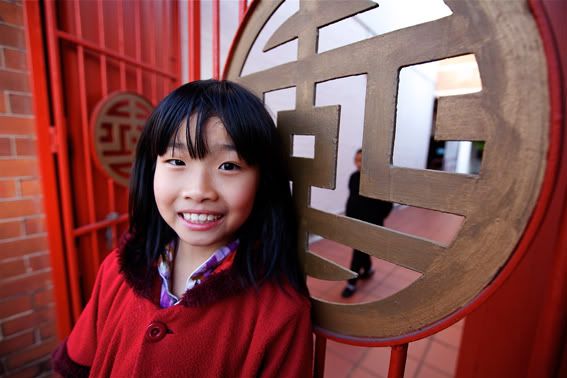 Emily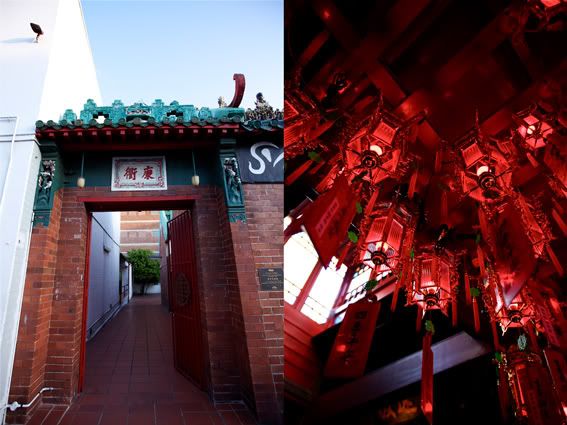 19th century life in 21st century Alexandria :: 4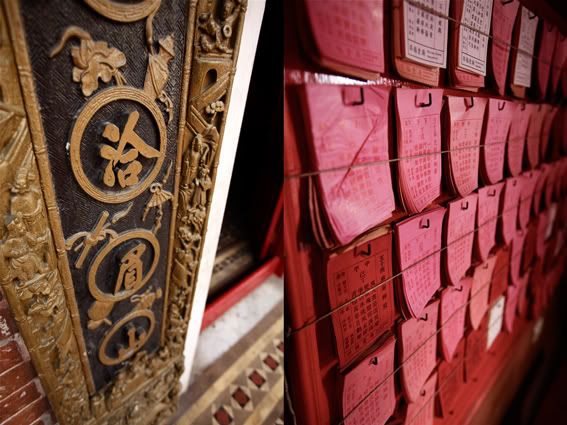 19th century life in 21st century Alexandria :: 5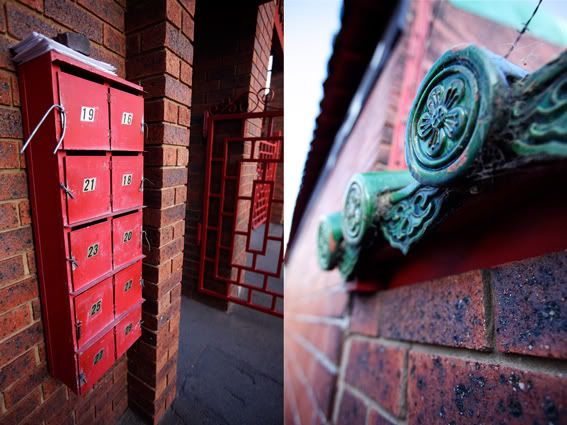 19th century life in 21st century Alexandria :: 6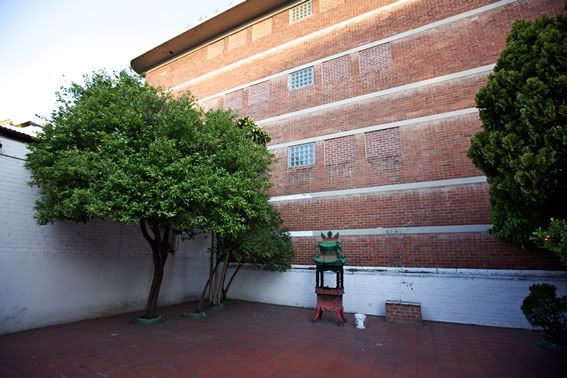 19th century life in 21st century Alexandria :: 7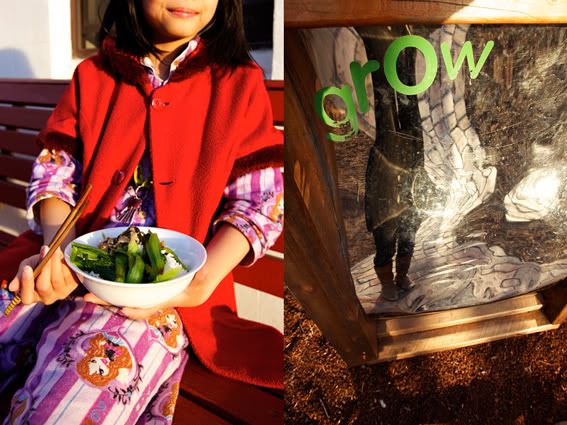 eat your greens or you won't grow big and strong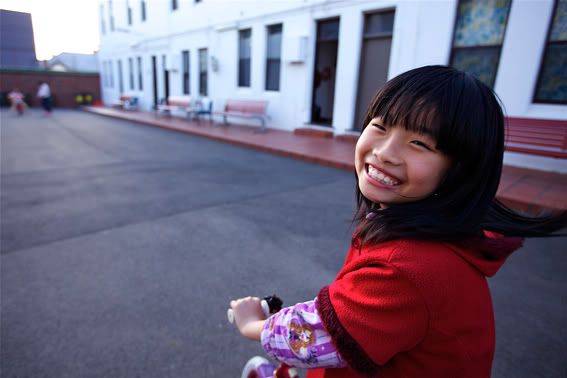 Emily on a toddler's bike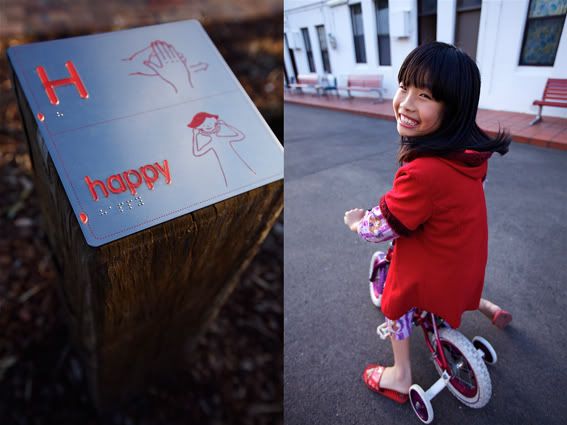 happy in anyone's language
Eric and Maisy, after the rain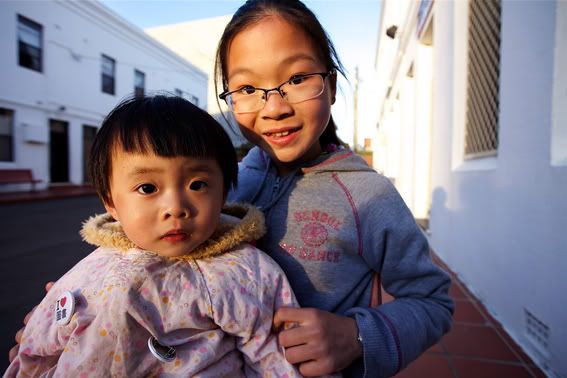 smile at the lady with the big camera
Part 3: Piazza Belmonte

A few days later I came across another surprising corner of Alexandria. From 19th century China I
travelled across the seas and forward in time to 20th century New Orleans - as brought to life in
a small cul-de-sac in Alexandria on Belmont Street, or as the locals like to think of it, Piazza
Belmonte.

Unlike
Yiu Ming Temple, this wasn't an altogether stumble upon. Friends who recently moved
to Alexandria told me about the cul-de-sac in Belmont Street where the locals often congregate
for mini-shin digs. As it happened, there was going to be one when I was 'in town' and maybe we
should go see. So we did. Fun. Very fun. We left with a new appreciation of the power of cul-de-sacs
to create community. Not to mention hell awful hangovers (not me, them - the party finished at
6am the next morning).
a colourful corner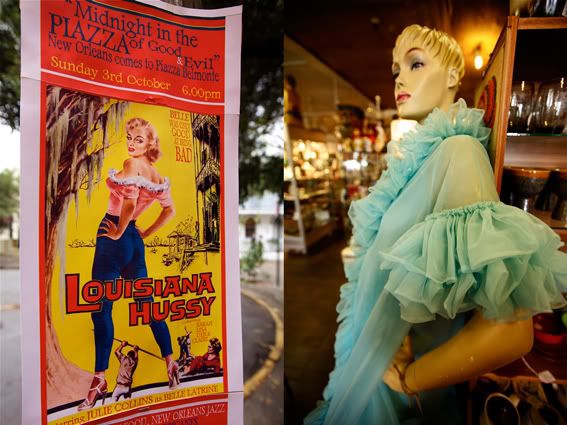 hussies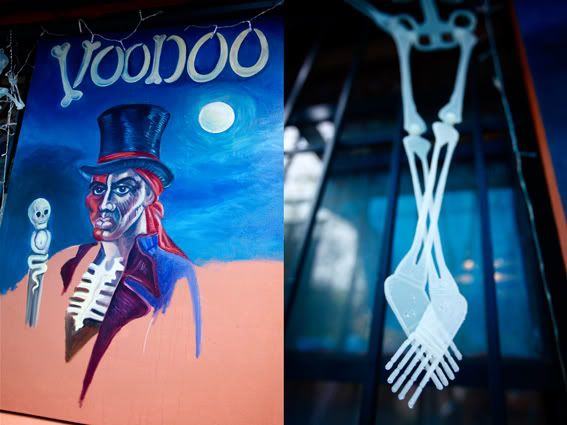 freaky
no neck is safe on Piazza Belmonte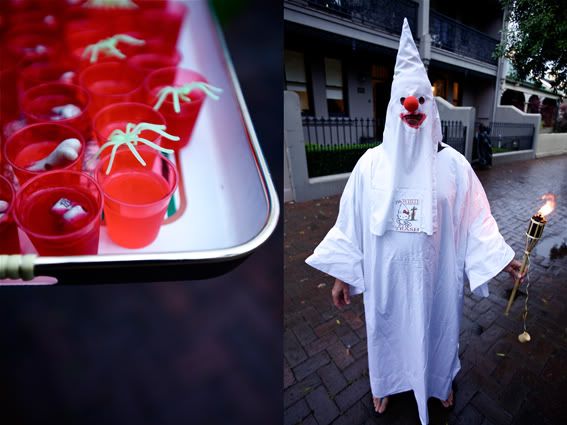 er, jelly shot Mr Ku Klux Clown?
South Sydney belle
Ben and Ella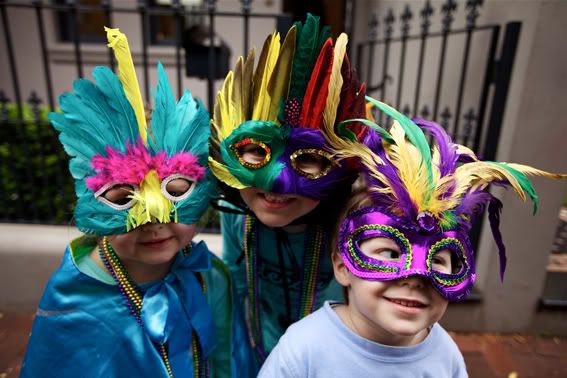 Ella, Ben and cousin Lucas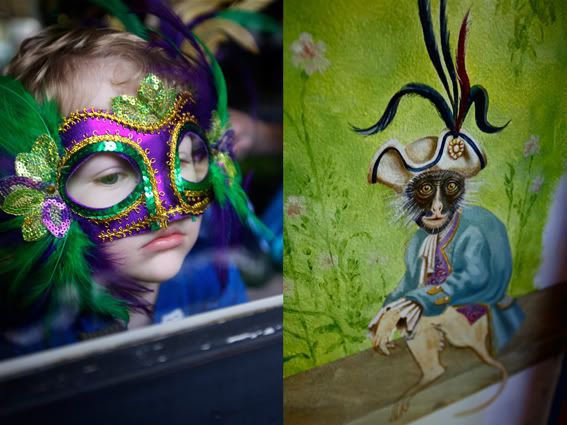 hey Jacob, come on outside, it's not as scary as it looks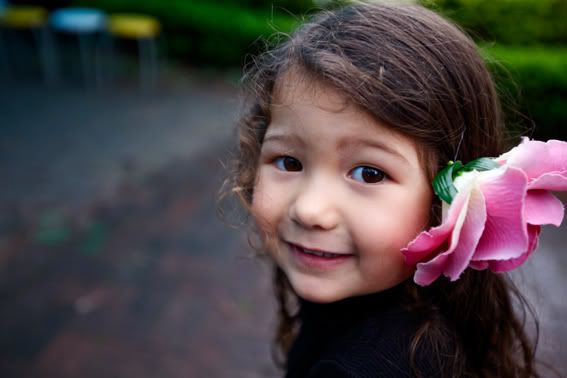 Danielle
Now remember the vampire dude?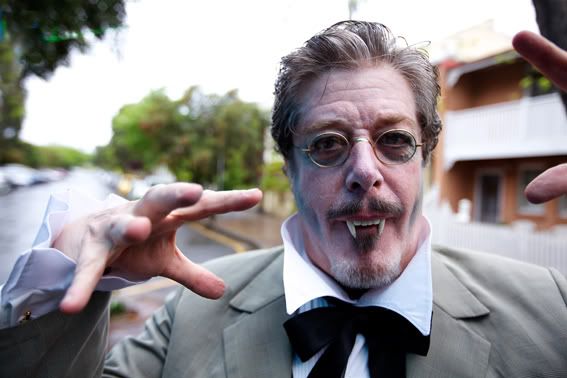 a dentist's dream
When he's not vampiring, he's John, artist and resident of the old butchers on Piazza Belmonte.
John
Unfortunately it was too dark to shoot inside the rooms where many of his impressive portraits hang.
But here's a few glimpses inside a home filled with whimsy and not a single hint of IKEA.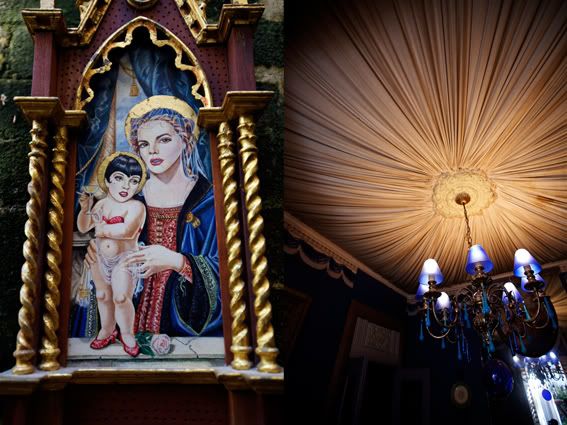 ma, he's gone a little nuts with the ceiling don't you think?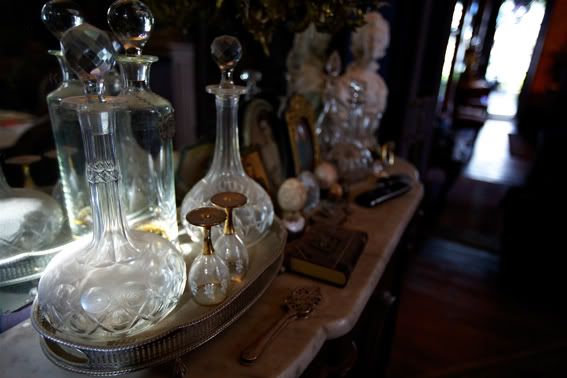 empties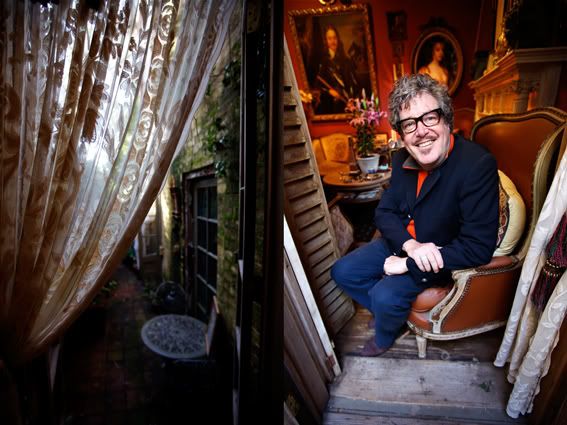 artist in residence
Part 4: Two cafes and a pub

I tortured my gluten-free self by stepping inside the Bourke Street Bakery and La Cachette Coffehouse
and Bakery (they each offer just one GF cake and if you're after savoury, there's zip).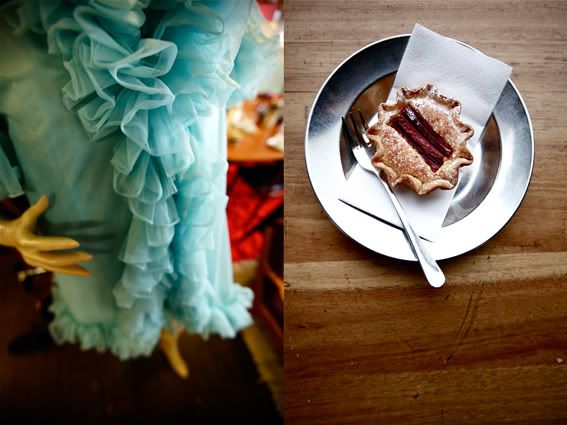 frilly tarts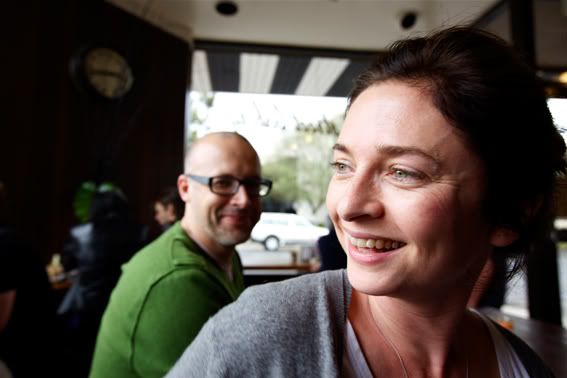 Damien and Jean, Bourke Street Bakery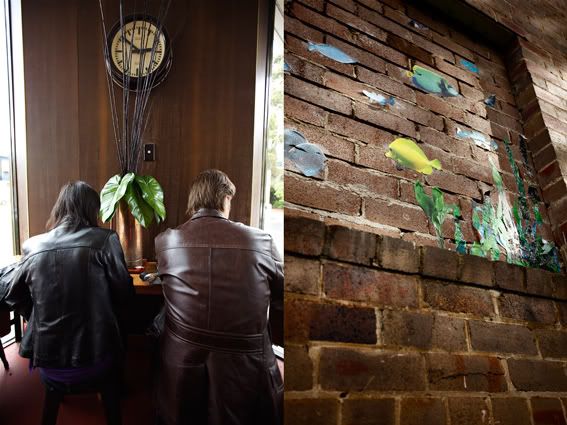 urban jungle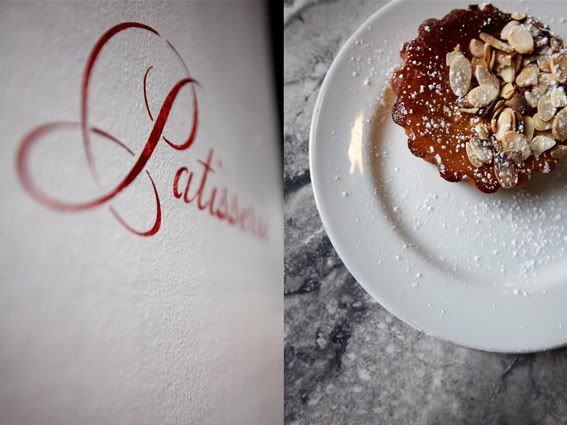 the French quarter
There's a handful of pubs to choose from - I chose The Alexandria where I met lovely security man,
James, born and bred in Fiji with an Indian dad and a mum part Samoan, part Irish.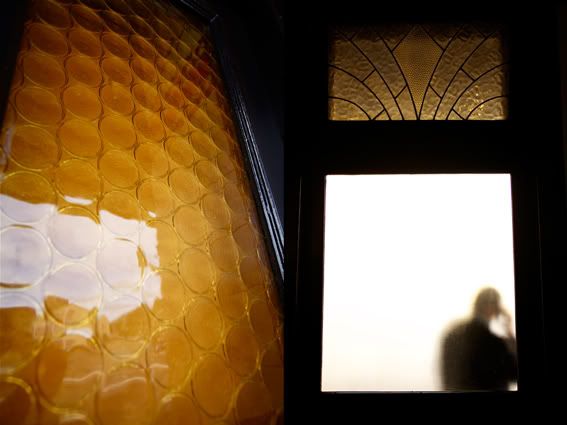 amber liquid :: 1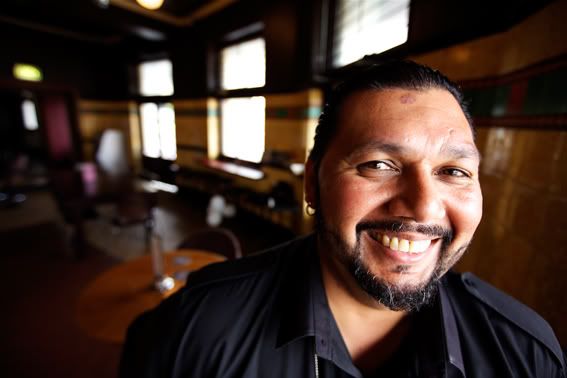 James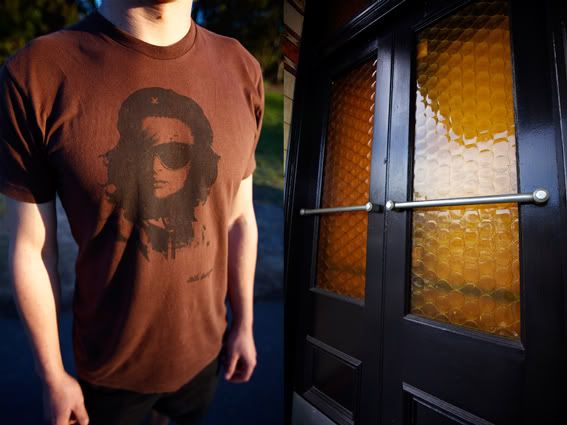 if Paris Hilton disguised as Che walked in, would James throw her out?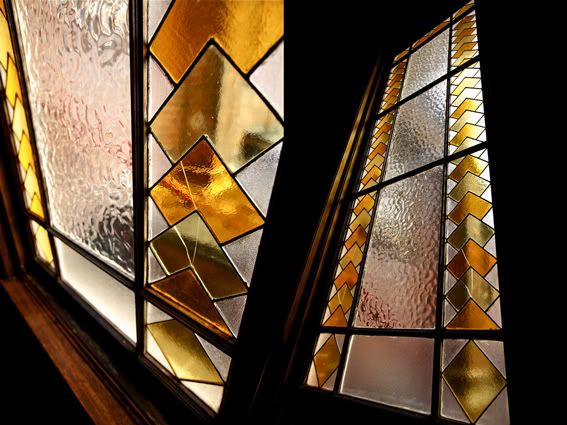 amber liquid :: 2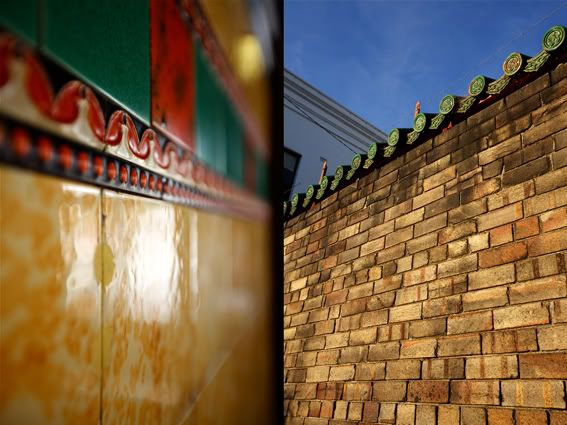 neighbouring walls, worlds apart
Part 5: Random ambles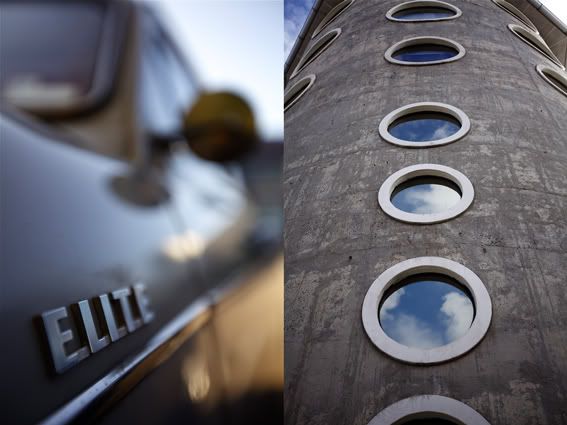 changes
alphabet house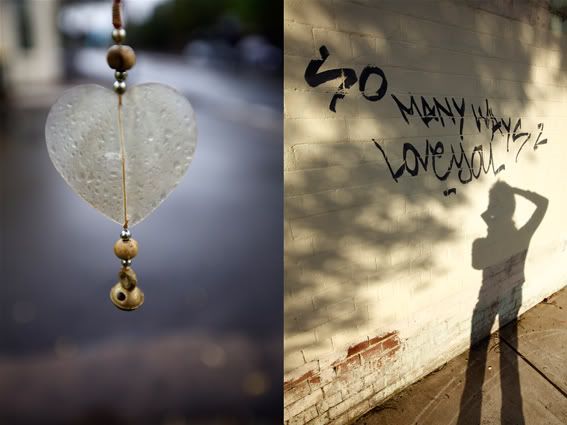 light, there are so many ways to love you
mail and letters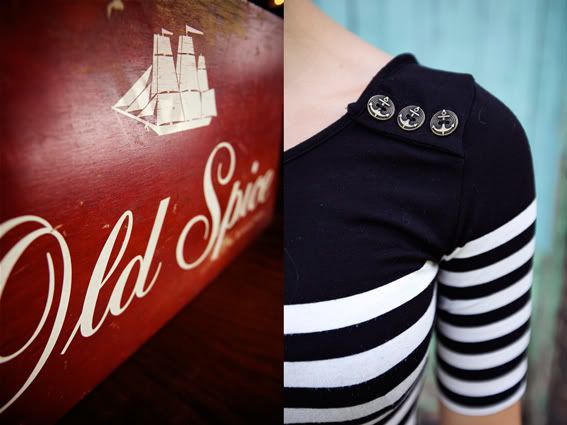 a nod to Alexandria's canal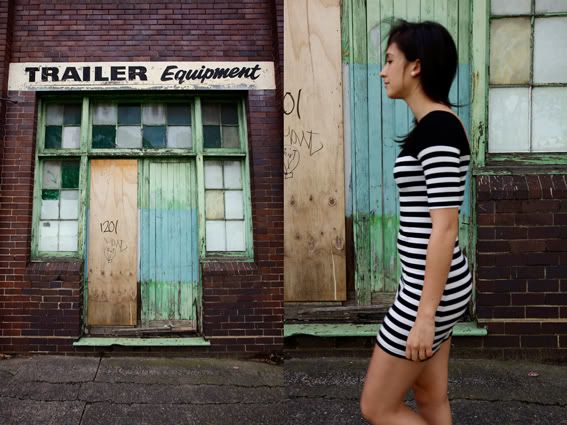 surviving, just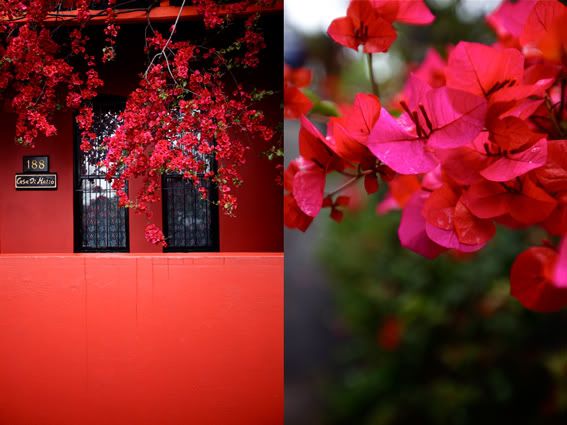 Casa di Mario, casa di mystery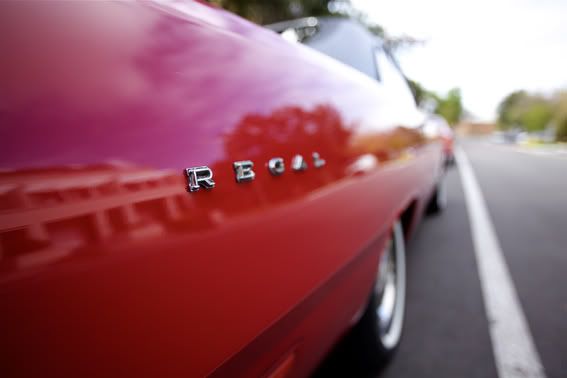 regal red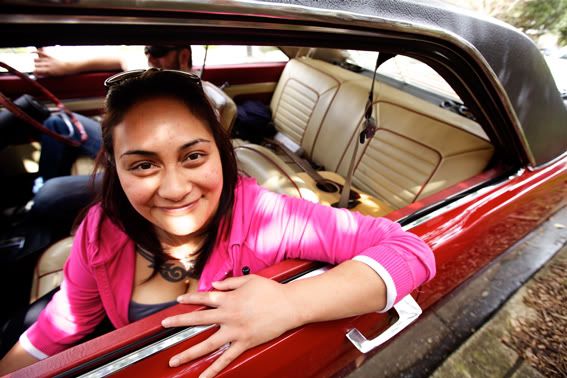 Alisha and Dave in the Regal
Beauty in Alexandria? There's brick loads of it in Sydney Park. I had expected to find beauty in the
industrial side of the suburb too but I got side-tracked by my 'trips' to China and New Orleans
(and to Mitchell Road Antique and Design Gallery, a deadly place if you like fossicking around
for hours on end and have a penchant for desirable knick-knacks).

See you next week for the 52nd Suburb!