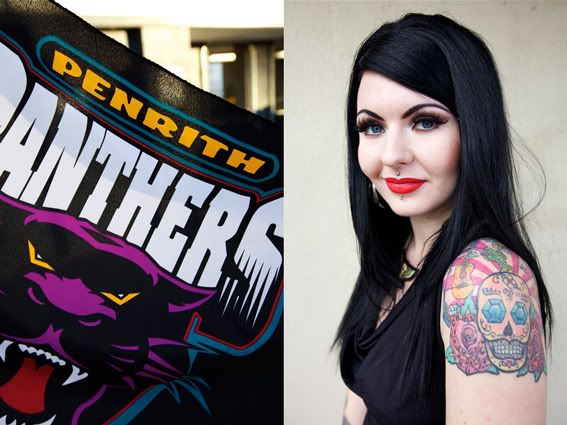 Woo hoo! Manged to break out of the city limits this week and head 50 km west to the edge of Sydney
- Penrith. Windows down, music blaring, my mini road trip was all the more exciting because
I was going somewhere I'd never been before. Driven through Penrith at 110km an hour en route to
the Blue Mountains many times - but never once thought to pull off the highway and explore.

Some history before we look. Darug people happily fishing away when the British showed up.
In 1810, Governor Macquarie named his five top towns, one of which was Castlereagh, just up the
road from Penrith. But Penrith took off instead due to the fact a whopping great highway ran
through it. When the railway came to town in 1863, Penrith really bloomed, then again during
the Second World War and once more in the 1970s. Today Penrith is dominated by large shopping
complexes, one of the largest rugby league clubs in the country and Penrith Stadium, home to the
Panthers. There is also a major performing arts complex, 'the Joan'.
Penrith takes its name from
another Penrith by the river in Cumbria, England.
Part 1: Penrith's past in pictures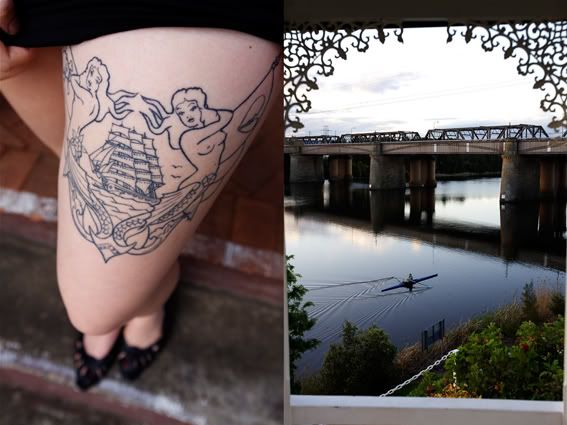 Macquarie sailed up the river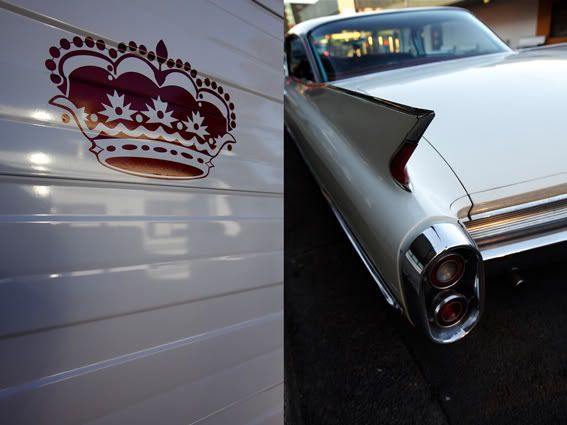 Penrith ruled thanks to the mighty highway
where emus once roamed, shopping centres now sprawl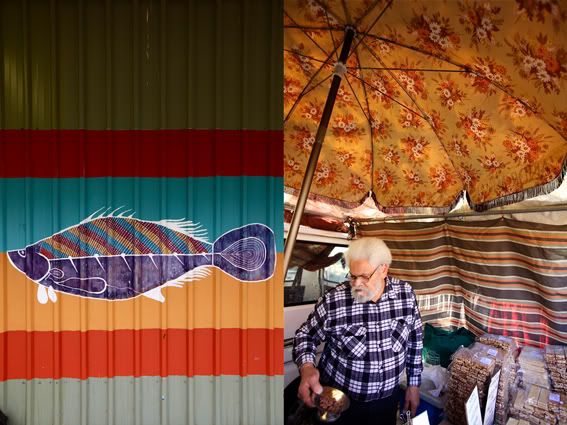 where fish once fed a people, markets now provide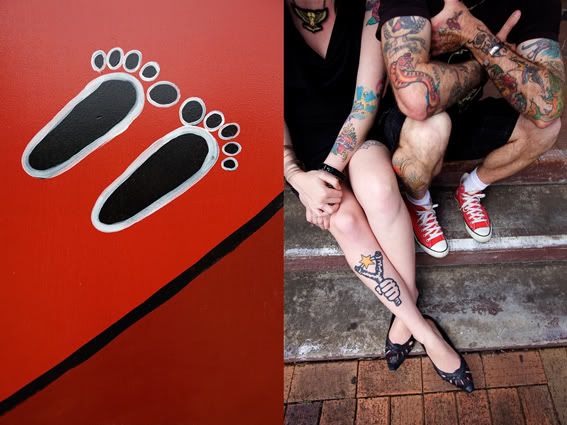 where blackfellas once walked, whities now wander

Part 2: Katie's crew at the Joan

I happened to visit the Joan Sutherland Performing Arts Centre on the same day that a group
from AFFORD, the Australian Foundation for Disability, were visiting too. They had come from
Mount Druitt to perform in a talent show, AFFORD's Got Talent. With only minutes to spare before
they went on stage they kindly allowed me to take a few quick pics in the foyer.
new stars at the Joan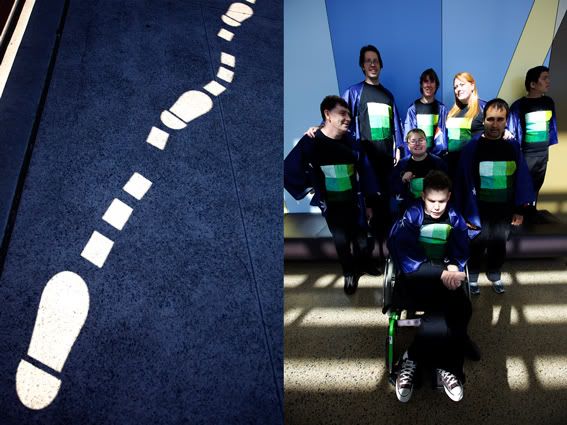 stepping into the light
back row: James (music therapist), Warren, Katie (disability support worker), Carlo. middle row: Peter, Monique,
Daniel. front: Glenn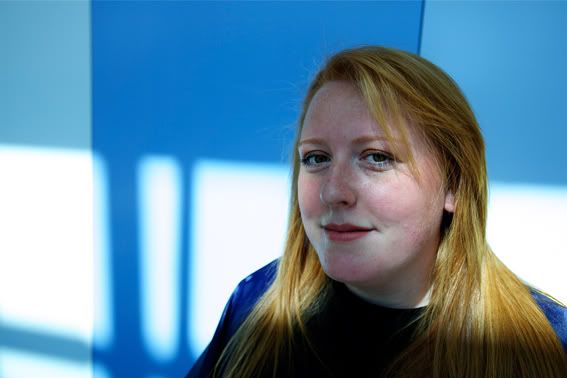 Katie, disability support worker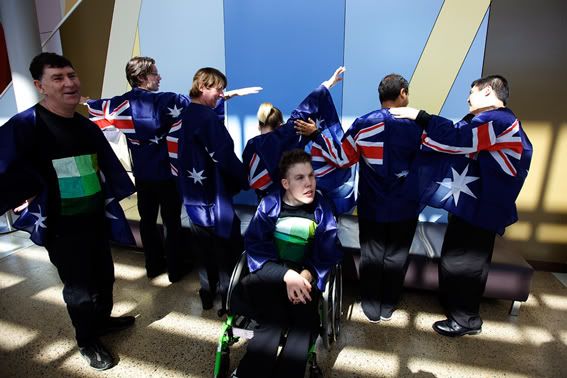 flying the flag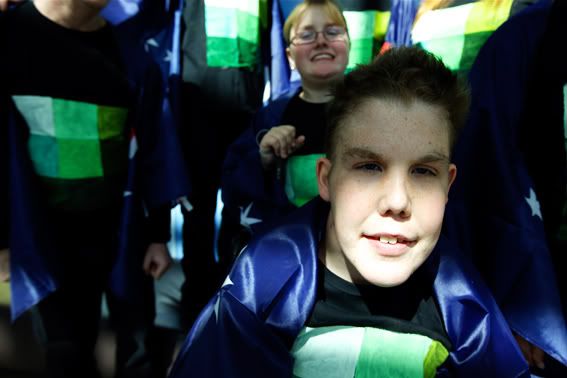 Glenn
Monique :: 1
I only spent a couple of minutes with the group but they left a lasting impression on me. I was
particularly captivated by Monique and her lively personality. She may be sight impaired with
an intellectual disability but every time I pointed the camera at her she smiled and laughed as if
she didn't have a care in the world.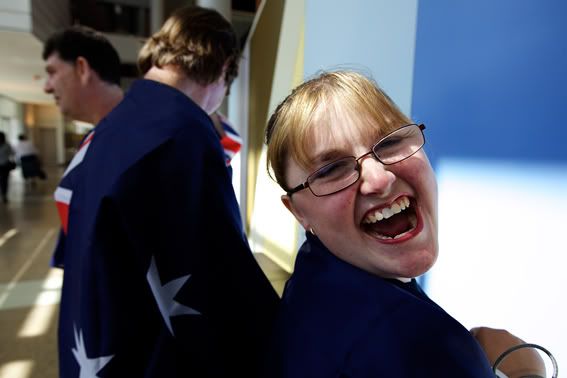 Monique :: 2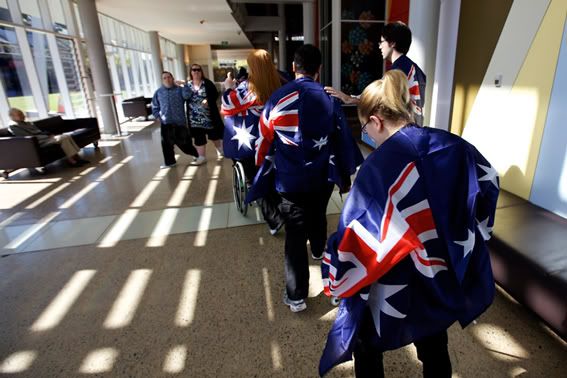 off to star on stage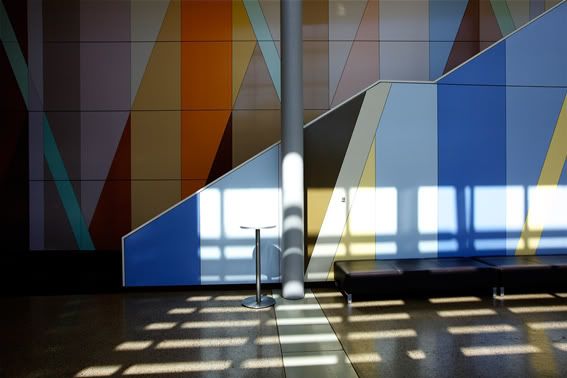 and then they were gone
Until I ran into them again, after the show.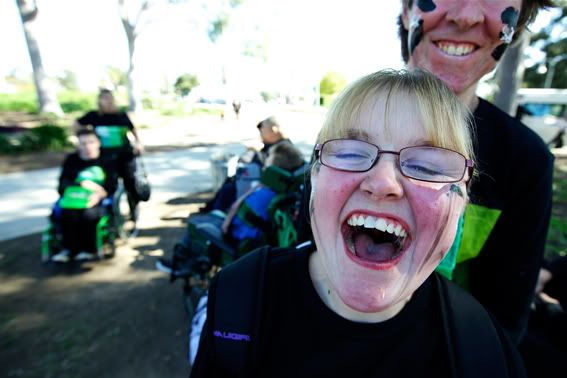 Monique :: 3
Part 3: Wolf and Swan

You know how I like a tattoo or two. On my first day in Penrith I spotted two pink flamingos in
the distance. "Excuse me", I shouted across the road, "I love your flamingos! Can I take a shot
of them please?" The owner of the elegant birds obliged and that was how I met the very striking
Veruska Wolf and her partner, William Swan. Living in the lower Blue Mountains, they were in
Penrith to buy groceries. While I was busy photographing the couple and their myriad tattoos,
I learnt that Veruska was born of Hungarian Romani or Gypsy blood. Which explained her striking
appearance - and the fact she spent the first 13 years of her life happily living in a tent and remains
restless to this day.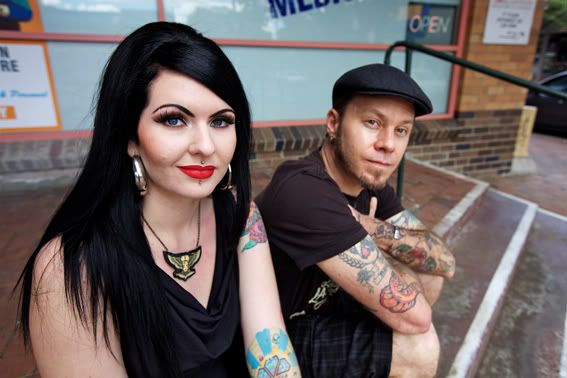 Wolf and Swan prepare to hunt and gather - at Aldi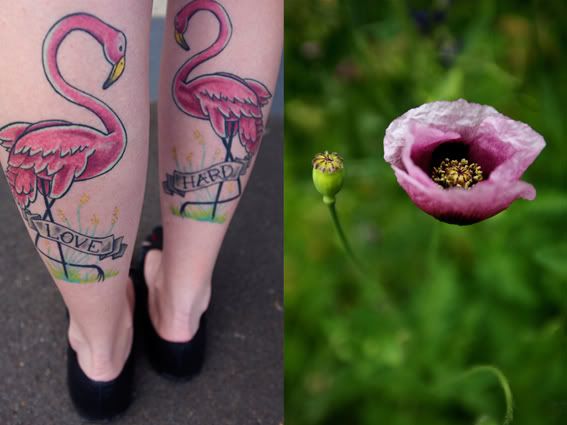 Love Hard, because life is a delicate business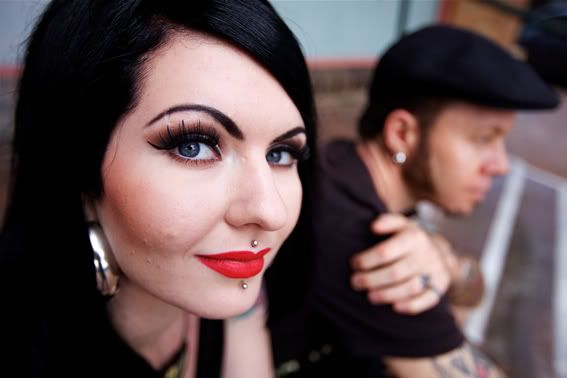 Angelina and Brad of the West :: 1
Angelina and Brad of the West :: 2
i am eagle, you are chair
even glamorous Gypsy types have to get the groceries :: 1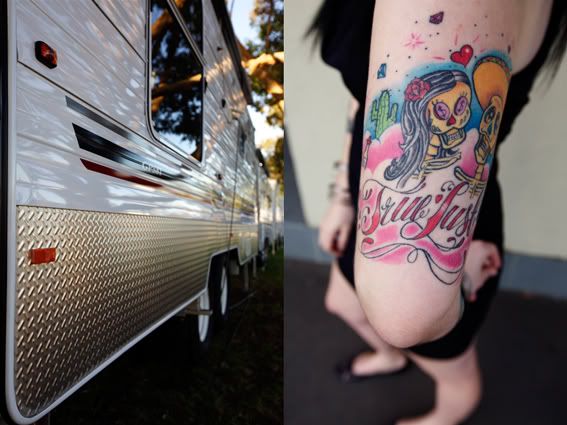 lust and caravans go together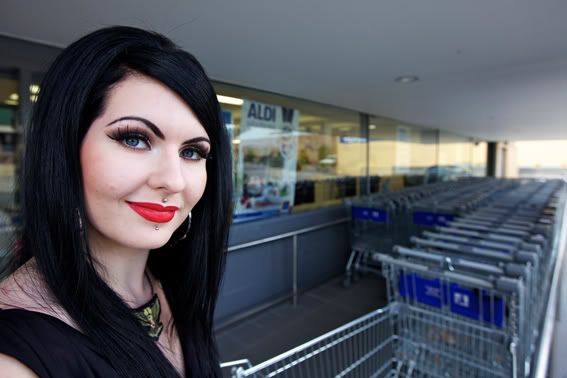 even glamorous Gypsy types have to get the groceries :: 2
Part 4: The other Gypsies

The day after I met Veruska and Will, I stumbled on another group of people who like to keep
moving - a team of horsemen and women who travel around Australia performing a show called
The Horseman from Snowy River. While I didn't see the show I did meet the beautiful Pasha,
an Arabian stallion with a snow white mane that I couldn't stop photographing...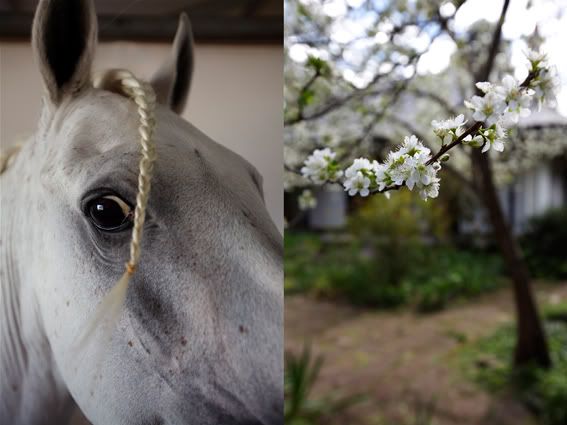 wisp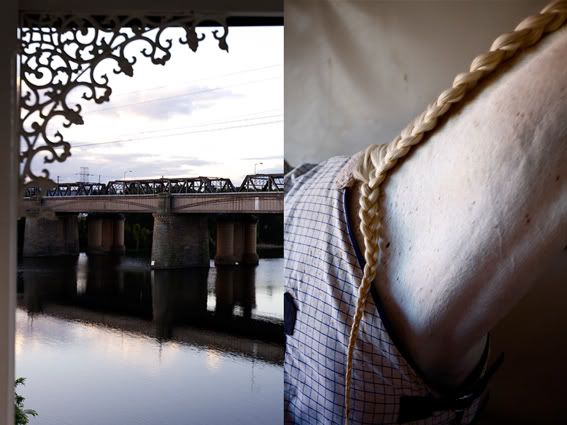 the man from Nepean River
Penrith Valley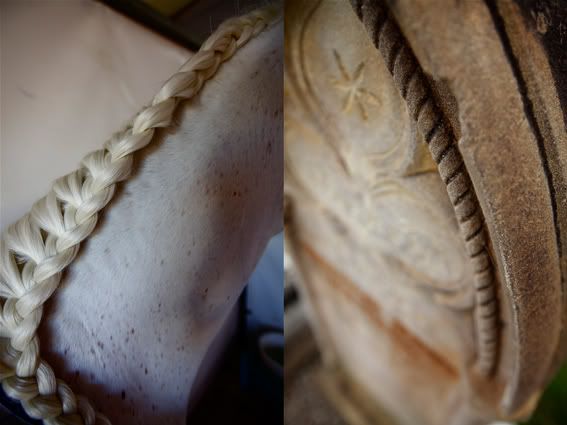 rope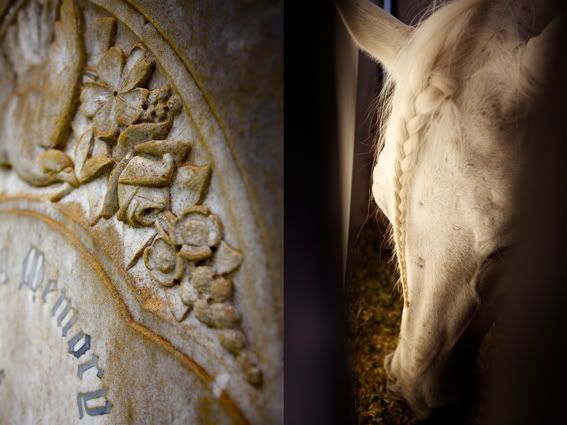 then the bird gave the unicorn a flower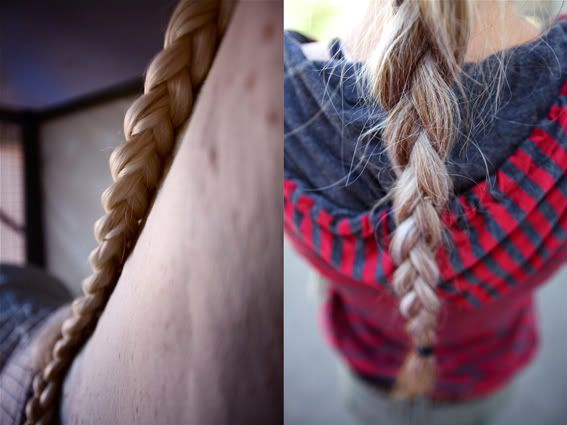 plaits
I popped my head in again on Saturday to take a few more snaps. This time of the two legged
members of the team, just after their afternoon show.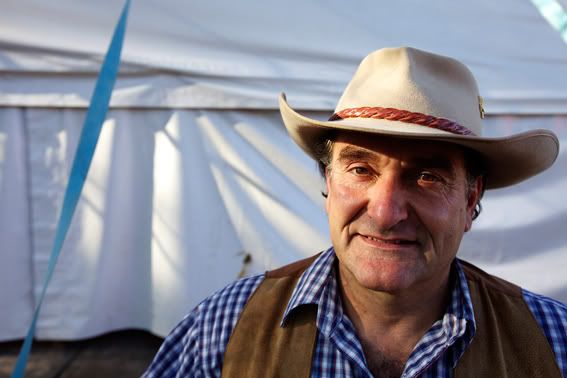 Sonny, master horseman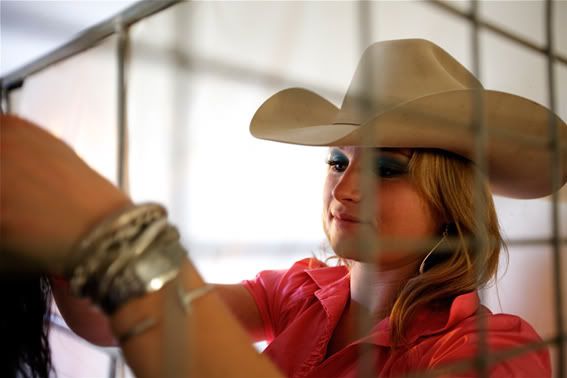 Sarah, plaiting manes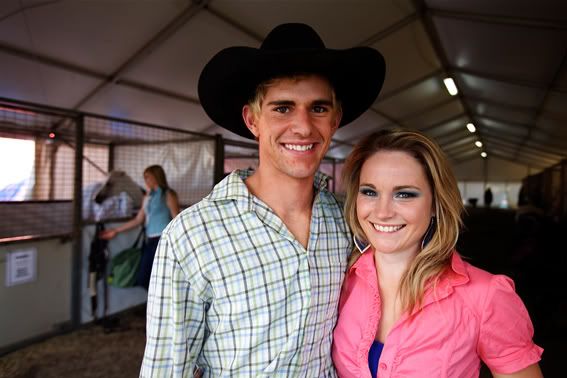 Cal and Sarah
Brett, Master of Ceremonies
They're performing in Penrith until late September, then moving on - to St Ives then Castle Hill and
who knows where after that.
Part 5: Panthers passion

I left Sonny and his team to take a few shots of the entertainment happening on the other side of
the road - the Penrith Panthers were about to play at Penrith Stadium.
I know nothing about Rugby League but I do know that it's a big deal in Penrith, especially when
the home team are playing. The game wasn't on for hours but supporters were already starting
to arrive.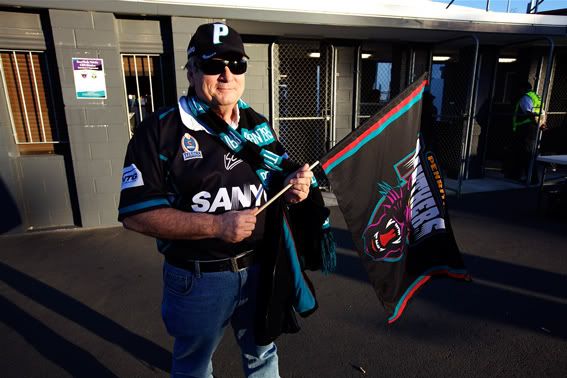 P is for paraphernalia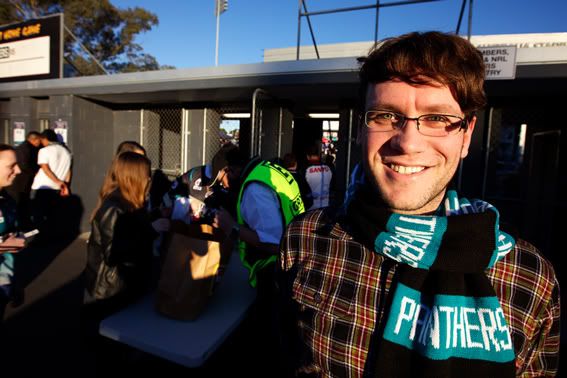 up from Melbourne to see the game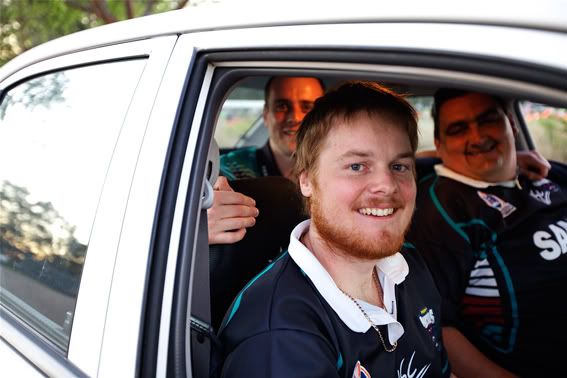 the boys arrive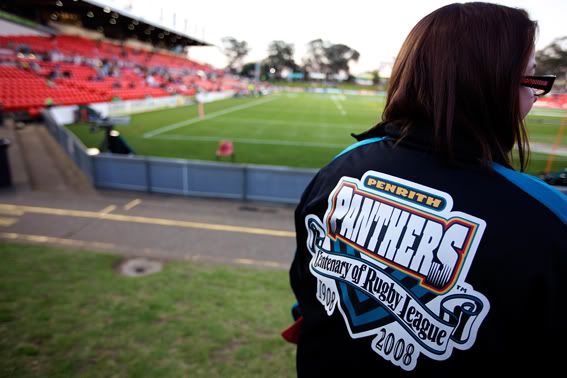 a proud Panther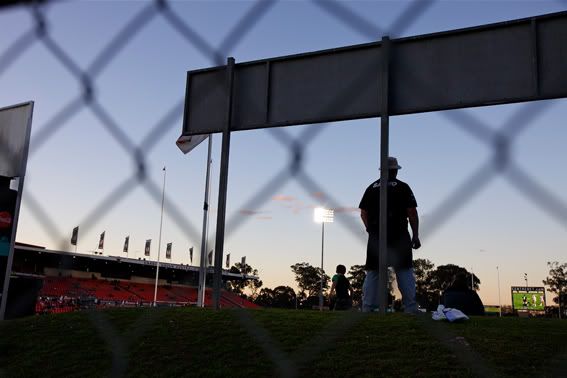 getting into position
Part 6: People of Penrith

As they went about their business - at the markets, in their cars, going to school and messing
about the front yard - I stuck my camera in their faces and asked nicely.

Starting with Aisha and Jade, two Muslim women I met at the Penrith Showground Markets. Aisha,
the more covered of the two, was particularly keen to have her photo taken - "I don't have any shots of me".
Jade and Aisha at the markets :: 1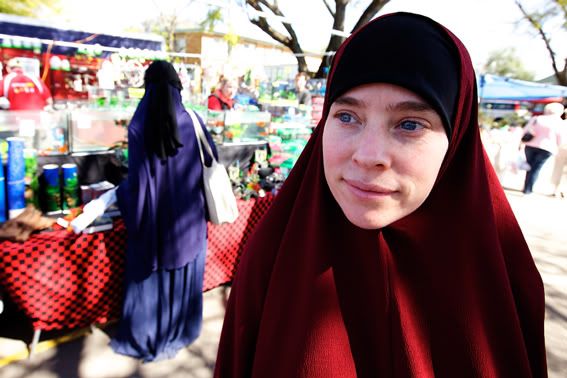 Jade and Aisha at the markets :: 2
Jade and Aisha at the markets :: 3
Next, this happy couple, selling jewellrey I think.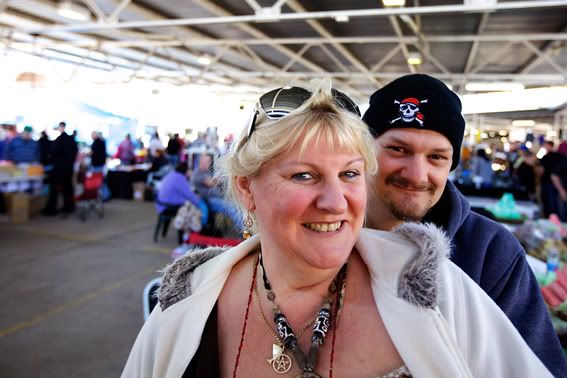 stars and skull & bones
Tammy, on her way to work as a cleaner.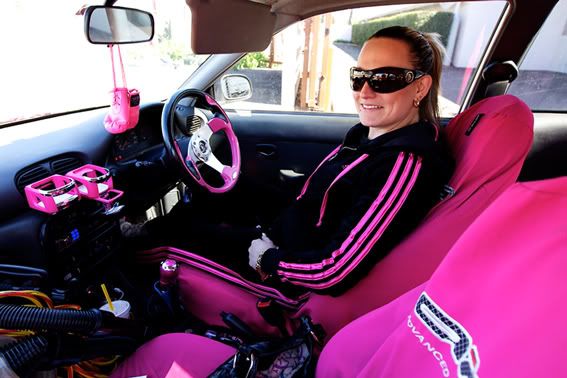 "i just love pink"
Mum and daughter, on the high street.
ladies in red
Jagmel and Maninder, two Indian taxi drivers, waiting for their next job.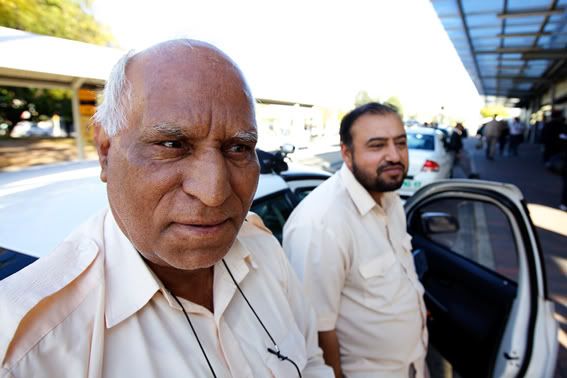 from Punjab to Penrith
Mersal and Lauren, off to school.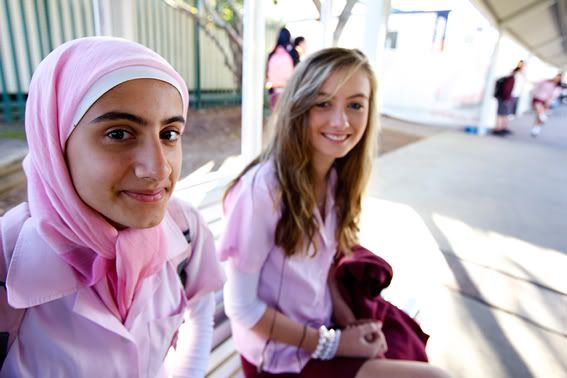 scarves and pearls
Another group of school kids, about to catch the bus.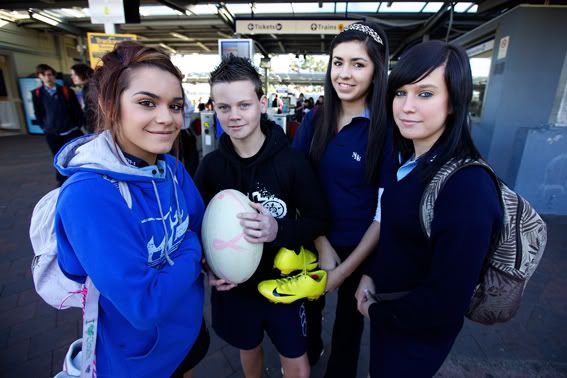 yellow boots
And finally, half Fijian, half 'Australian' Xavier and Isabella, playing in their front yard with their
Fijian auntie, Laisani.
the tickle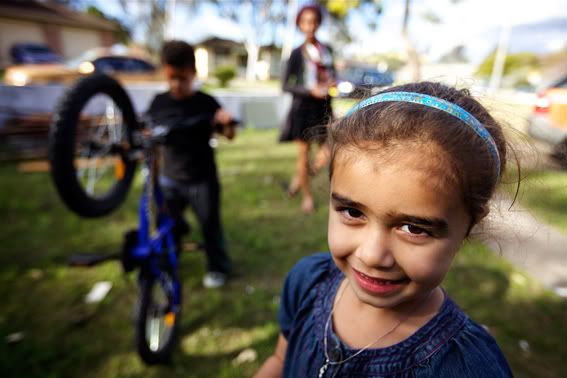 wheelie
Part 7: People and plants

Just because.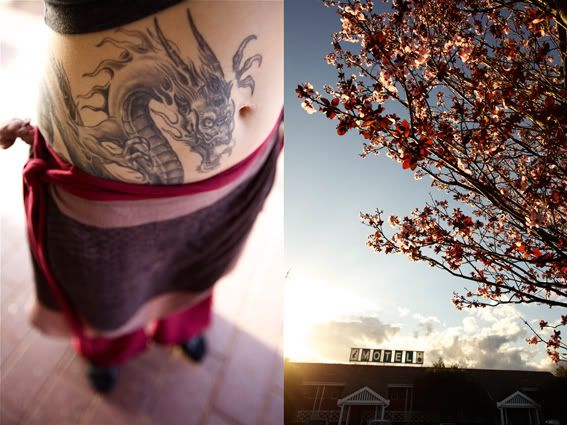 wild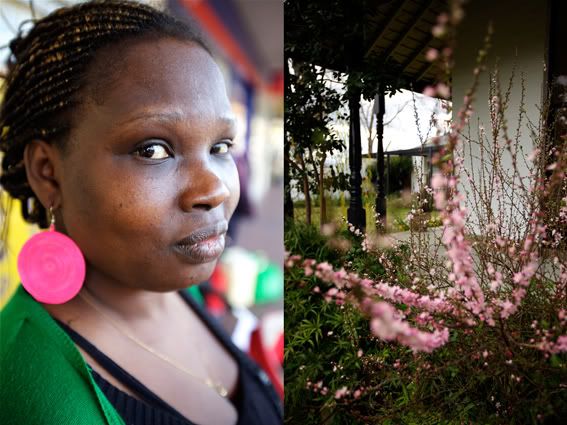 pink and green should always be seen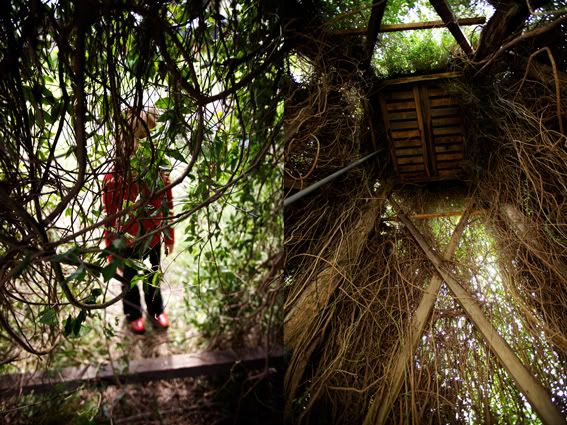 tree house, Penrith Regional Gallery
The highlights of my time in Penrith were many - from meeting Monique and Veruska and Will to
being able to admire Pasha and his perfect plaits at such close quarters. And while I don't follow
rugby, I do appreciate the passion. I found myself scanning the sports pages this morning for news
of the Panthers game. My condolences. Who do those Canberra Raiders think they are anyway?
Can you believe it, just four more suburbs to go.
See you next week.