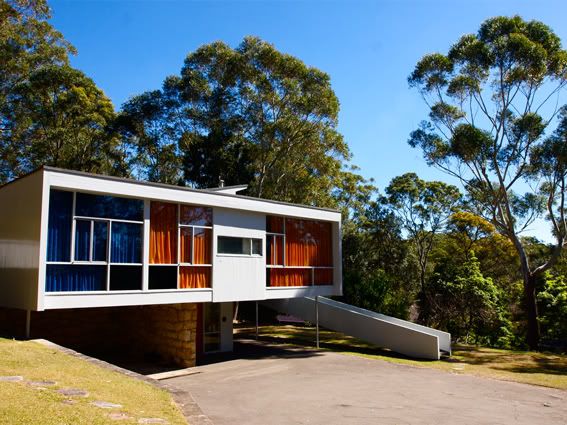 I had to go back. As wonderful as the cast of thousands had been at the Fifties Fair, I wanted
to see Rose Seidler House on its lonesome. I'm so glad I did. You really need to be there with
only the birds for company to fully appreciate how special both setting and house are.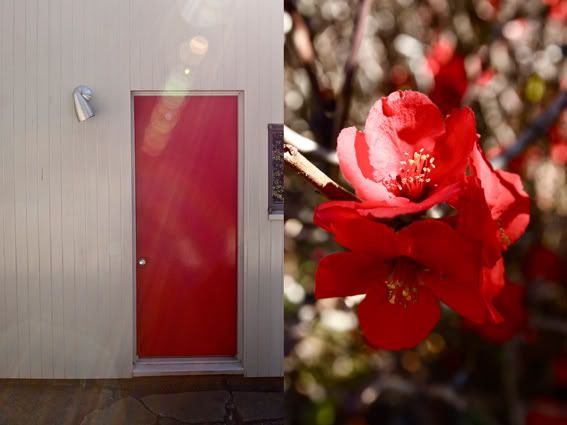 Architect Harry Seidler designed the home for his mum, Rose, in 1948. Fresh from his training
in America under the modernist master, Walter Gropius, Seidler was horrified by Australia's
suburban "architectural wasteland" and its lack of connection with the natural landscape.
Rose Seidler House was his first opportunity to advertise another way of living. The elevated
cube, devoid of pitched roof or solid brick walls and with a view from every angle, demonstrated
just how interconnected a home and its surrounds could be. A little hairy perhaps in bushfire season
but in all other respects the ideal Australian home.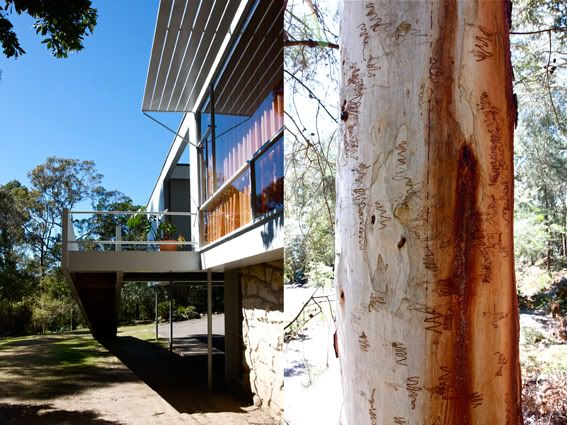 I
eventually dragged myself away to try and find another Wahroonga architectural anomaly -
Bruce Rickard's Marshall House. I wasn't able to spy it unfortunately but in my search I found
this walls-of-glass number.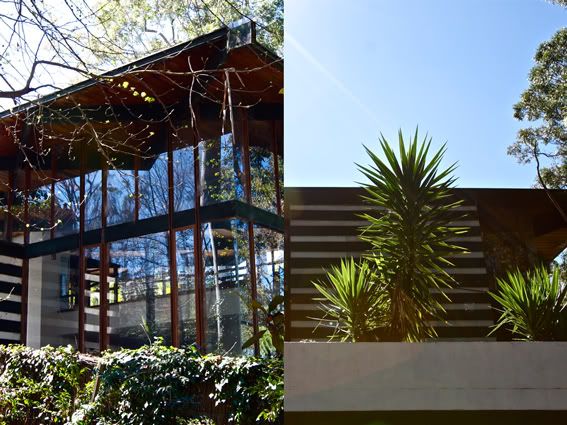 The kind owner let me have a peek inside and informed me it was a 1969 Gerry Rippon house.
The black and white stripes made me think of a giant Liquorice Allsorts while the criss-crossed
ceiling brought to mind the Cherry Blossom down the road. Like Rose Seidler House, it seems to
welcome the landscape in with open arms and celebrates Australia's riches of sun, light and air.
The verdict... In the admittedly brief time I'd spent in Wahroonga, had I found beauty in the 'burb?
Certainly many would consider the suburb 'beautiful', filled with grand mansions and manicured
within-an-inch-of-their-lives gardens. But where I found joy was in its temporary infiltration by
a frenzy of 50's fans and a few buildings that seemed completely out of place - and yet so perfectly
at home in the country we live in.
One down, 51 suburbs to go... Next week
52 Suburbs
is visiting a suburb I've never been to and
have no idea about - Lakemba. But I suspect it'll be about as far away from Wahroonga in every
respect as you could get.