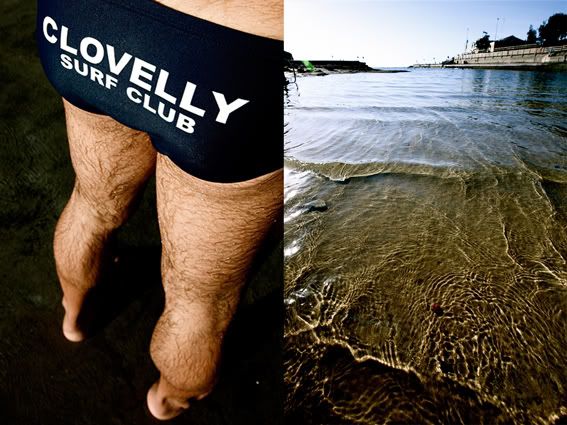 Okay, so this is a little odd. Not the fact I'm posting late – apologies but I knew that would be the case
and as much as I hate being late for anything, I can live with it – Christmas and all.

What's odd is the fact that this week's suburb is my own – Clovelly.

It's a little strange to be exploring my own suburb when the premise of 52 Suburbs is to explore the
undiscovered or at least the unfamiliar. (And just to explain, it was either Clovelly or miss a week as
there was no time to venture any further than my own backyard).

But what's really odd is that I should know my own suburb like the back of my hand, right? What I
discovered is that I don't, not really.

For example, I've lived in Clovelly for almost three years but until this week I'd never once stuck
my nose inside the spectacularly sited Clovelly Bowling Club. Never peered into the water of Clovelly
Bay long enough to notice how beautiful the patterns are. Never walked slowly enough through the
neighbouring cemetery to appreciate how old and sad some of the graves and their stories are.

Who doesn't know their own suburb?! When I thought about it I realised this is the clearest example
in this project so far of the way people can walk around with eyes half shut, not really alive to it
all – even in one's own blooming suburb.

Which is exactly why I started 52 Suburbs and why I'm so relieved to have found a reason – an excuse –
to get out of my own head and move through the world. Slowly. Taking the time to really look.

Anyway, 'Cloey' - a smallish beachside suburb squeezed in between its possibly better-known
neighbours, Bronte and Coogee.

There seems to be two major themes in this gentle seaside suburb – life and death. The life bit
largely takes place down at Clovelly Bay, where you can swim with the fish and feel so alive you'd
swear you could live forever. When you discover that was a little optimistic and you're about to
cark it, at least you know it's just a short trip up the hill to the bowlo for a few final bevies and
then a little further to the local cemetery where you can spend the rest of eternity staring at the
view you'd always wished for but could never afford.

Speaking of money, Cloey was once a poor suburb with the local school filled with kids in bare feet.
Things are a little different nowadays, but there are enough 'average' families and shabby apartment
blocks to stop it putting on too many airs and graces.


Part 1: The bay

A small beach at one end with two long concrete platforms that run the length of the bay - ideal for
those who dislike the feel of sand in their swimmers. The bay is filled with fish, including the famous
blue Groper. I remember the first time I dove down into the depths of the water to see this whole
other world. Fish everywhere, lit up by beams of sunlight stretching down to the sandy bottom. If
only I had an underwater camera I could have shown you. As it is...
swim with the fishes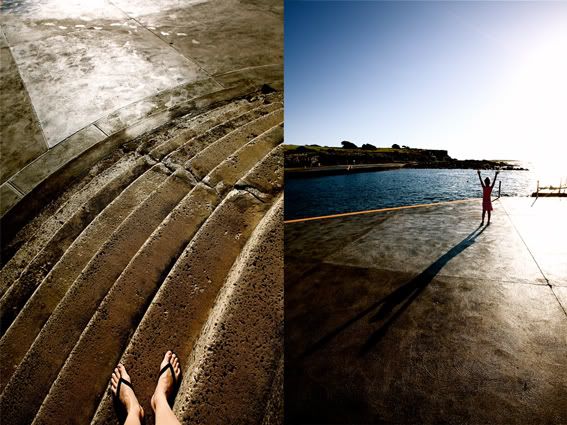 look mum, no sand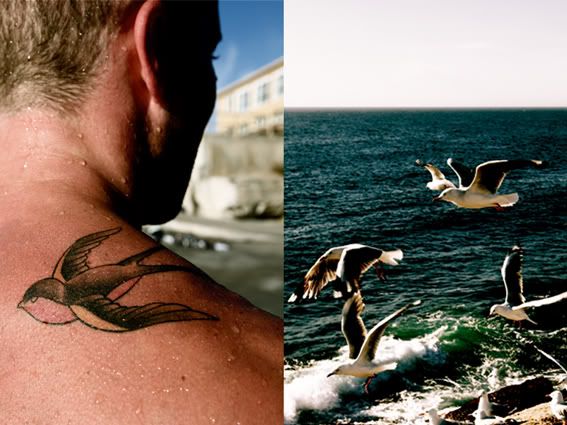 fly free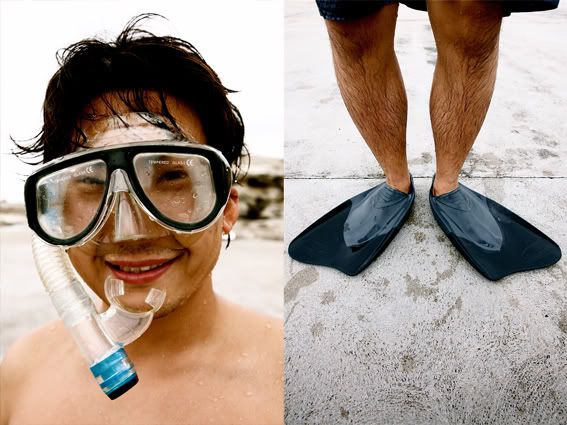 life aquatic
long lines of early morning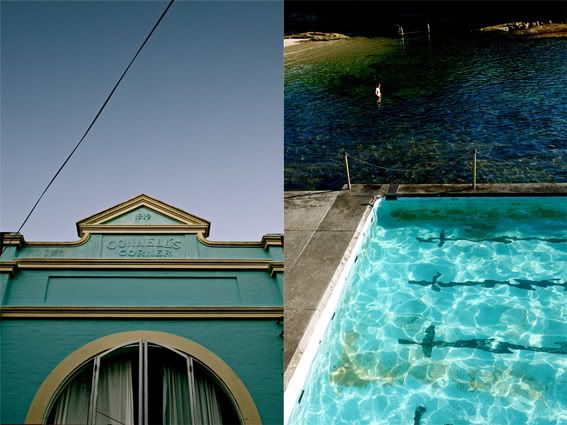 nice corners of the world
in rude health
fluid motion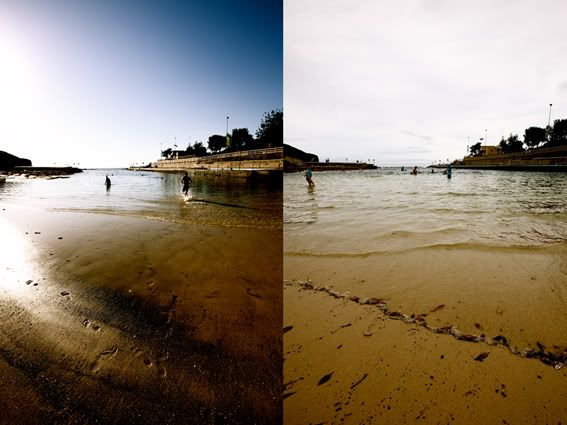 what a difference a day makes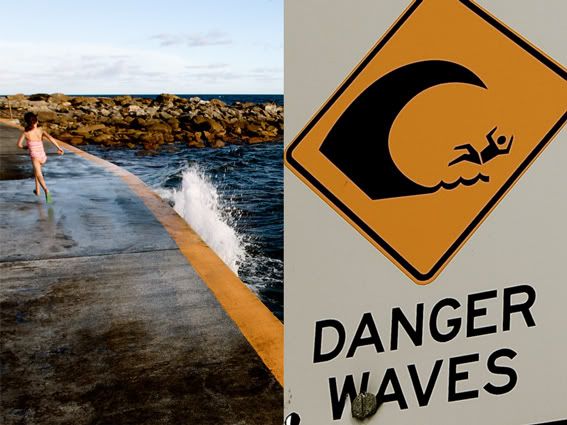 scary wave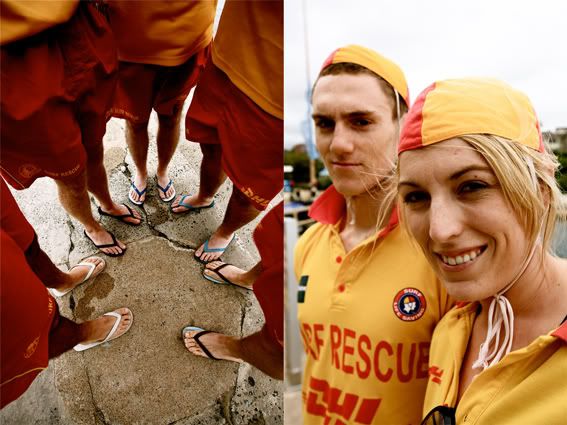 saviours in uniform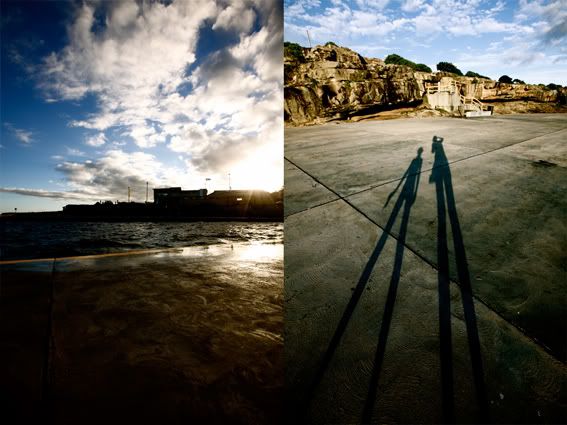 enough to make you feel ten feet tall
different paths to heaven
(St Anthony's Catholic Church)
as the sun sinks slowly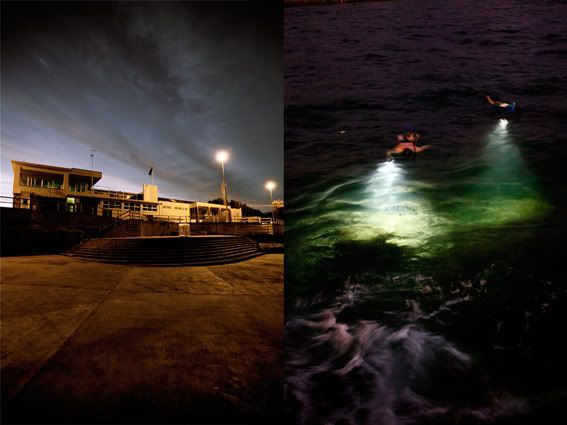 do fish sleep at night?
(Clovelly Surf Lifesaving Club)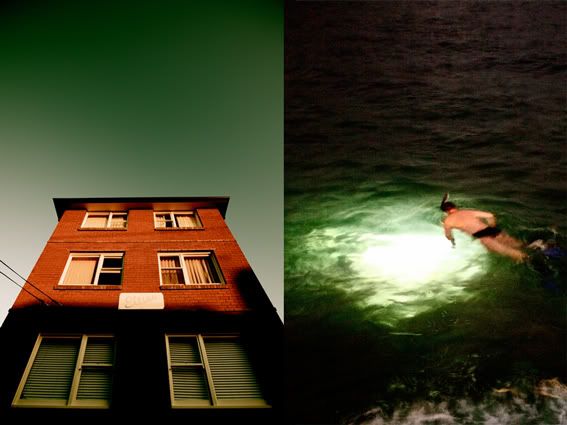 escapism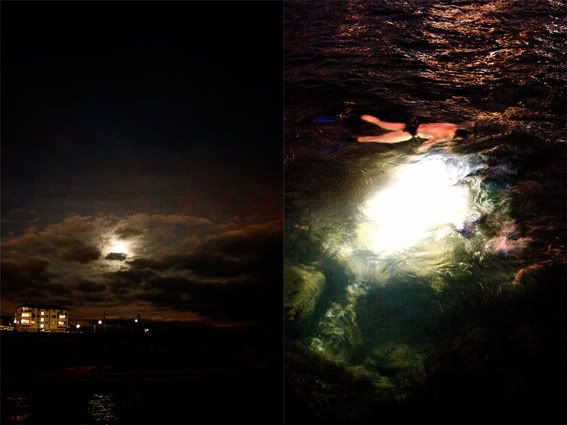 by the light of the moon and the torch
Part 2: The bowlo

Beautiful old stone building perched on the edge of the Australian eastern seaboard. Yet despite its
million dollar views no-one's got to it to ruin the laid back atmosphere - its edges are nicely frayed,
the walls are covered with nostalgic memorabilia and the vinyl seating is luxuriant indeed.

A fine place for an afternoon tipple - or even a game of bowls.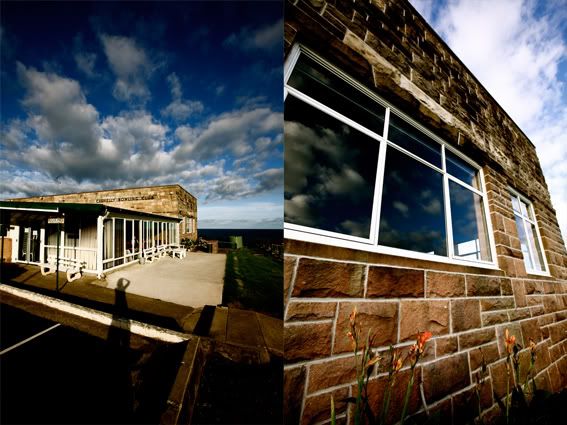 up in the clouds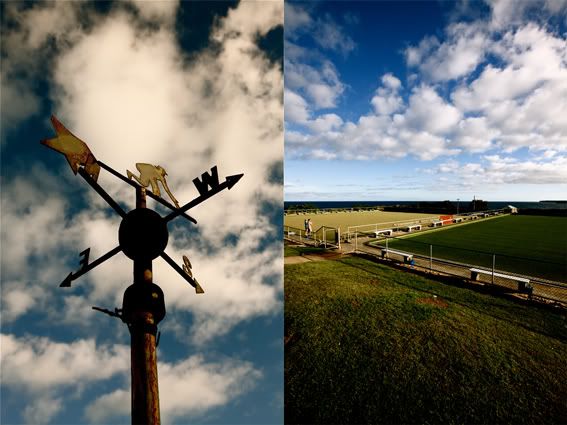 ocean views in every direction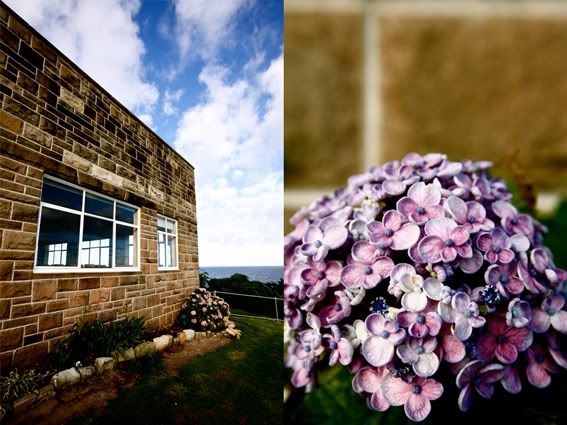 hardy souls
memories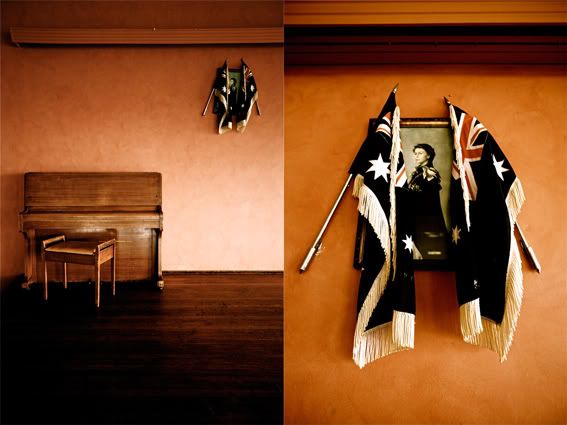 the royal treatment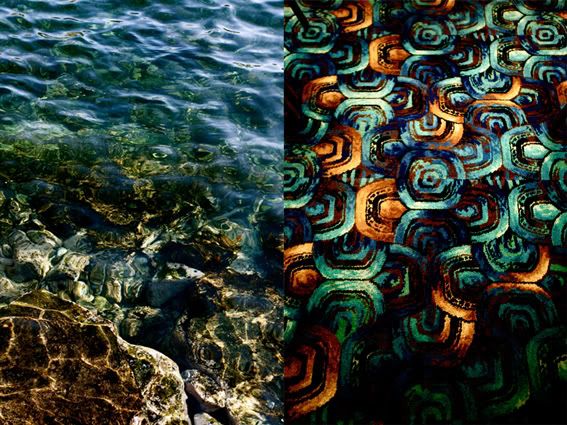 the inspiration?
Part 3: The cemetery
The cemetery is technically in the next suburb, Waverley. But it has such a dominating presence,
visible from much of Clovelly, it feels wrong to leave it out.
When I was there the other day a friend remarked how creepy she finds cemeteries. I quite like
them - some of the headstones and assorted angels are beautiful. And they serve to remind the
living to get on with it - million dollar view or not, life's a lot more interesting when you're
above
ground.
Of note: Waverley Cemetery is considered to be architecturally significant thanks to its 19th
century stone work and funerary art. Walter Burley Griffin designed one of

the tombs. And the
poet Henry
Lawson was laid to rest here (as was a dear friend of
mine, the beautiful Inarchi).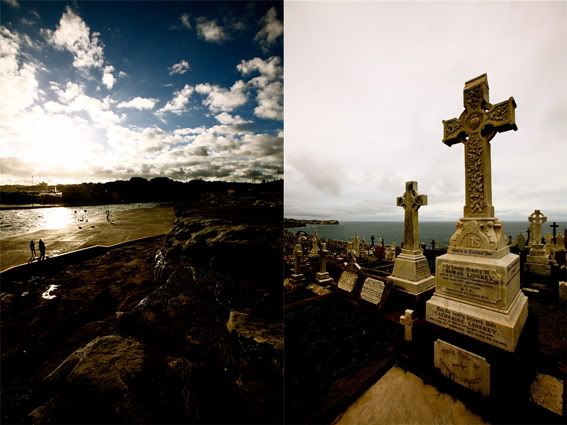 life and death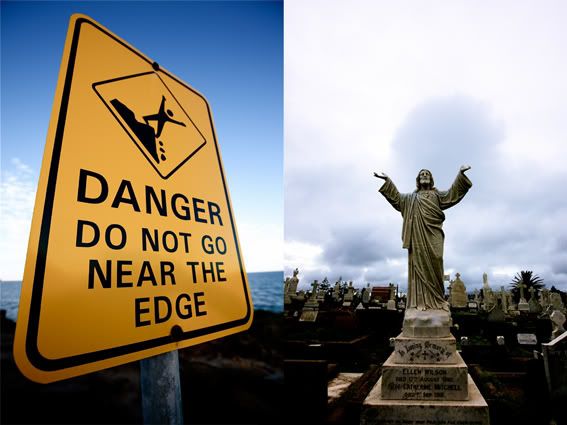 or you could end up here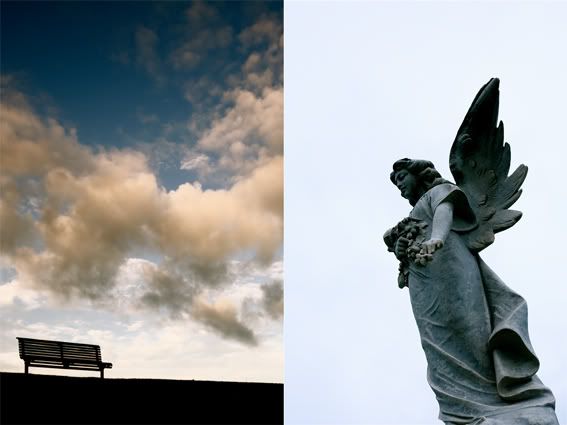 in heaven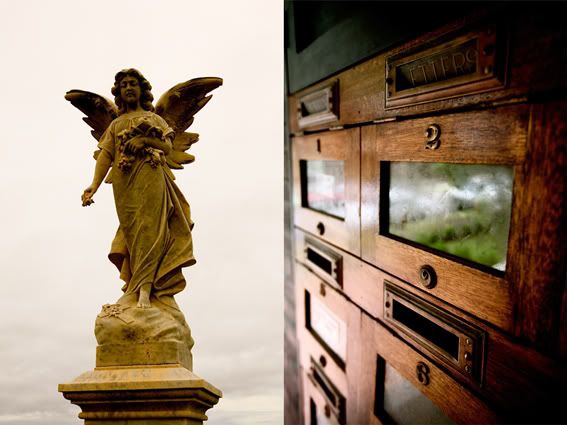 the messenger and the messages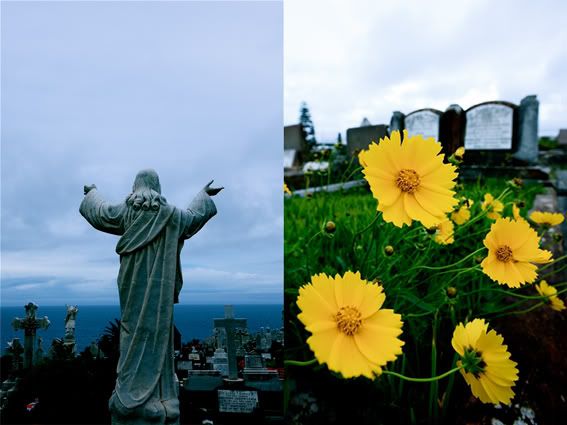 nice place to be pushing up daisies
Beauty? By the sand-bucket load. Largely because of its bay but also because Cloey's not all tarted up
and has remained relaxed and unpretentious. And can I just say, I'm so glad I visited my own suburb -
if it wasn't for 52 Suburbs, who knows how long it might have taken me to get to the bowlo.

By the time you read this, 2009 will be no more. Aside from the GFC and a lack of progress to save
the planet, it was a good year - made more so for me by this little project. When I started 52 Suburbs
four months ago I thought perhaps a handful of friends and family might check in now and then to see
what I was up to.

Never did I think every week 2,000 or so people from all over Australia and the world, places as far
flung as Lithuania, Mexico, Canada and Vietnam, would find the time to scroll through an eclectic
assortment of images that married together the oddest of subjects, with a fondness for tattoos, old
lettering and rusty garden gates.

So thank you - and I hope you can stick around for 36 more weeks of discovery.

I'm a suburb behind so I'll post again this Sunday - then it'll be back to normal Fridays. See you then -
and Happy New Year!