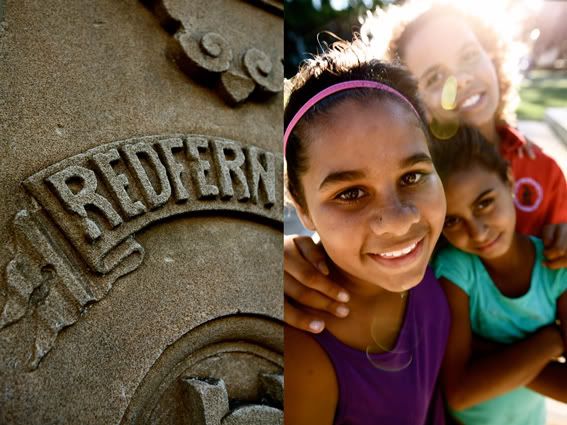 So, Redfern. Small suburb, big themes. So much so I could have easily hung around another week.
Another month.
I lived there for a few years as a uni student. And of course I've driven through it since, on my way
to wherever. But once again, it wasn't until I spent hours in the place, walking without speed,
eyes wide open, that I realised I hadn't really seen Redfern or
thought about what it represents
for a long time, maybe not ever.
A simple example: Redfern Oval and Redfern Park. Two years ago the oval was all about rugby league,
with a great big old stadium and closed off to the public. The neighbouring park, interesting
but not inviting. All changed. They knocked down the stadium and replaced it with a part public, part
sports space. At the same time they freshened up the park. What a difference. I lingered, strolled,
admired. Two years it's been like that! Who knew - obviously not me.

I also didn't know about another amazing development in Redfern, a 'National Centre for Indigenous
Excellence', set up to "
host programs and facilities for young Indigenous people to help them
achieve their dreams and aspirations in the areas of sport, art, education and culture"
. It only officially
opened last month so I'm less of a lame-brain for not knowing that.
On a more modest scale, the eastern side of Redfern, closer to Moore Park, has also changed a great deal,
peppered as it is with bohemian-designer smart.
With so much change in the air, I half expected to find The Block, a crumbling, troubled corner of
Redfern that passes as 'Aboriginal public housing', to have undergone a transformation. But no.
It looked - and felt - the same as it's always done.
Some history: Gadigal 'moved on' by the British in 1790s. Named after surgeon William Redfern
who built a country house in the area. Lebanese moved in during the 1850s and got busy running
shops and factories. From 1920-1940s, Aboriginal people from all around NSW moved to Redfern
looking for work. Overcrowding by 1970s saw the start of a housing project that became The Block.
Troubled ever since by drugs and violence, yet important to the Aboriginal people as a meeting
place, there are now plans to 'rebirth' The Block,

"
to restore a strong and healthy Indigenous
community to Redfern with an emphasis on tradition, cultural values and spirituality" (redwatch).
Other than that, Redfern today is home to many things Aboriginal, including dance, radio, health
and employment. As well as plenty of whitefellas from all over the globe, a mix of the publicly
housed, student renters or home owners who like the fact they can live just three km from the
city centre without paying through the nose for it.
Let's wander...
Part 1: New energy
walkabout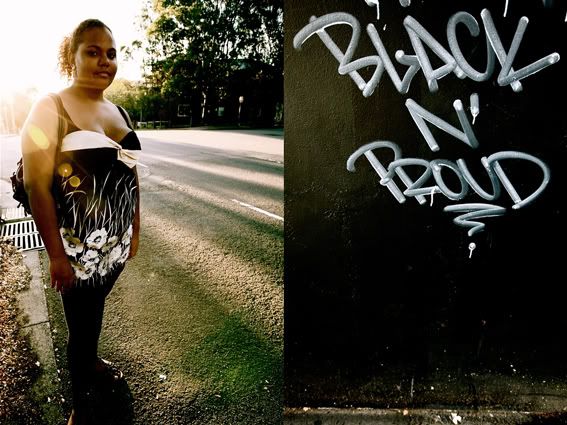 pride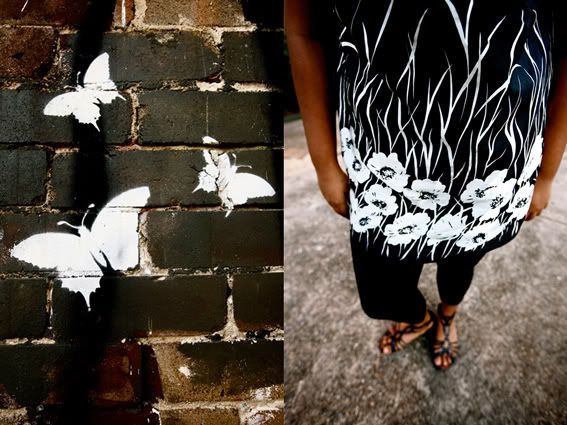 free, now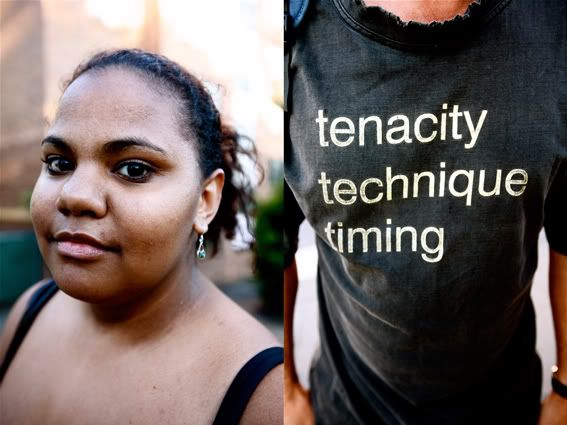 true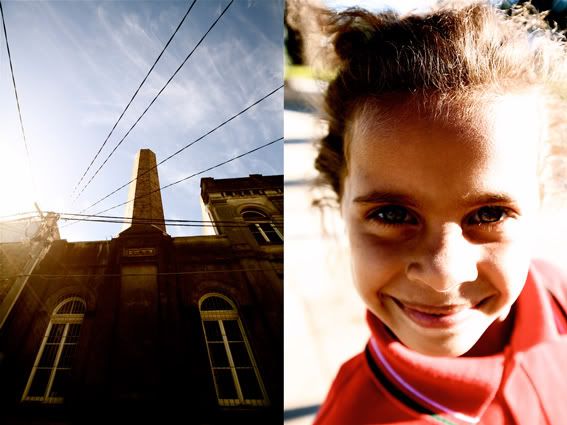 she lights up a room too
(former Electric Light Station)
he'd be amazed
(National Centre of Indigenous Excellence)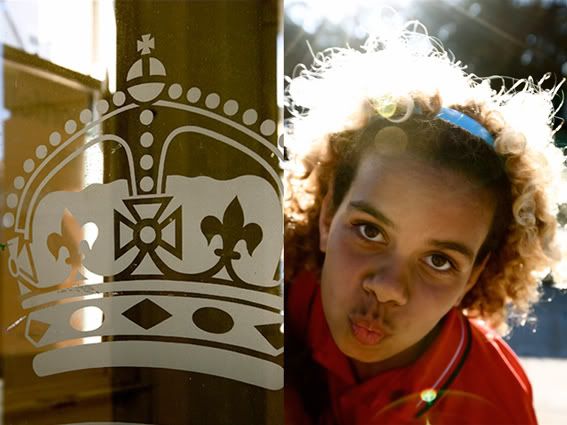 she has her own crowning glory
Part 2: But how far have we really come?
where's the justice?
(former Court House)
still so far to go
(mural by Roy Kennedy)
I spied the red mural on the side of a terrace near the train station, accompanied by the following
text: "(Mission boy dreams) From far back as I can remember I've always wondered when we would
have our own home. And 70 years on I'm still wondering. Roy Kennedy"

It was originally an etching done in 2005 by Aboriginal artist, Roy Kennedy,
born in 1934, Griffith,
of
Wiradjuri people
.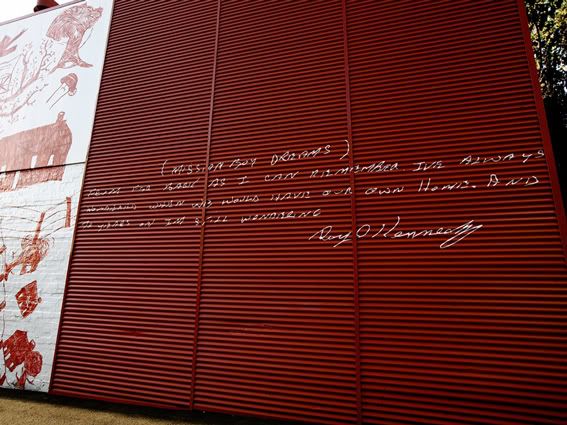 Roy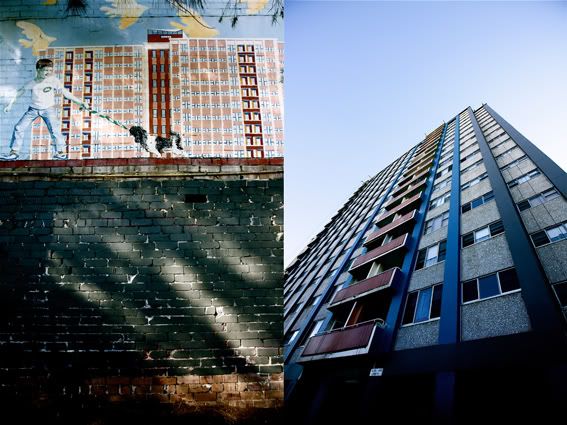 public housing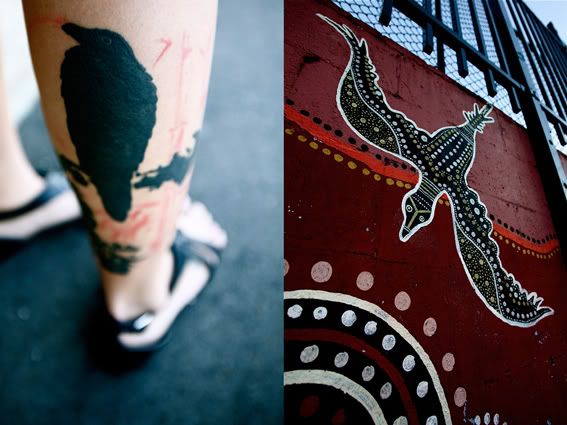 free as a bird?
Buddy Rose
I met Buddy at the top of The Block, riding on his bike, didgeridoo strapped across his body. He seemed
like a nice guy, keen to have his photo taken with 'my people'. When we were finished, he suggested
that maybe today wasn't a great day to venture any further into The Block - someone celebrating
their birthday was stirring up trouble and he didn't want me getting in their way.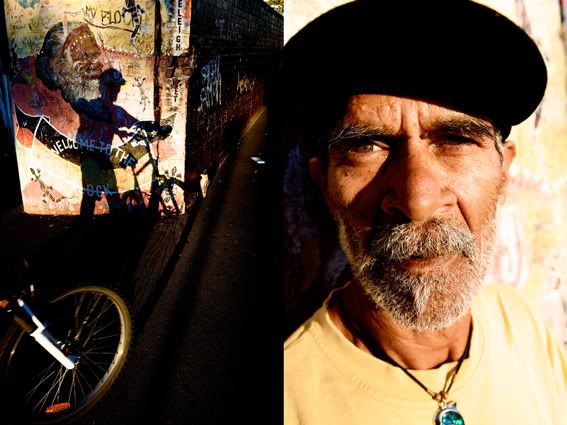 Buddy's bike
Part 3: Can we go to the park?
thumbs up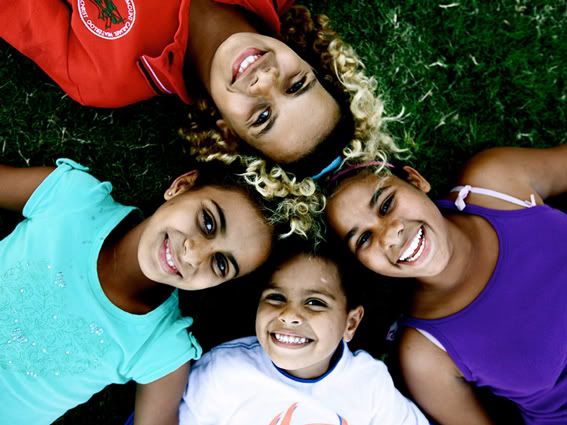 no encouragement required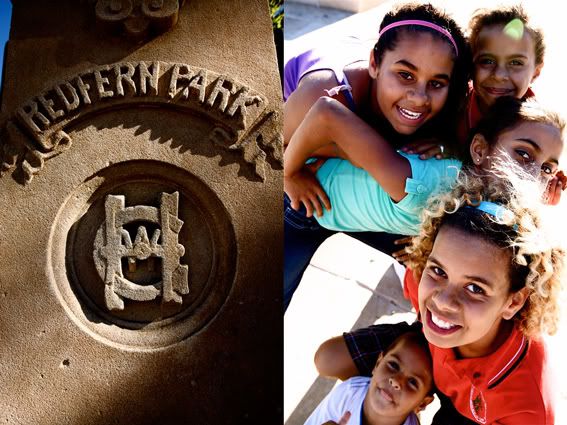 the fabulous five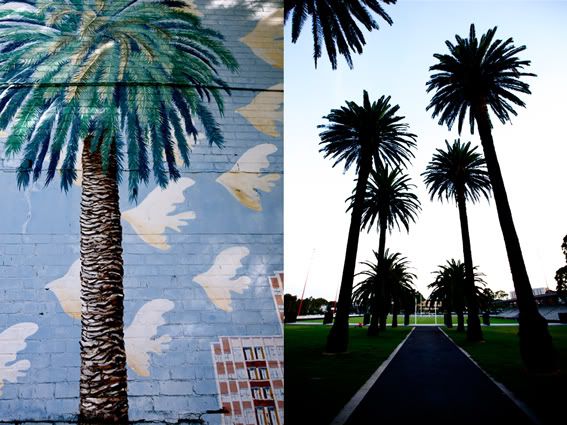 down to the oval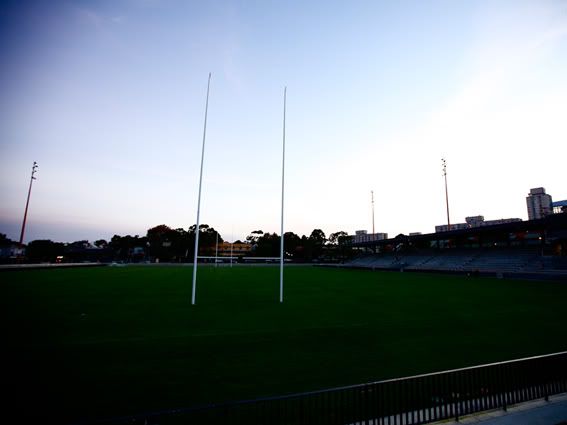 wide open spaces
totem pole and towers
Part 4: Ladies from
the Eastern Bloc - now living in the western block
Having met a number of Aboriginal people at the new National Centre of Indigenous Excellence,
I wandered down the hill to have a chat with a bench full of women originally from the Eastern Bloc,
now living high in the towers of Redfern-Waterloo. Diversity indeed.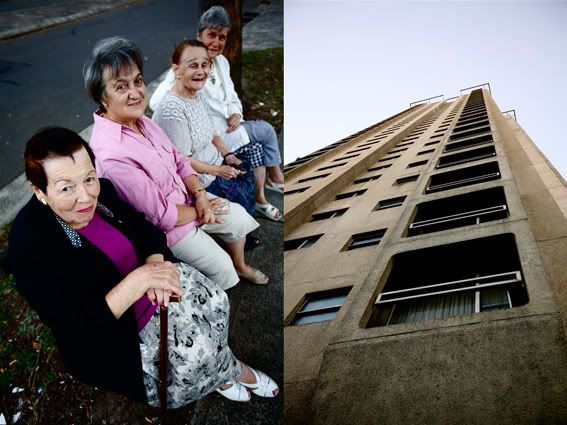 from Moscow, Uzbekistan and Kazakhstan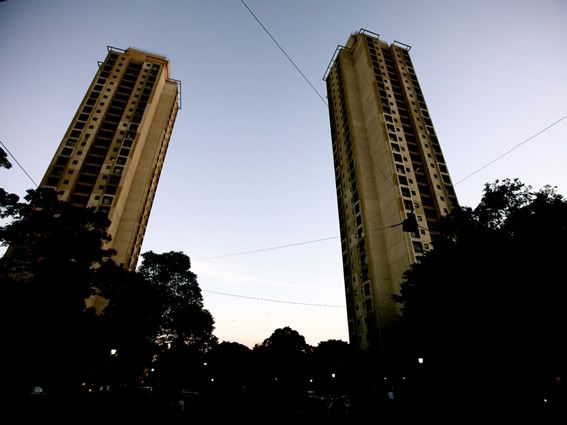 twin peaks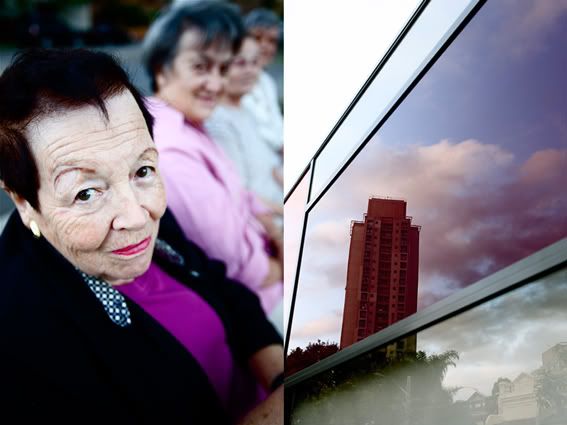 matching mauve
Part 5: The Greeks
The local Greek Orthodox Church happened
to be celebrating Greek Independence Day when I
dropped in
. After more than a decade of fighting (1821-1832) Greece won its independence from the
Ottomon Empire - and peace finally ensued.
Eiphnh, 'peace'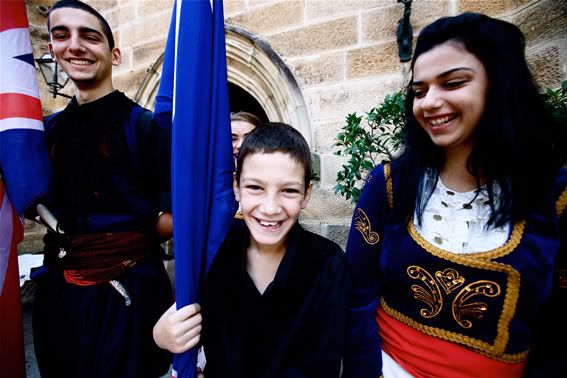 serious dress up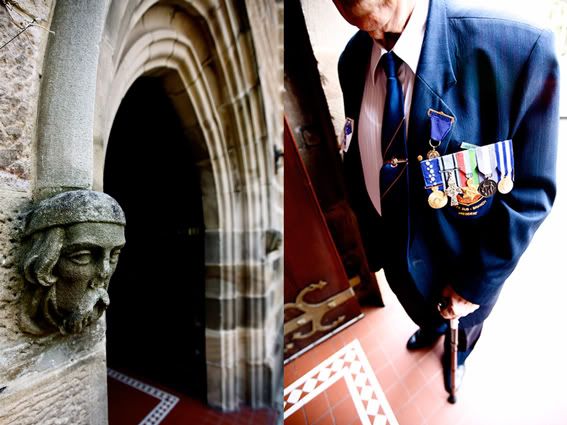 well worn
a special Sunday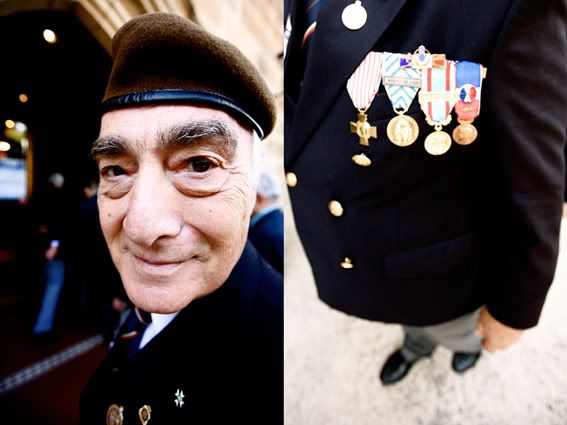 showing his mettle
Part 6: A colourful suburb, still - Colours of the desert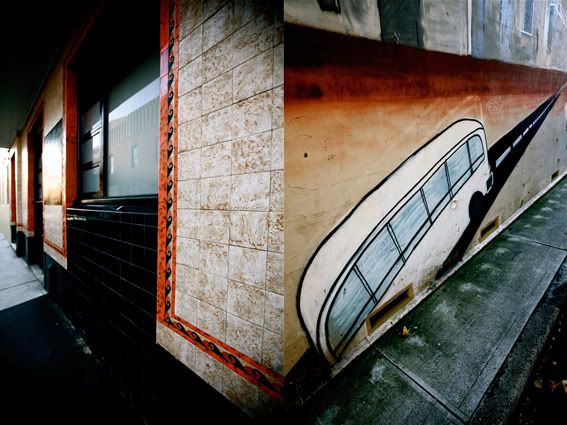 burnt orange :: 1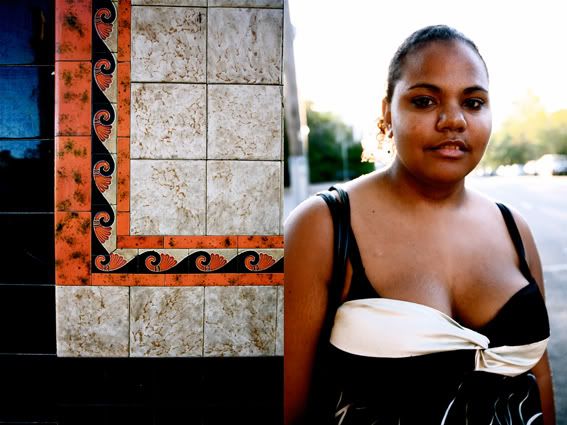 burnt orange :: 2
Rose's Corner
Part 7:
A colourful suburb, still -
Red and green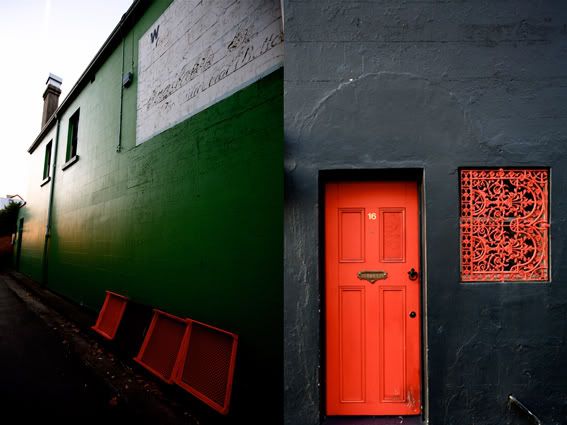 red squares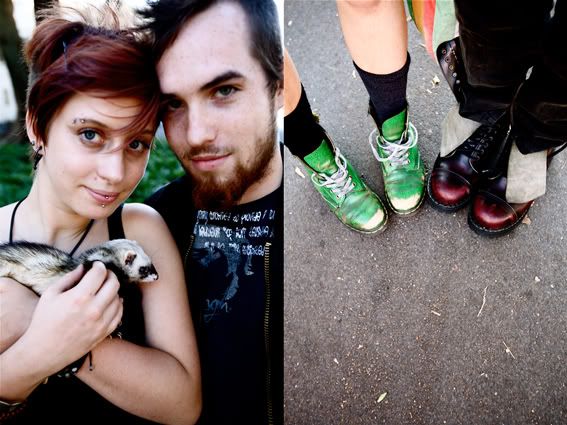 and ferret makes three
fading glory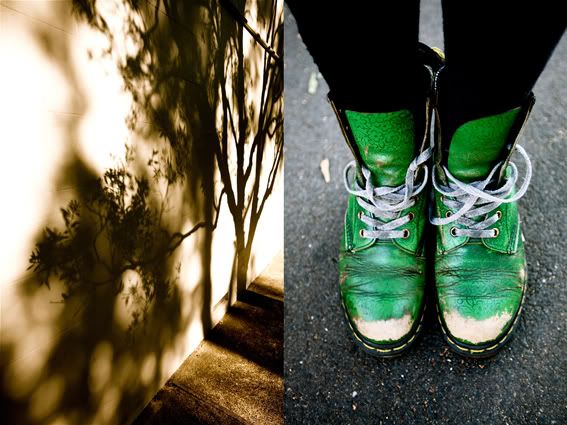 Redfern's green side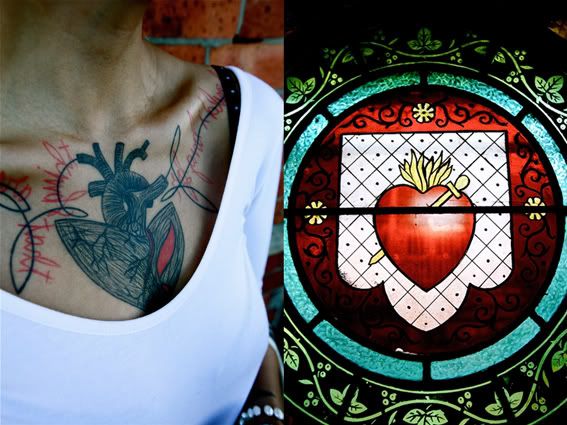 heartfelt :: 1
heartfelt :: 2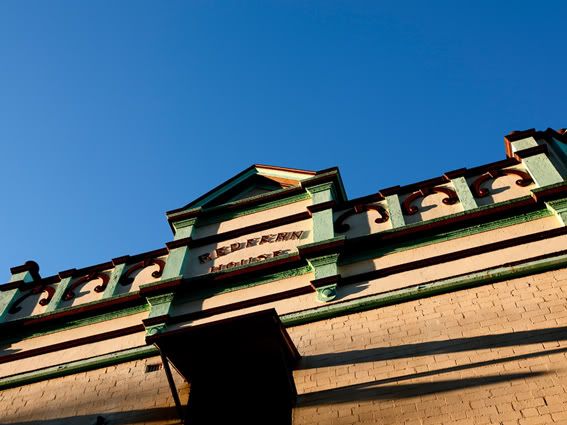 Redfern House
Part 8:
A colourful suburb, still -
Purple/Pink
purple haze :: 1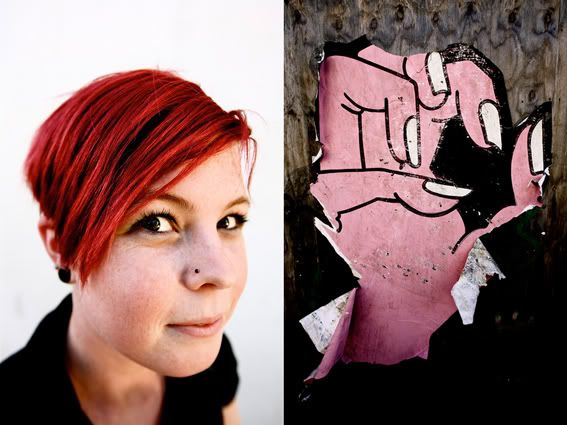 hair and nails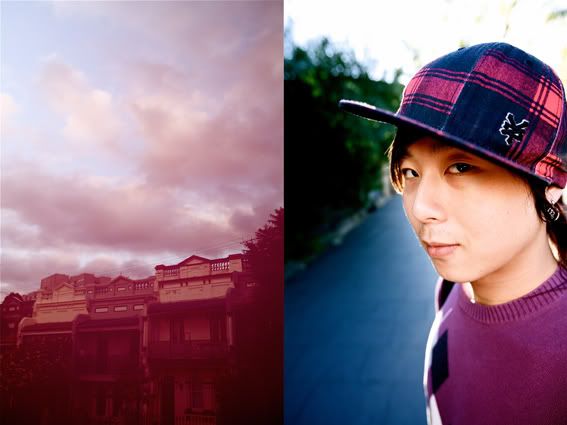 purple haze :: 2
Part 8:
A colourful suburb, still -
Blue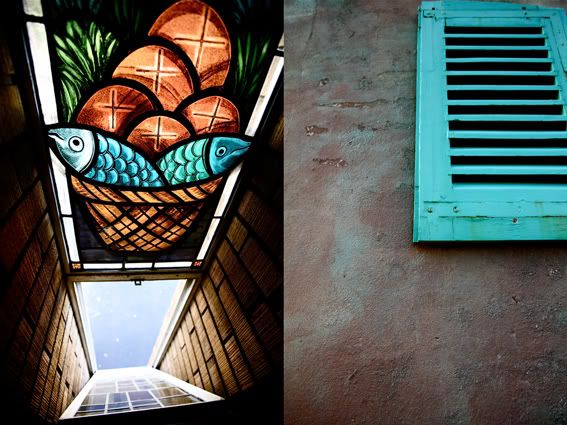 brings to mind a Greek fishing village
(St Maroun's Cathedral)
please bless the village with much fish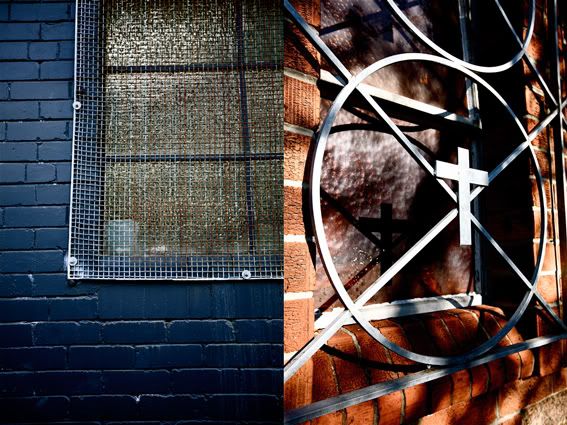 security, whichever way you go about it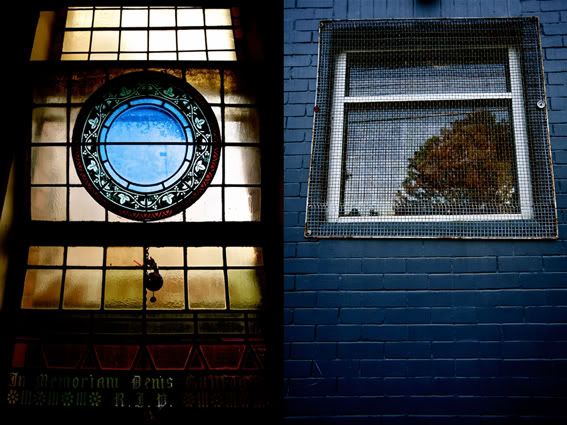 delicate and robust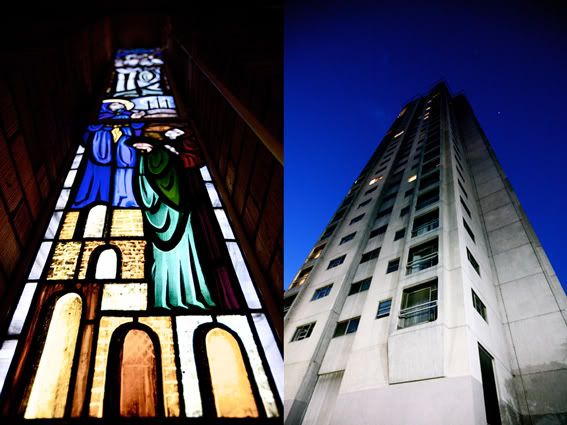 tall stories
take me to your leader
Part 9:
A colourful suburb, still - Black and white/Browns
black and white is always in fashion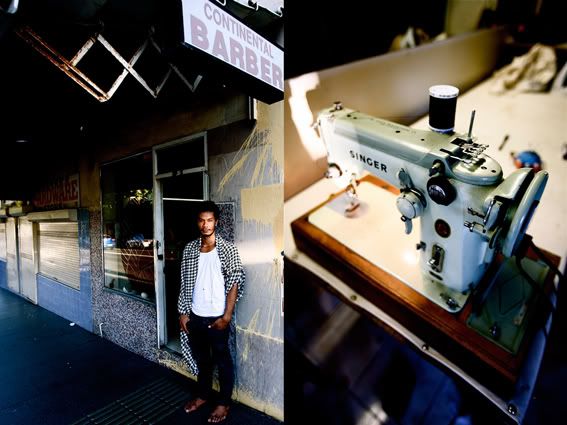 he cuts cloth not coiffs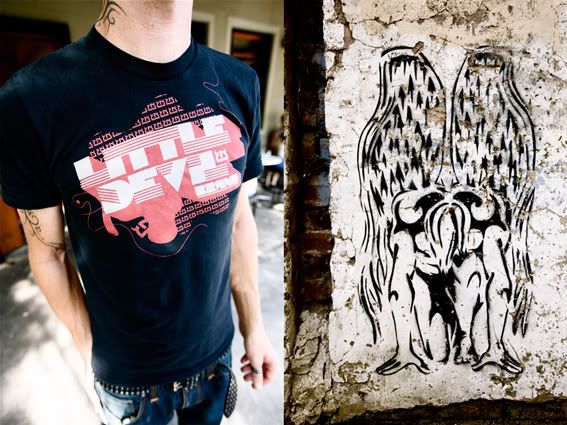 devils and angels
a suburb of diversity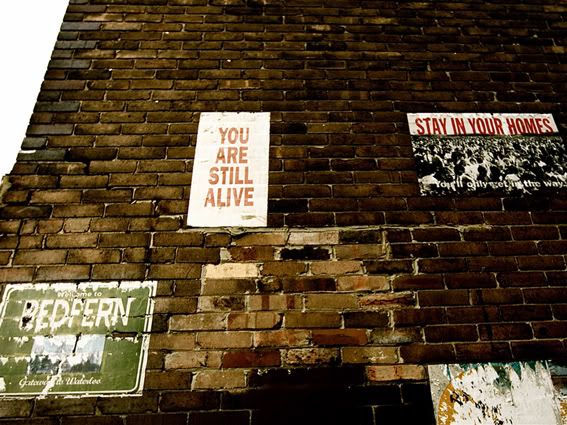 it's a sign
the Case Factory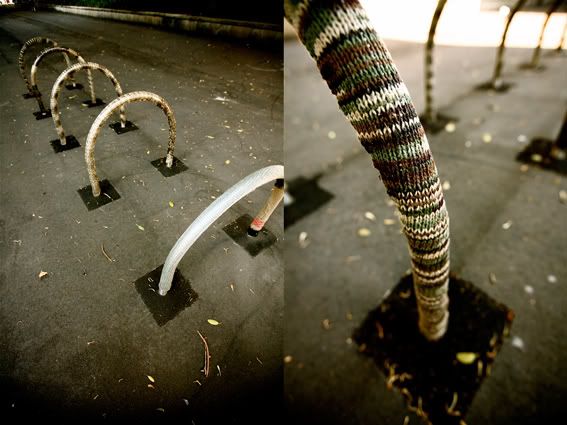 has Redfern gone soft?
long legs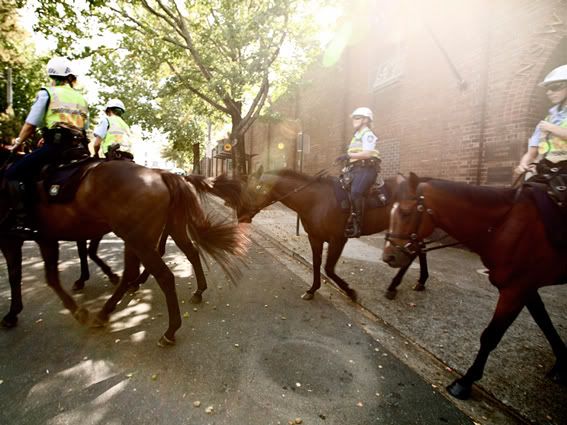 Horse Crossing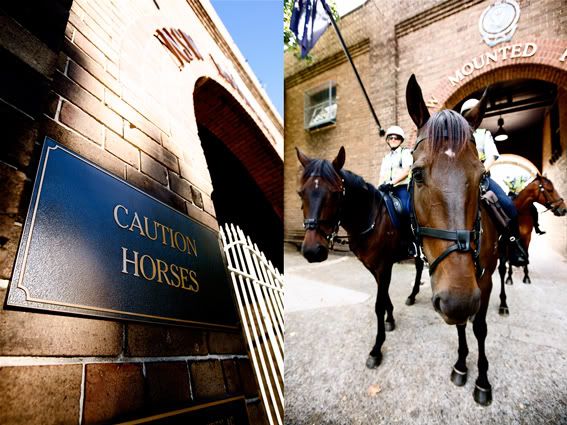 unless you're sitting on one, in which case you need not worry
Part 10: The future?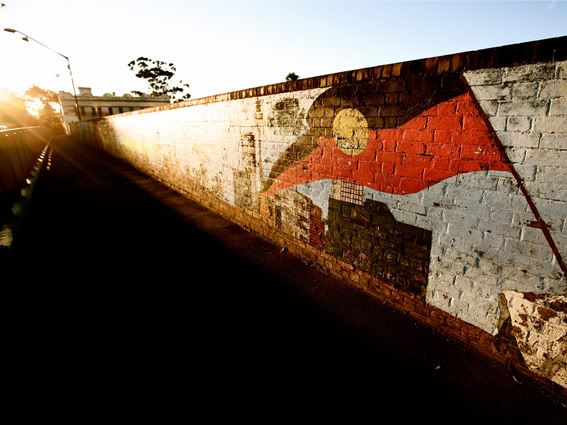 may it be bright
Beauty in Redfern? I was surprised by how much, in a number of ways. And the best thing? That as
much as it has changed, it still has its own unique identity, distinct from pretty much any other
suburb in the city. Hope they can keep it up.
See you next week.