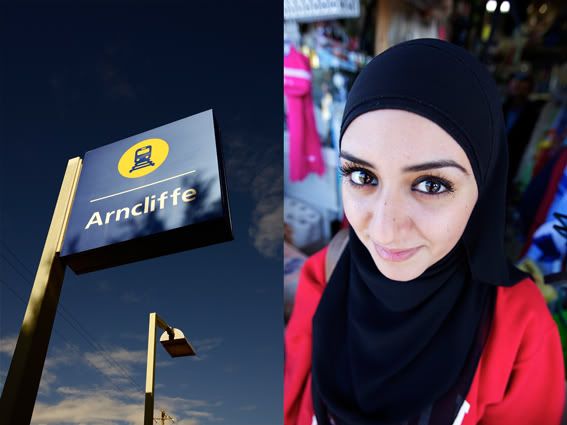 Another happy accident. Last week, on my way to Fairfield (which turned out to be Bonnyrigg) I got
so lost that I ended up southish instead of west. My attempt at a 'short-cut' had failed miserably but
even with steam issuing out both ears I noticed the suburb I was lost in was kind of interesting
and that maybe I should come back and visit.

So I did. Arncliffe, as it turned out to be, is 11 kms south of the CBD, near the Cooks River and Wolli Creek,
named after an English village.
Once a big market garden, now semi-industrial, with a huge new residential
area going up in what used to be North Arncliffe.
Post the 'Aboriginal era' came British, Irish, Germans,
Chinese. Then Greek, Macedonian, Yugoslavian. And most recently, Lebanese.

Hence the presence of one of Sydney's larger mosques, Al Zahra. There's also a second, smaller mosque
that caters to more of a Malaysian crowd, and a handful of churches, including a Coptic Orthodox church
(Egyptian).

I had no idea about the mosques nor the Coptic Church when I drove through last week so it was kind
of weird after Bonnyrigg and its religious smorgasbord. Having said that, there wasn't a stick of
incense or glimpse of saffron to be found in Arncliffe - a little like Lakemba, this is Sydney in Muslim
mode - with a Christian Orthodox Coptic Church slam bam in the middle, just to keep things
interesting.
Part 1: The mosques
Exactly a week after visiting Bonnyrigg's mosque, I found myself standing on another plush carpet,
surrounded by beads and prayer books. But instead of a grand room topped by a minaret, this mosque,
Masjid Darul Imaan, is housed in two small buildings, sans pointy bit. Any Muslim can pray here but it
mainly attracts Malaysian Muslims.

I met Abdullah and Ahmad outside the mosque - they were not there to pray but rather to study some
Islamic teachings, and were happy for me to take some snaps inside.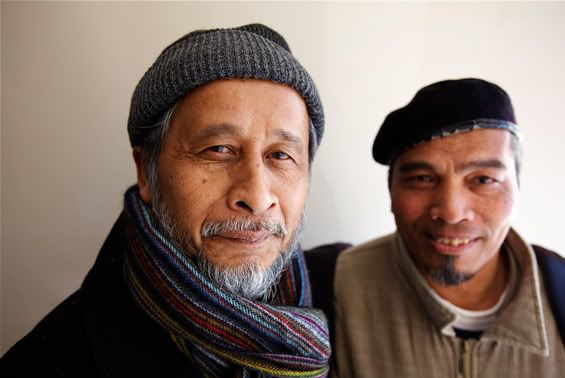 Abdullah and Ahmad
hitting the books :: 1
hitting the books :: 2
Said my goodbyes to Abdullah and Ahmad and headed off to find Arncliffe's second mosque, the Lebanese
Al Zahra. Unlike the Bonnyrigg Turkish Mosque and
Masjid Darul Imaan, I wasn't exactly welcomed nor
free to photograph inside. Fair enough. From the front door this is what I saw.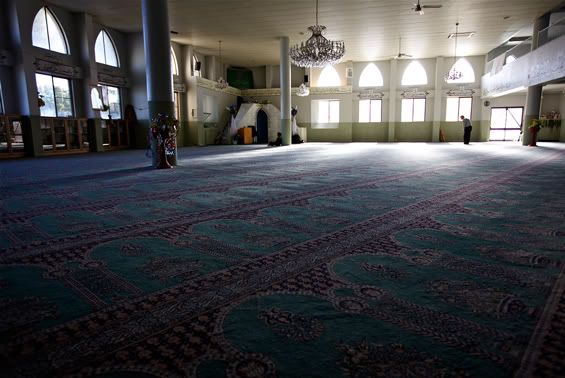 prayer
Part 2: The Coptic Church
After the mosques, I drove around the corner to find St Mark's Coptic Orthodox Church - and another
world. By now it was lunchtime and there was a whole load of people out the back, eating and talking.
I couldn't place their ethnicity and nor did I have a clue about their church. A few of the congregation
kindly set me straight and half an hour later I'd learnt that they were Egyptians and that the Coptic
Orthodox Church had a pretty dramatic history. Hundreds of years ago they were forced to leave Egypt
- it was either that or convert to Islam. Today, Coptics exist in Egypt but they don't have an easy time
of it. So how does it work in Arncliffe, with two mosques around the corner and a largely Muslim suburb?
Not surprisingly, there are tensions.
But on this day, the sun was out and everyone was smiling, including some of the most charming
and cheeky kids you could hope to meet.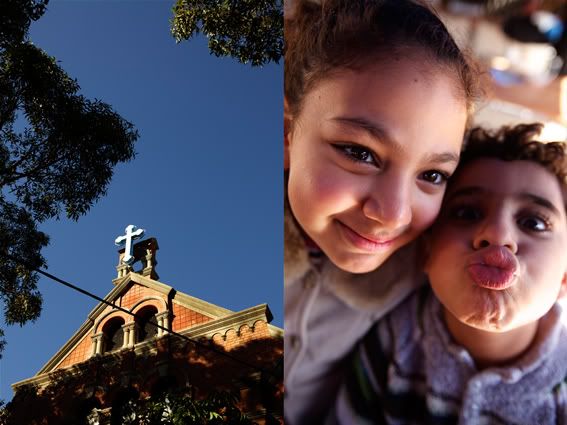 Sandy and George at St Mark's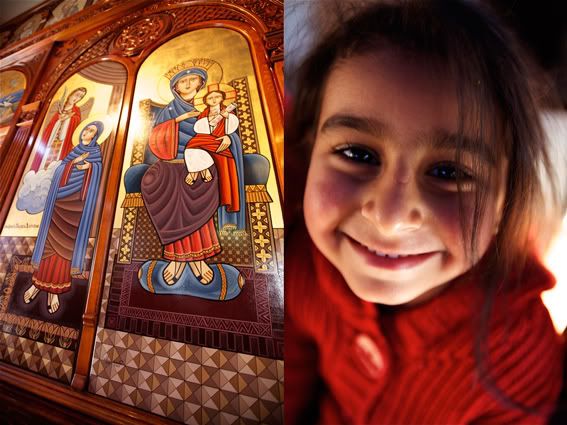 Isabella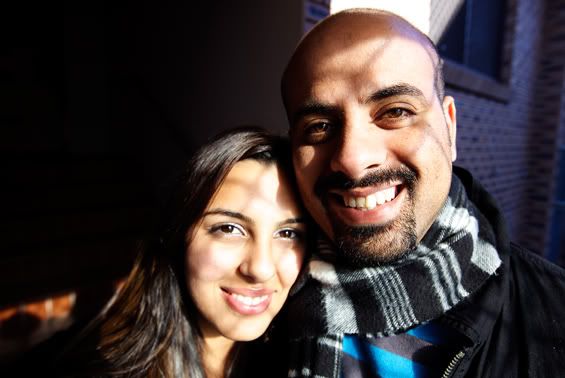 Sherry and Daniel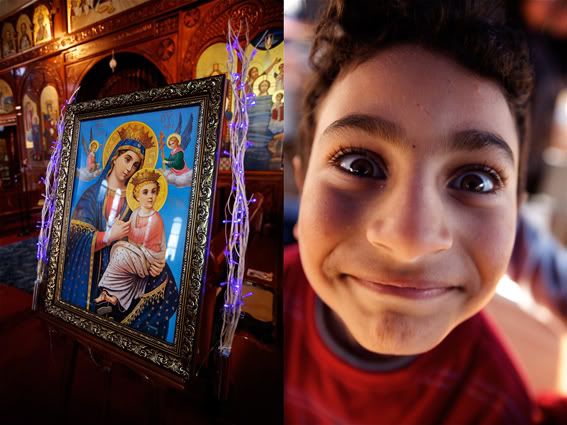 Emmanuel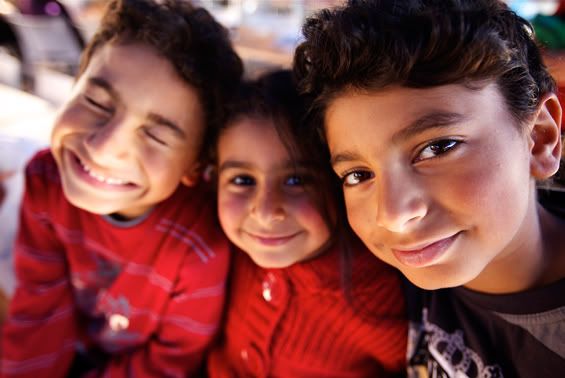 brothers and sister: Emmanuel, Isabella and Raphael
Part 2: Ladies of dough

There are two Lebanese bakeries in Arncliffe that are staffed by small teams of women who churn
out masses of delicious smelling baked goods, frustratingly delicious for my gluten-free self. These dishes
all have exotic sounding Arabic names but in essence they are variations on the meat pie, the pizza and
the cheese and spinach pastry.
The first bakery, with the lovely Amane and Jamana:
Amane and Jamana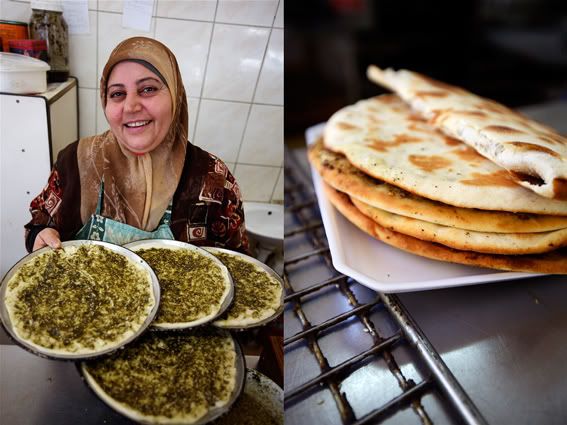 oregano pizza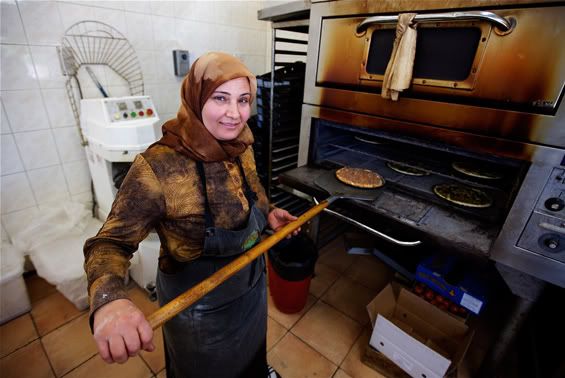 kitchen whizz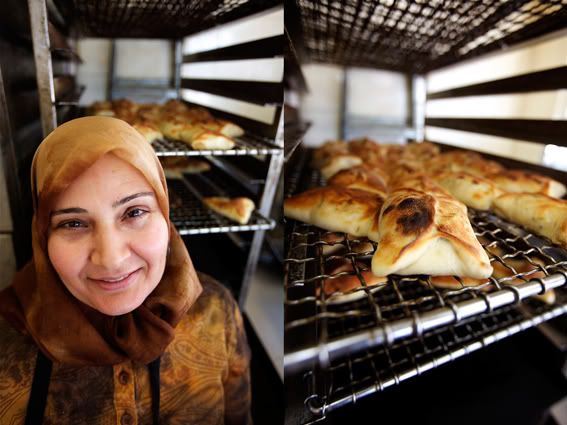 torture for the gluten-free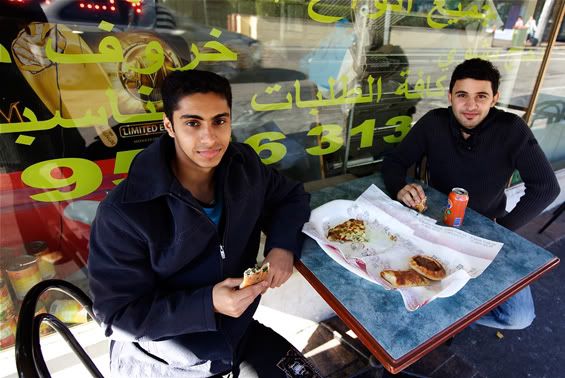 breakfast
The other bakery, just around the corner, makes much the same fare. Apparently Lebanese families
can bring their own mince mix to the bakery to be fashioned into 'meat pies' by the ladies who work there.
They just pay for the dough and whatever it costs to cook the pies in the super-hot ovens. One woman
explained that she has nine people in her home so it's too expensive to do it any other way. I was curious
about her large family and she explained that at the ripe old age of 41, she was a grandmother
to her 22 year old daughter's toddler - and they all lived with her. What with other kids and various husbands,
that was nine people.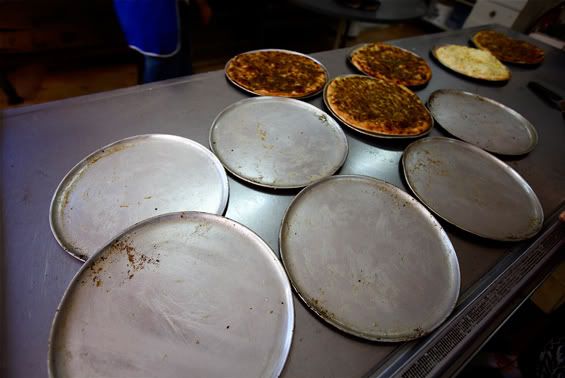 many mouths to feed
Part 3: The old and the new Arncliffe

My first impression on that first drive through Arncliffe was that this was typical 'old Sydney',
with an impressive church and plenty of faded suburbia. But there's a whole other side to the place,
the 'new' Arncliffe.
The old and the new:
St Francis Xavier Catholic Church (1911) + Al Zahra Mosque (1980) :: 1
St Francis Xavier + Al Zahra :: 2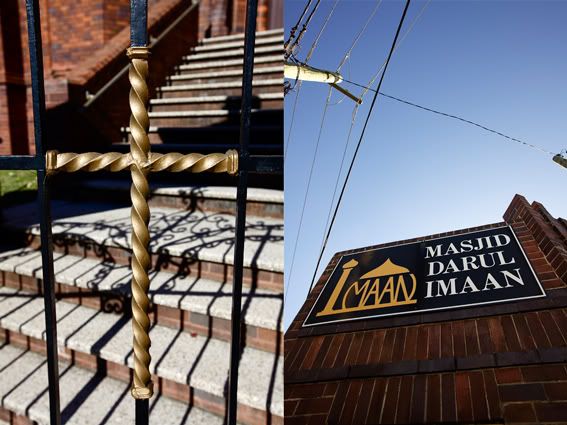 St Francis Xavier
Catholic Church (1911)
+ Masjid Darul Imaan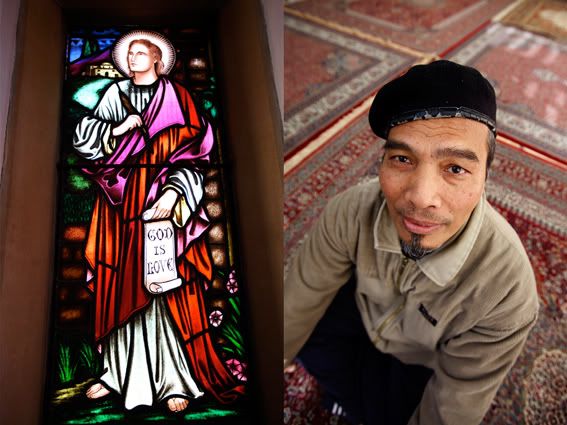 God is love, no matter who your god is?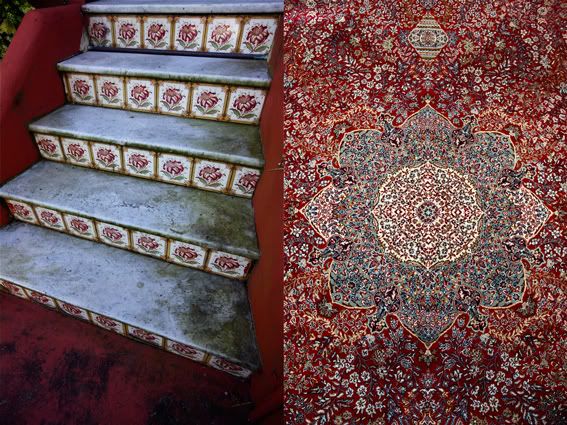 flowers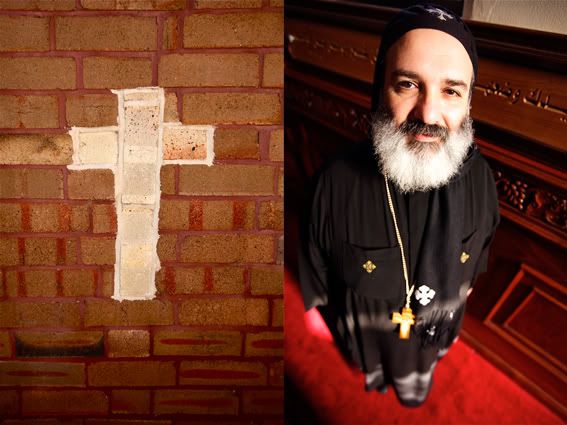 St Magdalen Chapel (1888) + Father Augustine, St Mark's Coptic Orthodox Church (1980)
attracting young families :: St David's Anglican Church (1934) + Wolli Creek housing development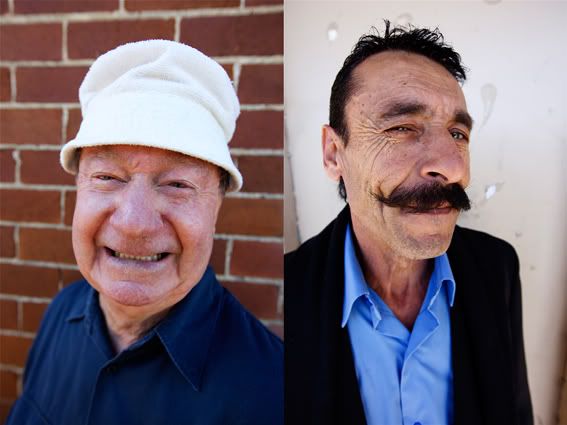 Bill and Abraham
church and home
hitting the books :: 3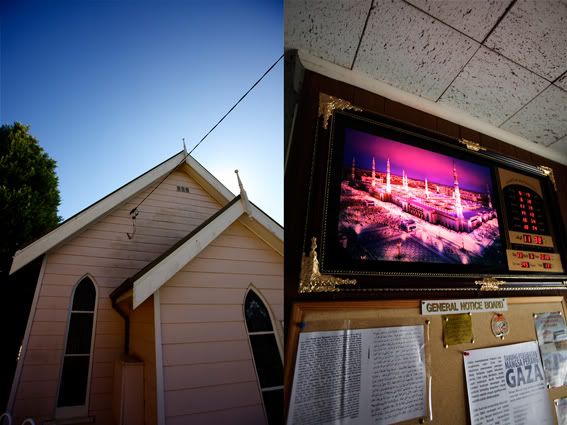 church and mosque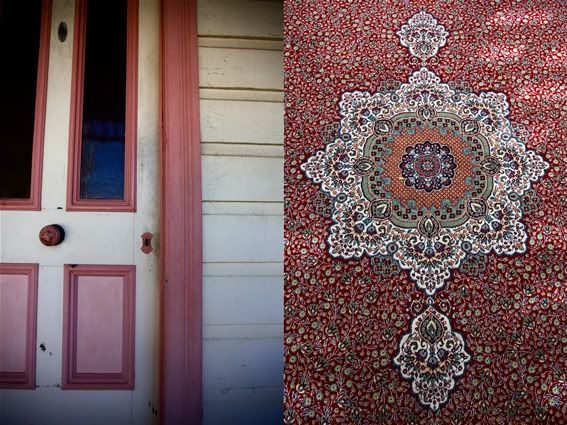 cottage and carpet
tiles and tomes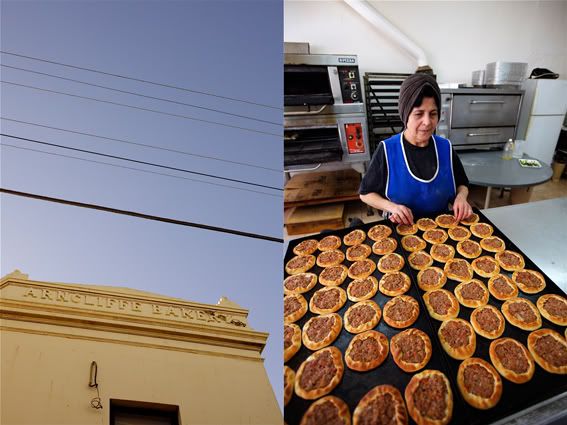 the old bakery and the new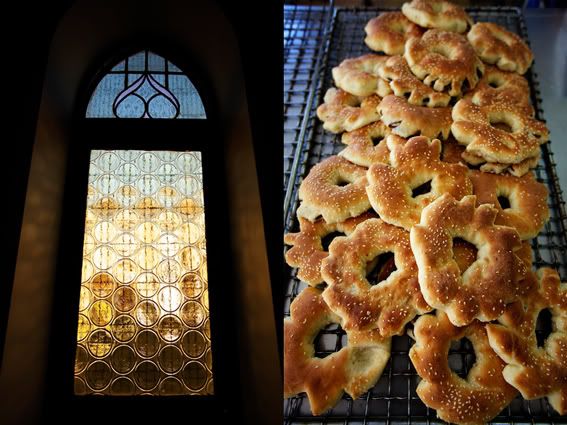 St David's Anglican Church and Alzahra Bakery :: 1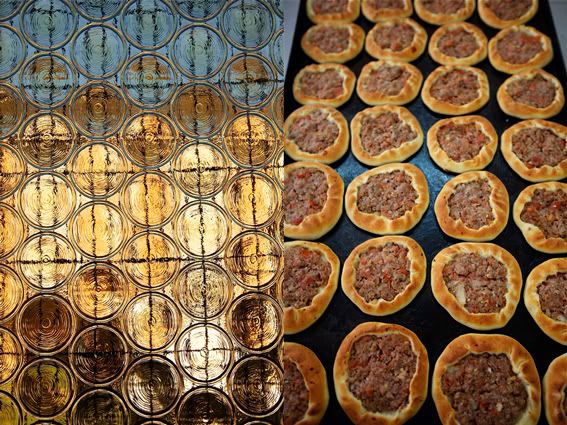 St David's Anglican Church and Alzahra Bakery :: 2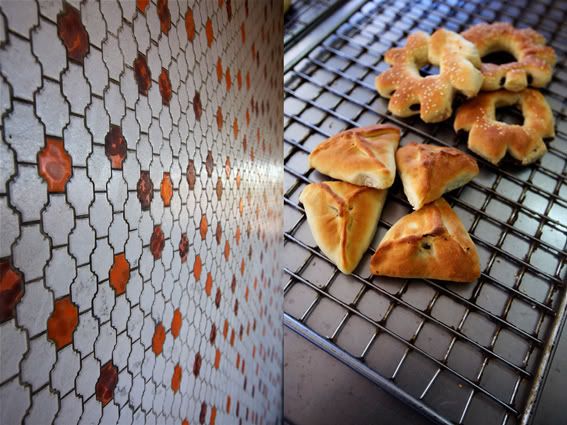 tiles and temptation
:: 1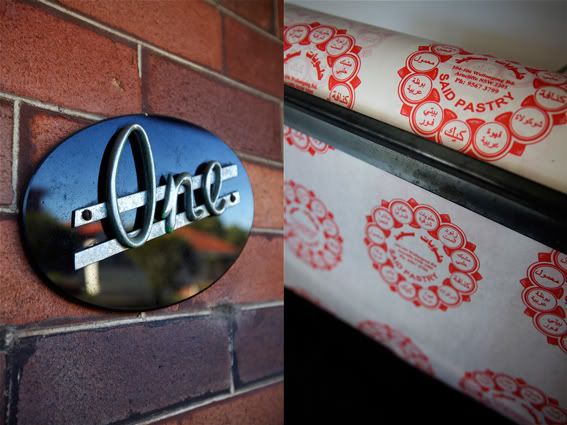 One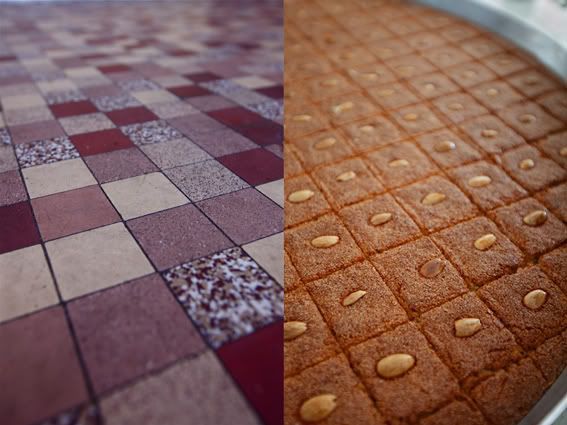 tiles and temptation :: 2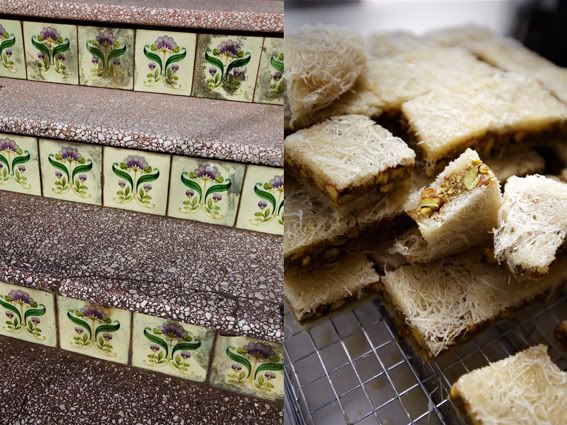 tiles and temptation
:: 3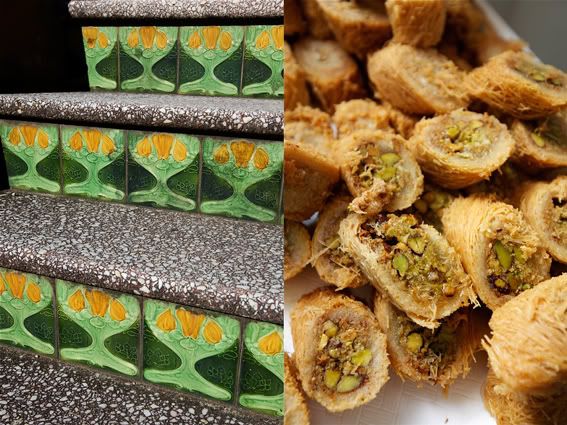 tiles and temptation
:: 4
Part 4: The colour orange

Just because.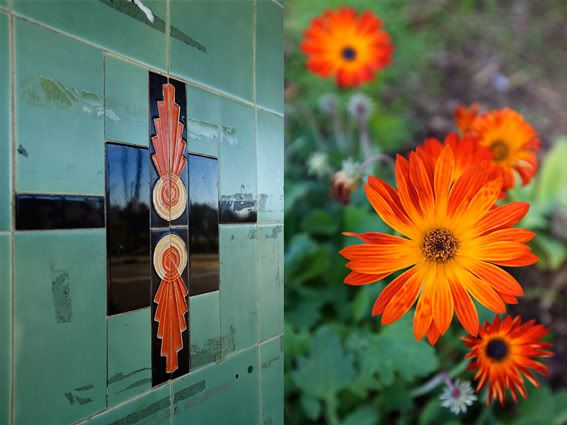 orange :: 1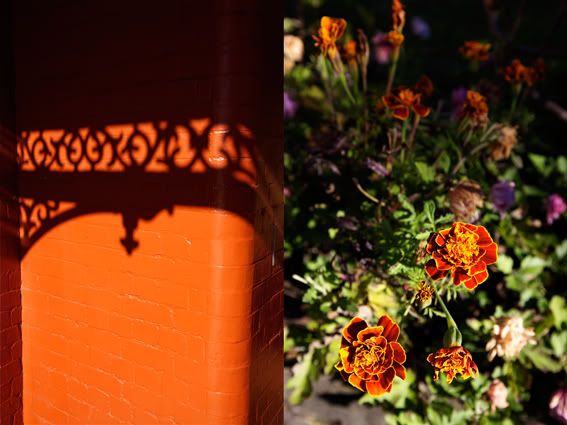 orange :: 2
Did I find beauty in Arncliffe? In the people as much as anything - I loved the Lebanese women in
the bakeries and the Egyptians in the church. But it's the only suburb I've ever been refused a shot of
someone's tattoo. Can you believe it.
See you next week.