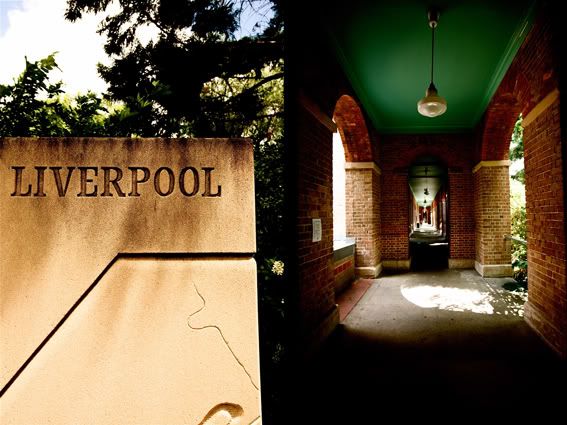 Last week I decided to go 'deep into suburbia' and visit Eastwood. As one reader kindly pointed out,
Eastwood is just 17 km from the city centre - hardly in the bosom of suburbia. So this week I was
determined to double the distance and ended up in Liverpool, 32 km south-west of the CBD.
I'd never been to Livo before so I did my usual in-depth five second research. In brief: Indigenous
Australians given the boot to make way for
Governor Macquarie in 1810 to create a town with the
help of
convict/architect Francis Greenway and
turn the surrounds into a market garden and chook
farm. Stayed very agricultural until the 1950's when it filled up with working class families and huge
housing commission estates. Now a major city centre and very multicultural, including Lebanese,
Indian and Eastern European.
Of all the suburbs I've visited, Liverpool reminded me most of the Sydney I remember as a child.
I'm not sure why exactly - maybe something about the grid-like layout of the suburb - but it felt like
my memory was being tugged and prodded at every turn. It was the sort of place my nan would take
me for a milkshake and a bag of coloured popcorn. High livin' indeed...
Part 1: The art of capturing Liverpool

Day one in the suburb. I'm wandering around taking shots of a few small businesses that have been
around for 20 plus years and are still managing to survive despite the Westfield invasion up the other
end of town. There's a 'continental supermarket', a 'continental butchery', an Indian sweet shop and
a barber.
Having drooled over their modest beauty and taken as many shots as I could without freaking
out the bemused owners, I decide to check out Casula Powerhouse, five minutes down the road.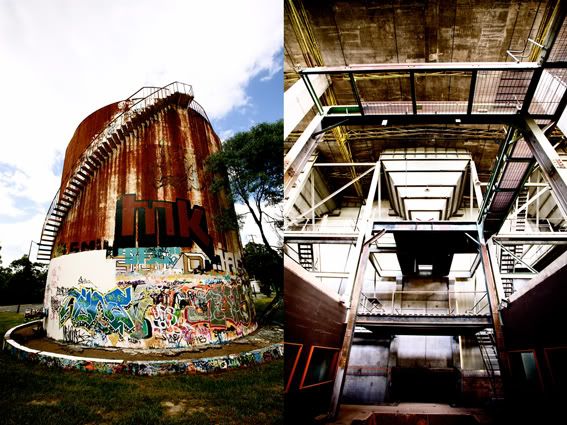 reborn not replaced - Casula Powerhouse
My architect friend, Julie Mackenzie from Tonkin Zulaikha Greer, was involved eons ago with turning
the Powerhouse into an art space (and now theatre). I walk in, expecting to have a quick squizz and
maybe take a few shots, and guess what? There's an exhibition on called 'Living Liverpool',
with some great work by a variety of artists, all telling stories about the suburb of Liverpool.

I had no idea the exhibition was on (that's how thorough my research is). But there on the wall were
these lovely detailed charcoal drawings of two of the small businesses that I'd just photographed
- the Continental Supermarket and the Indian sweet shop, the Indo Australian Caterers. Another
artist had painted shopping trolleys and mattresses as part of her work - things I hadn't taken shots
of yet but had wondered why there were so many hanging around.
It made me feel a little less strange about the things that catch my eye and that I'm not alone in
wanting to document and celebrate the 'ordinary' and 'everyday'.

The Continental Supermarket:
'Aussie Market',
Catherine O'Donnell (Boutwell Draper Gallery)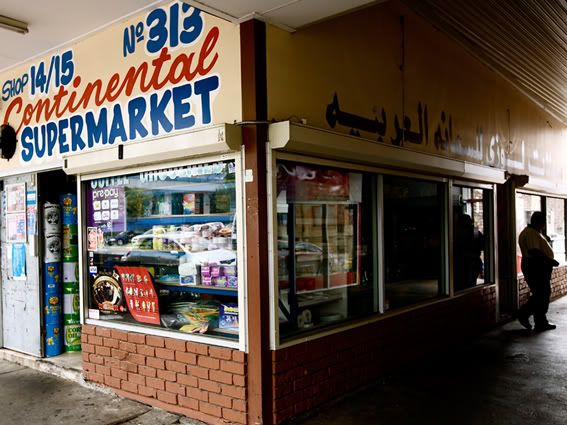 snap!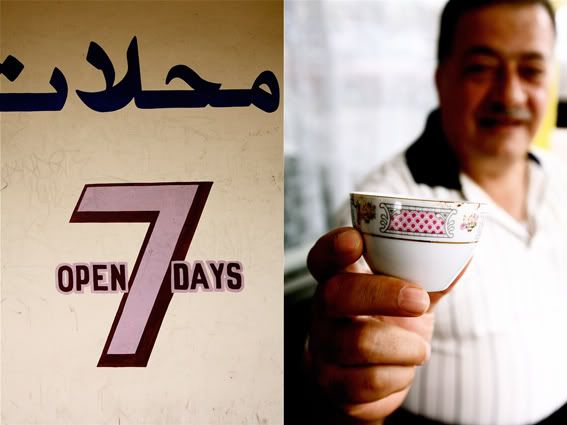 daily coffee
3 wise men
cheers
The Indian sweet shop: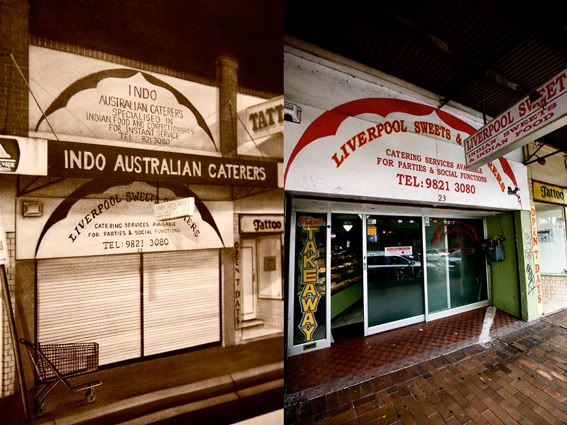 'Dutchy & Son',
Catherine O'Donnell (Boutwell Draper Gallery)
sweet mate
Famous Liverpool lads:
Gough Whitlam, in office 1972-1975 ('Gough Whitlam, His Younger Days',
Gina Sinozich)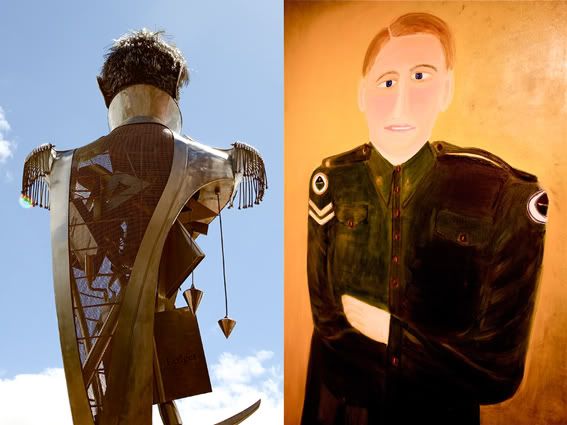 military men ('John Edmondson, Earlier Settler in Edmondson Park',
Gina Sinozich,
and sculpture of Governor Macquarie, Robin Blau)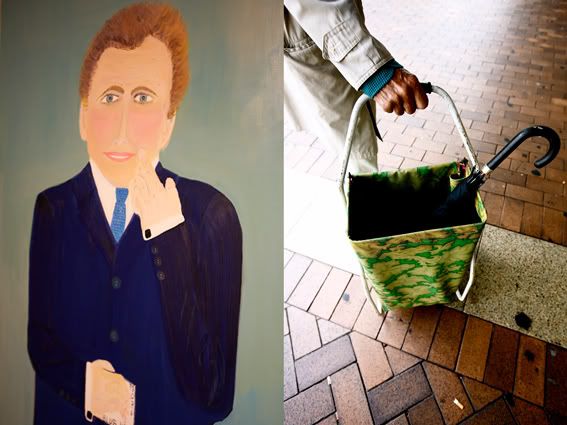 protector of the aged ('Maurice Tulic, More Blue Hills',
Gina Sinozich)
Once upon a time in Liverpool: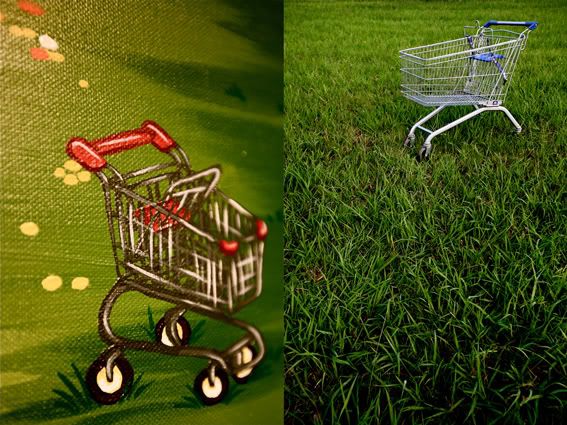 multiplying like rabbits (detail from 'Over the Rainbow',
Anney Bounpraseuth)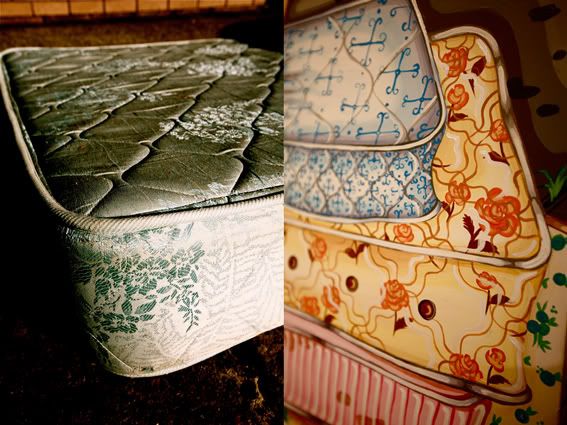 mattresses spring up everywhere (detail from 'The Princess and the Pee',
Anney Bounpraseuth)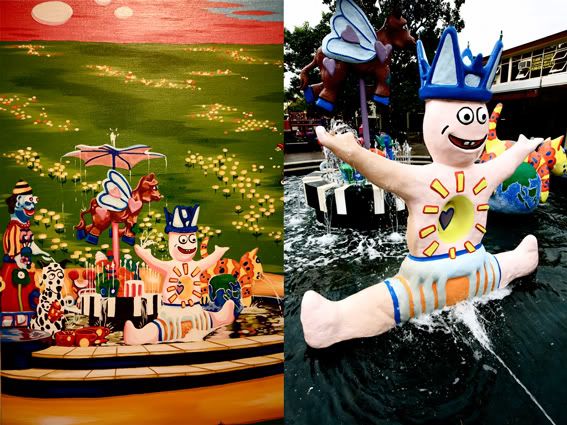 all heart (detail from 'Over the Rainbow',
Anney Bounpraseuth)
Going around in circles: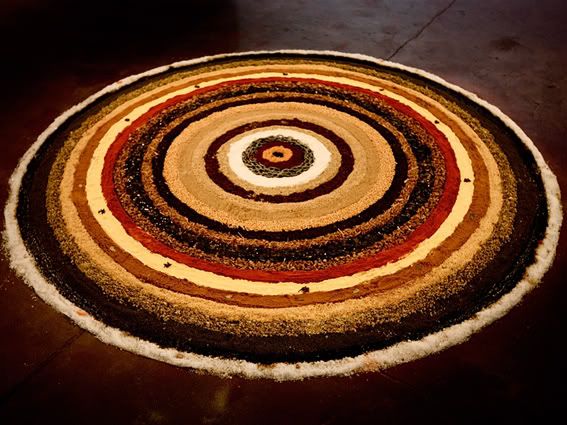 'Blood, Sweat, Tears',
Jason Wing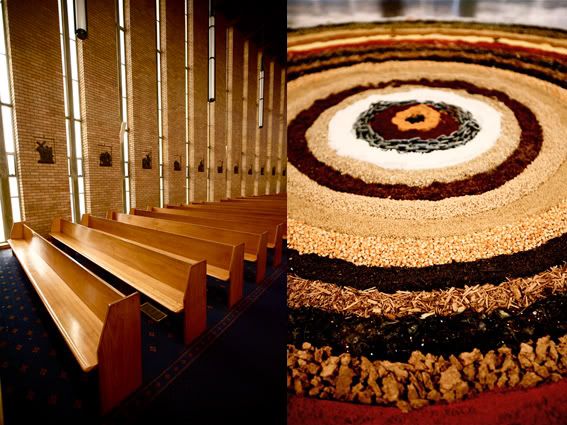 suffering is part of life (stations of the cross, and 'Blood, Sweat, Tears',
Jason Wing)
Part 2: The butcher and the barber

Near the Indian sweet shop were two other gems, a continental butchery and a barber. Both been
there forever - but in the face of Westfield and the like, for how much longer?
The Polish woman's Continental Butchery: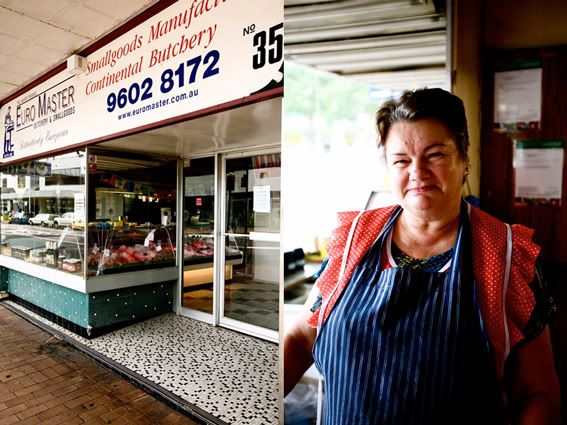 small goods, big heart
warm smile, cold cuts
'Steven', Adam's Barber Shop: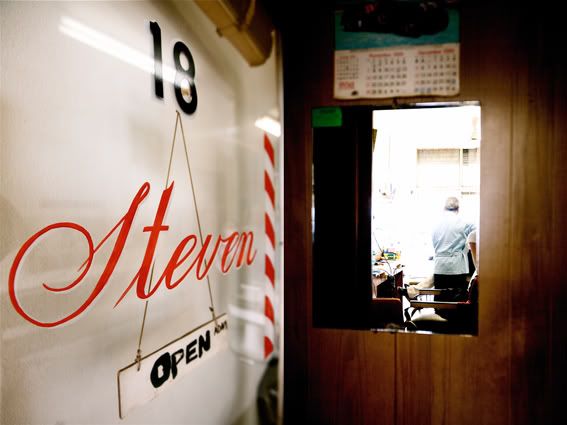 Adam the barber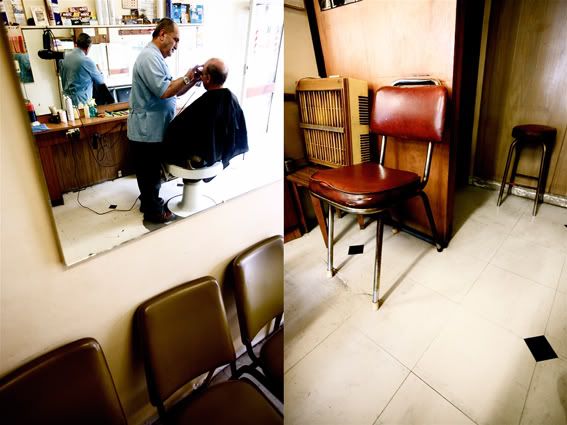 take a seat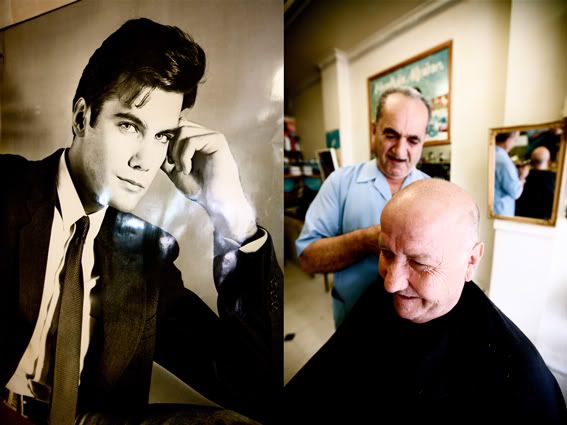 fantasy vs reality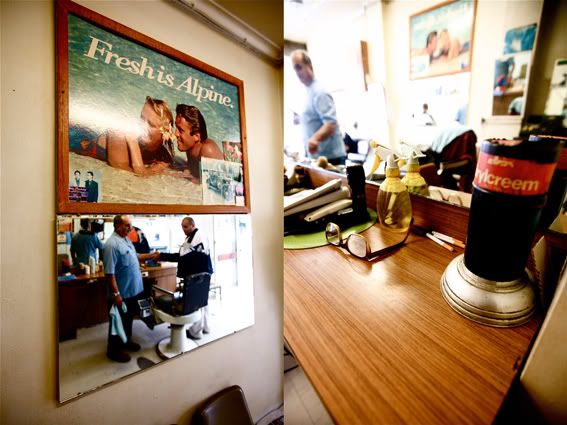 smoke and mirrors
Part 3: Grand old Liverpool

Francis Greenway had a hand in a fair few buildings, including the Liverpool Hospital (1820's),
now TAFE College.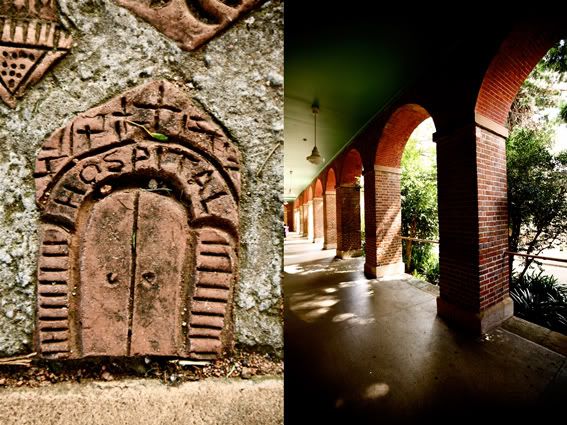 a hospital in a former life
winding staircase :: 1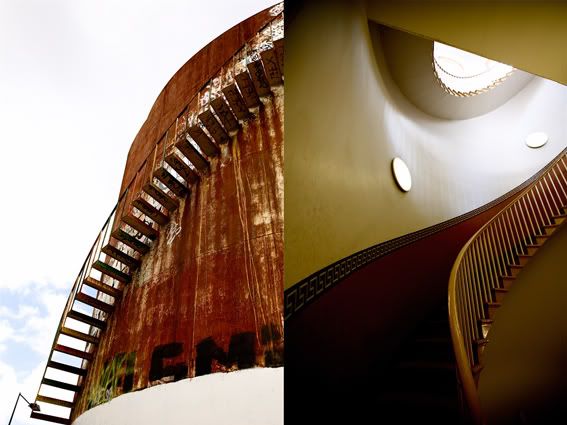 winding staircase :: 2
Greenway also designed St Luke's Church in Liverpool but not the two churches that caught my eye -
Uniting Church with its fantastic jewel like windows and All Saints Catholic Church.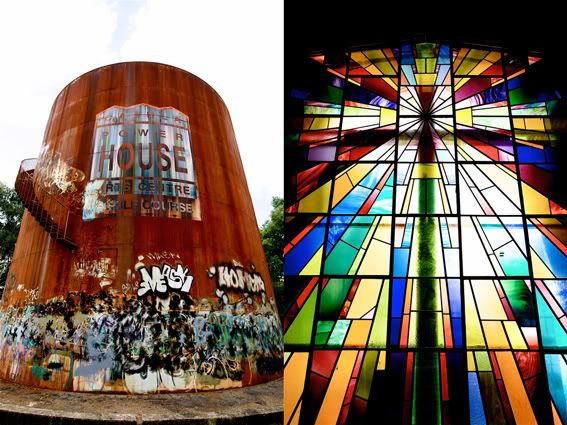 art and religion :: 1
(Casula Powerhouse and
Uniting Church
)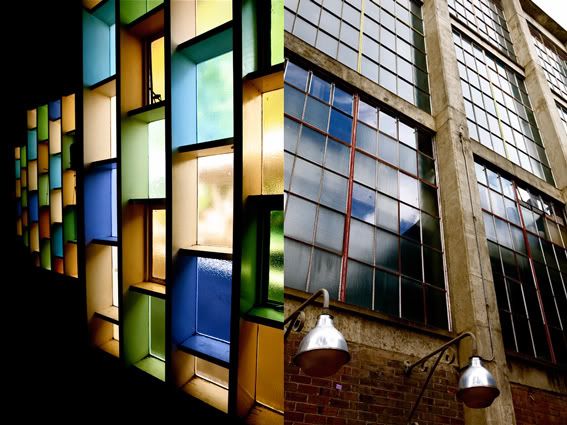 art and religion ::

2
(Uniting Church and Casula Powerhouse)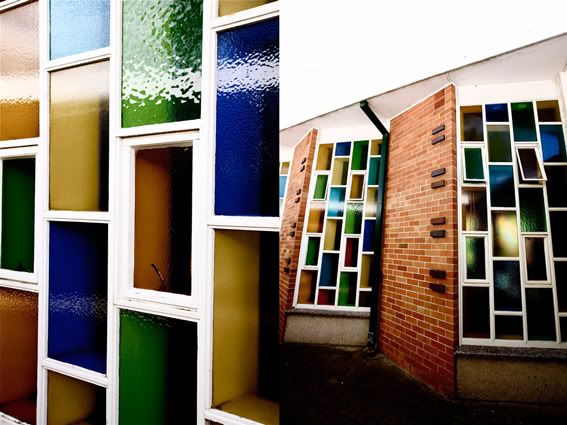 gems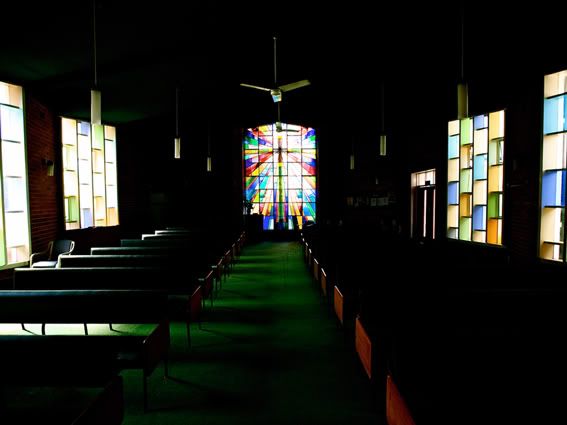 inside the jewel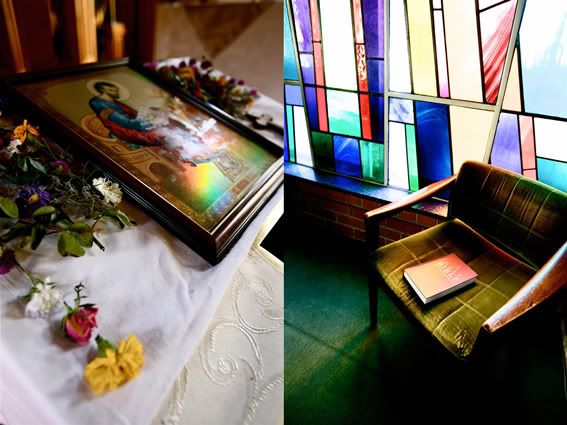 different churches, same faith
(unknown, maybe Greek Church and Uniting Church)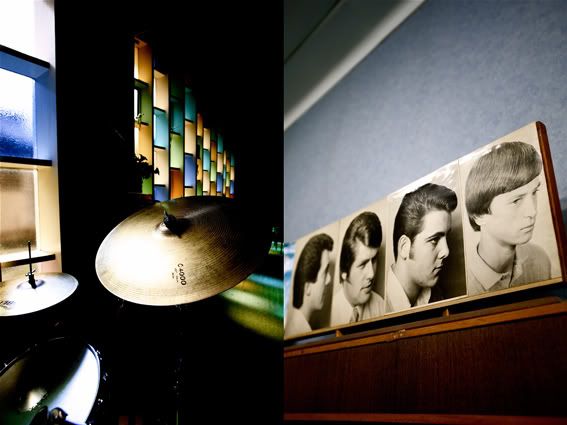 4 young musicians from Liverpool...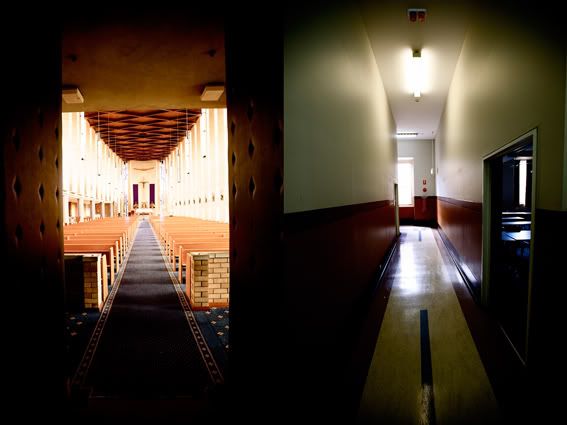 coridoors of power
(All Saints Catholic Church and Liverpool TAFE)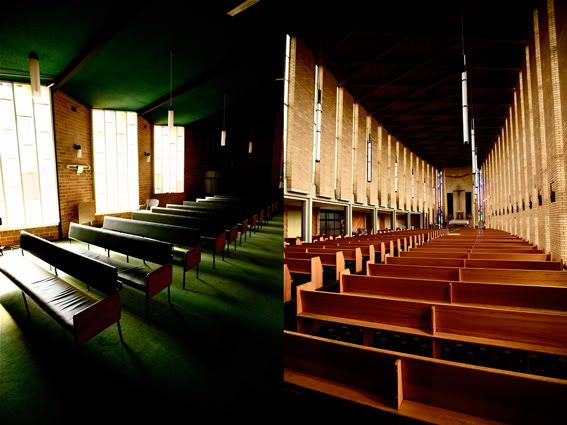 take a pew
(Uniting Church and All Saints Catholic Church)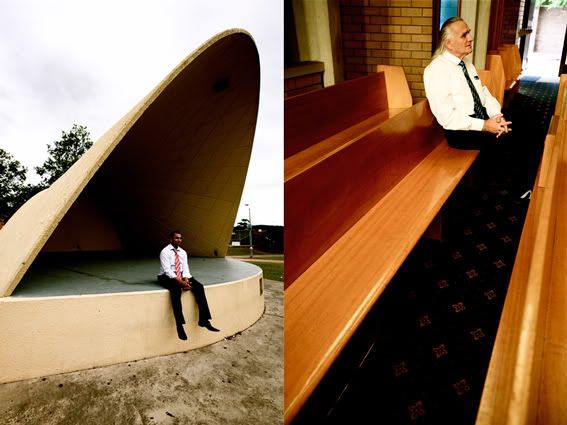 quiet places of contemplation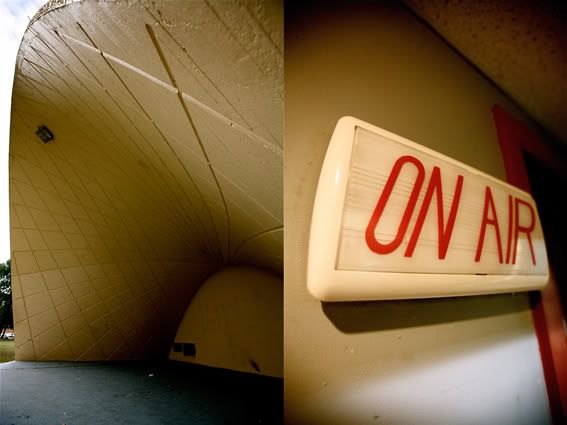 open air vs on air
Part 4: Red brick, breeze brick and arcades
the red brick (
'no. 19',
Catherine O'Donnell, Boutwell Draper Gallery)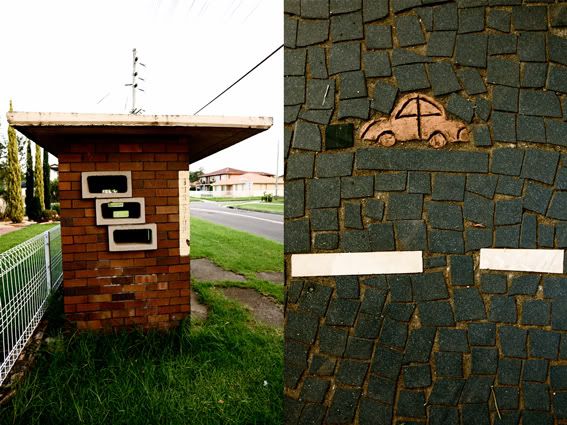 can you drive me to the bus stop?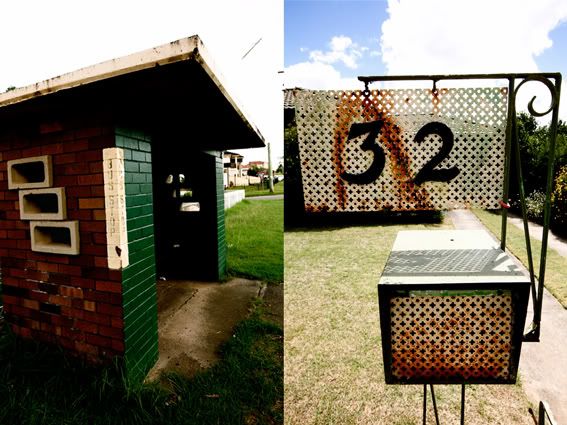 you know, the bus stop outside No 32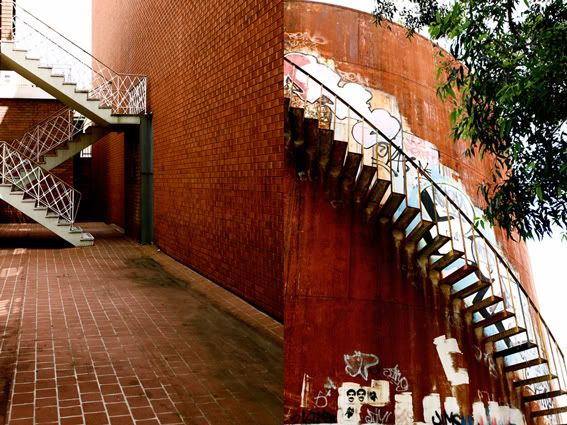 where do they lead, nobody knows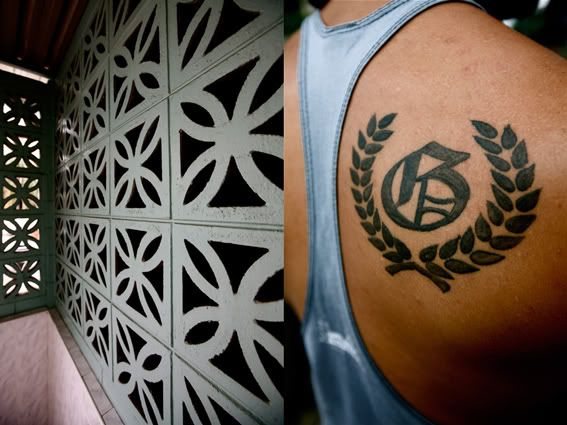 i see leaves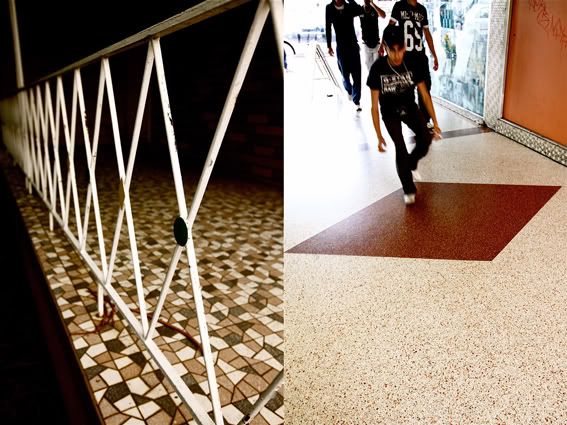 rough diamonds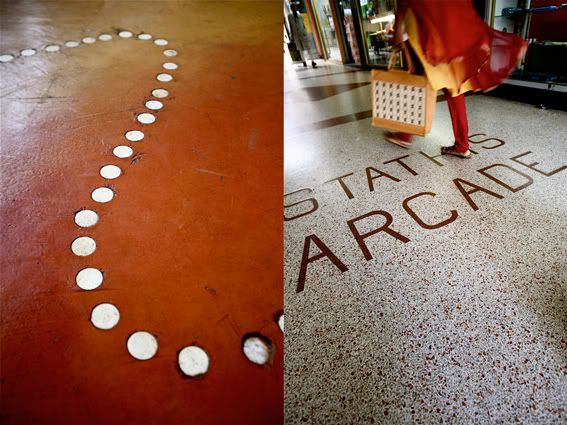 the journey ('Koori Floor', Judy Watson)
Part 5: The Livo Boyz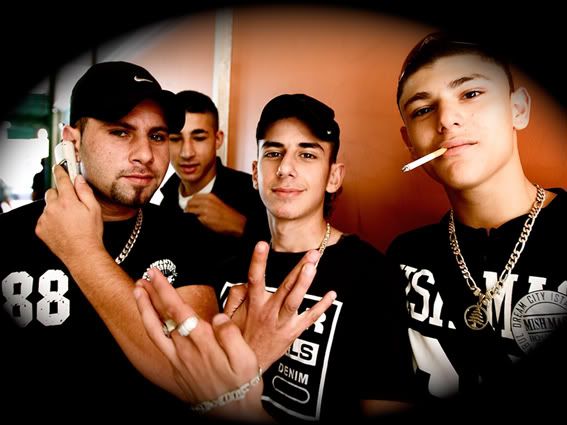 say cheese
young and old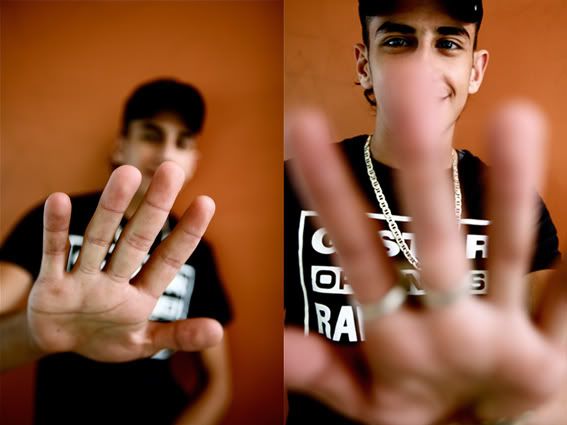 stop, stop
Part 6: The Livo girlz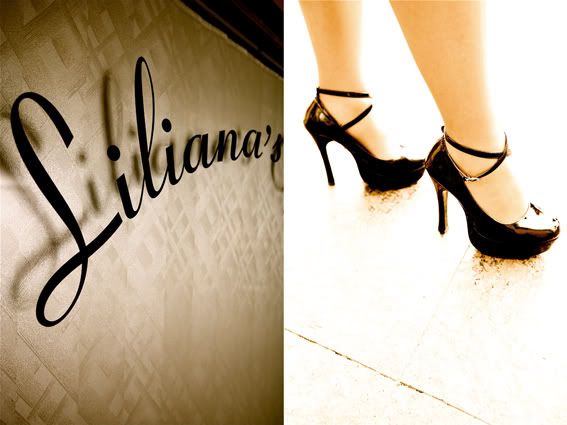 stilts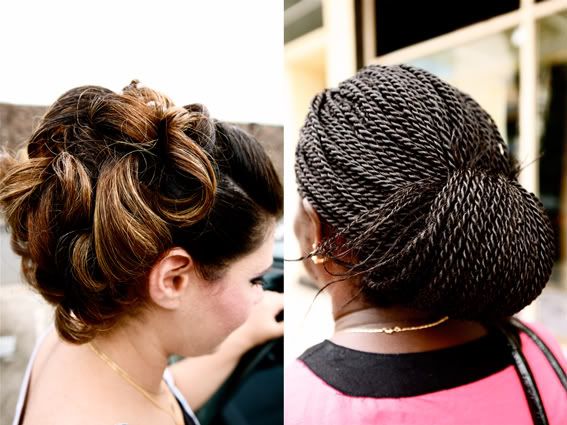 fancy hair do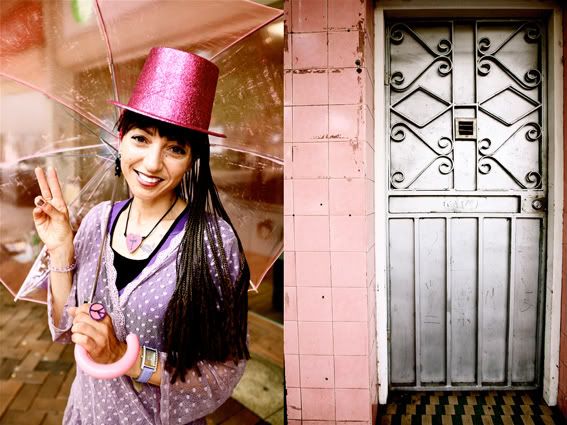 Miss Peace and the silver door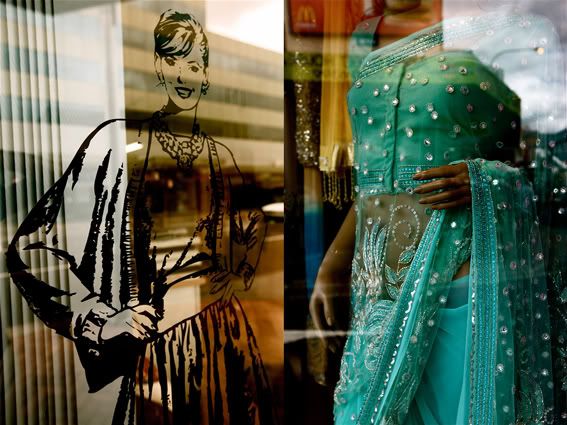 fashion of the day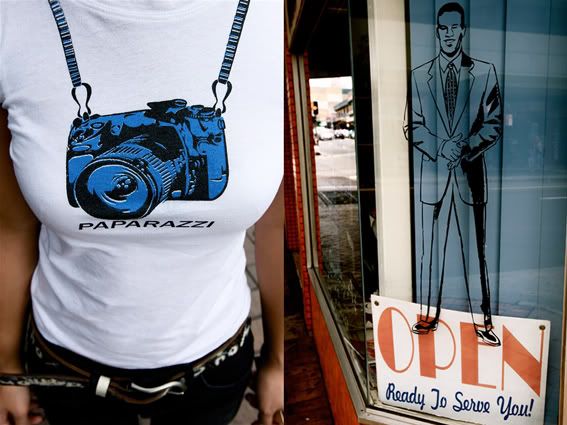 wanna take my photo?
Part 7: A place of refuge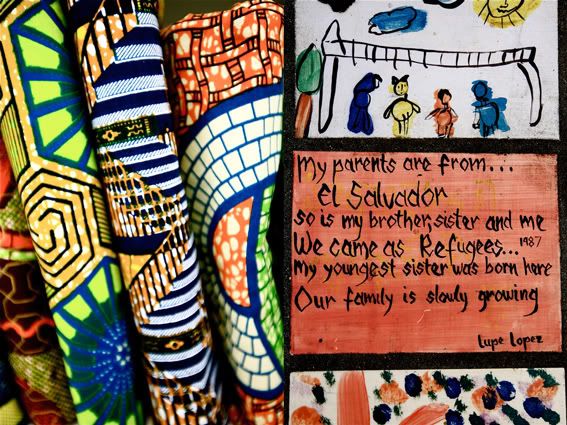 colours of survival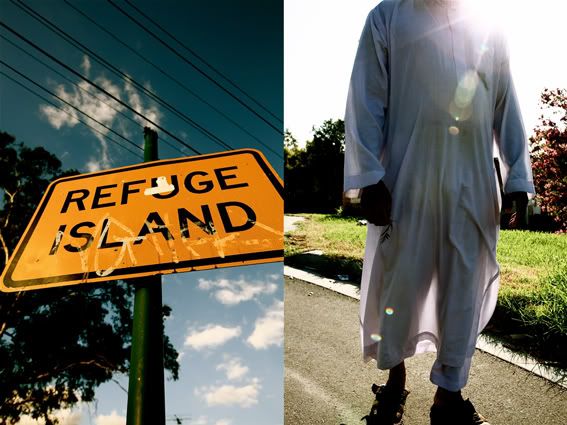 Australia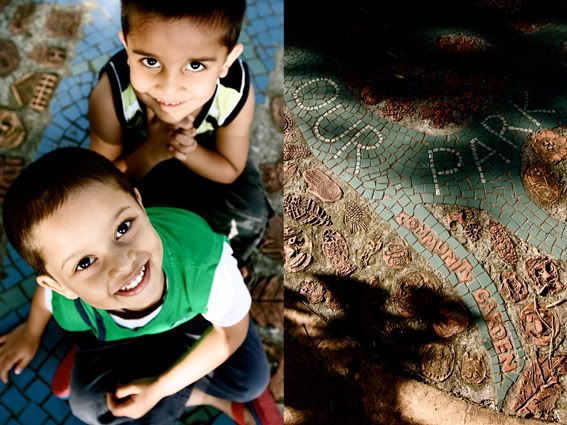 home is where the park is
Beauty... The impressive buildings are impressive. But as usual I loved the low key and the uncelebrated,
the places you won't find in any travel guide. Especially given they may well disappear before too long,
to be replaced by some souless horror with zip personality. Give me chipped tiles, peeling paint and wonky
signwriting any day.


You might like to visit:

Casula Powerhouse, 1 Casula Road, Casula ('Living Liverpool' exhibition ends April 11)

See you next Monday - very late Monday if the last few are anything to go by.