Finally, amazingly, thrillingly, 52 Suburbs the exhibition and book are live! I'm overwhelmed really. Saturday
was so wonderful.
To all those who made it there, thank you so much for coming. I can imagine it must have been a little squishy sitting
there in the packed auditorium for 40 minutes (was it longer?). And I'm so sorry for those who made the trek and
weren't allowed in once proceedings had quicked off. I guess it was so packed in there already the Museum felt
the need to stop any more coming in. But still, I'm sorry you missed out.
Once I digested the fact that there were more than 180 people waiting expectantly for me to talk, I really enjoyed it.
There were a few butterflies doing somersaults inside me but really, what a great thing to be able to talk about
something you've loved doing so much and have people want to hear about it.
I just felt, and still feel, full of gratitude. I won't repeat all my thank you's again in detail but let me summarise
- to those who allowed me to photograph them, to those of you who followed the blog, to my family and friends,
to New South Publishing and to the Museum of Sydney - THANK YOU!
After the talk was over there was another wonderful experience in store for me - a queue that seemed to go on
forever, lining up to have me sign books. Many of them were blog followers and it was so lovely to finally meet
them/you. Some of you told me you have followed the project since week one or two, over a year and a half ago.
Really, I just wanted to jump over the table and hug you all.

But perhaps the most surreal part was seeing my images in the gallery upstairs. From blog to book to this!
And all these wonderful faces staring back at me, faces I'm so so familiar with but have never seen so large.

The one minor bummer was I forgot to organise someone to photograph all this on the day. But thanks to Ann, here
at least is a snap of me at the signing table.
Feeling the need to document things a little more fully, I raced in to the Museum of Sydney today with my daughter,
Coco, and took a few pics.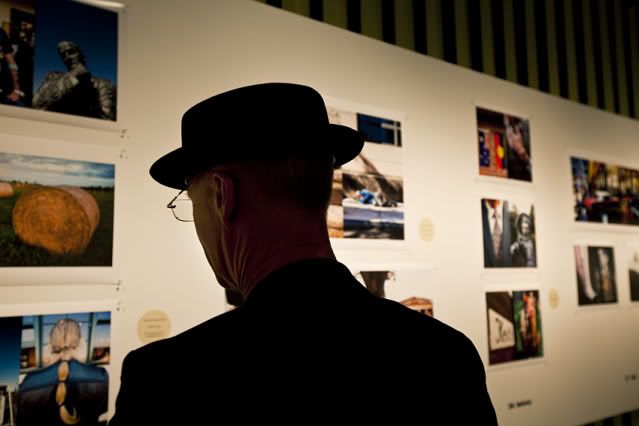 I got chatting to various people checking out the exhibition - and ended up handing one of them my camera to
photograph someone I never get any images of - me! Thanks David.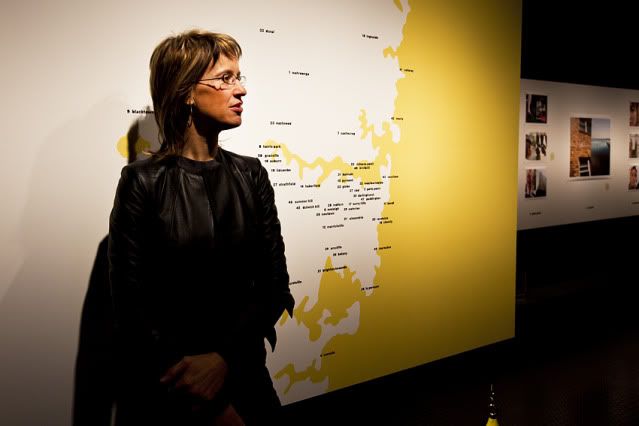 Aside from the prints on the wall, there's also an audio-visual component showing all the images from the book that
missed out on a place on the wall, as well as a computer terminal showing the blog.
What's also strangely exciting is all the 52 Suburbs merchandise downstairs in the MOS Shop. Initially I was dead
against my images being put on any merchandise but I had faith in Peter and Chantal, the retail arm of MOS.
They have done a great job in putting my images on a variety of objects, my favourite being the magnets,
drop-down postcards and tea-towels. Yes, tea-towels. And while I'm at it, I thought I'd let you know that you can
also purchase any images in the book as prints from the shop.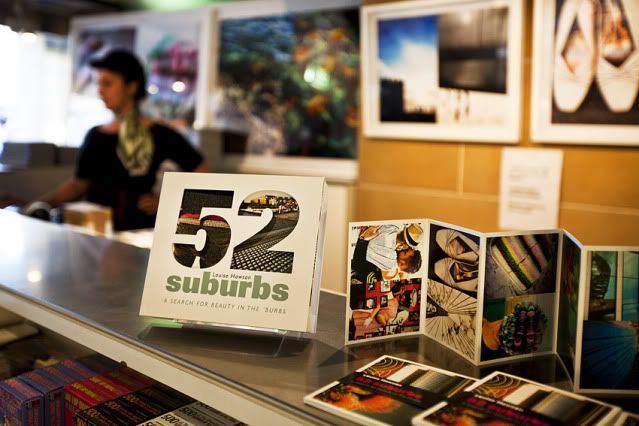 I have been on cloud nine since Saturday and feel as swirly as Coco does in her fabulous red skirt.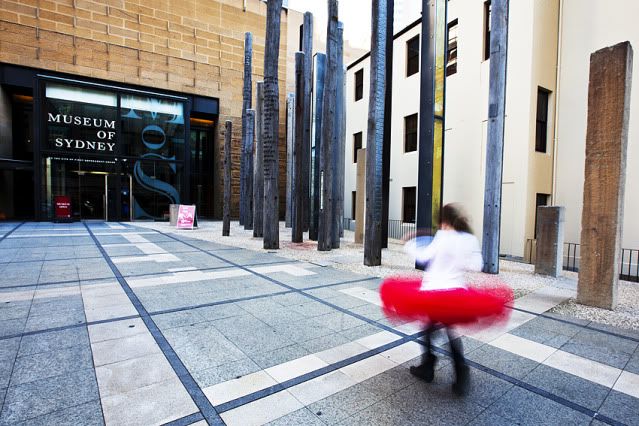 If you did miss out on the talk on Saturday, here's a five minute piece the ABC did on me and my project last Friday.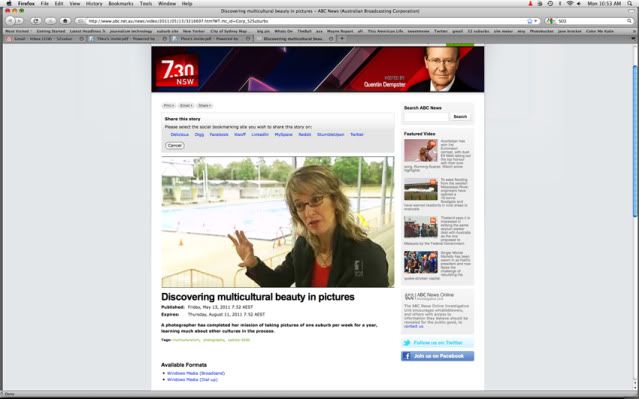 Or you could always come along this Wednesday at 1pm to hear me talk to Robbie Buck about the project at the
Sydney Writer's Festival. I'll be showing some images and talking about them as well as answering Robbie's questions.

That's possibly enough about me for one day. Thanks again to all those who made Saturday - and I look forward to seeing
some of you this Wednesday hopefully.